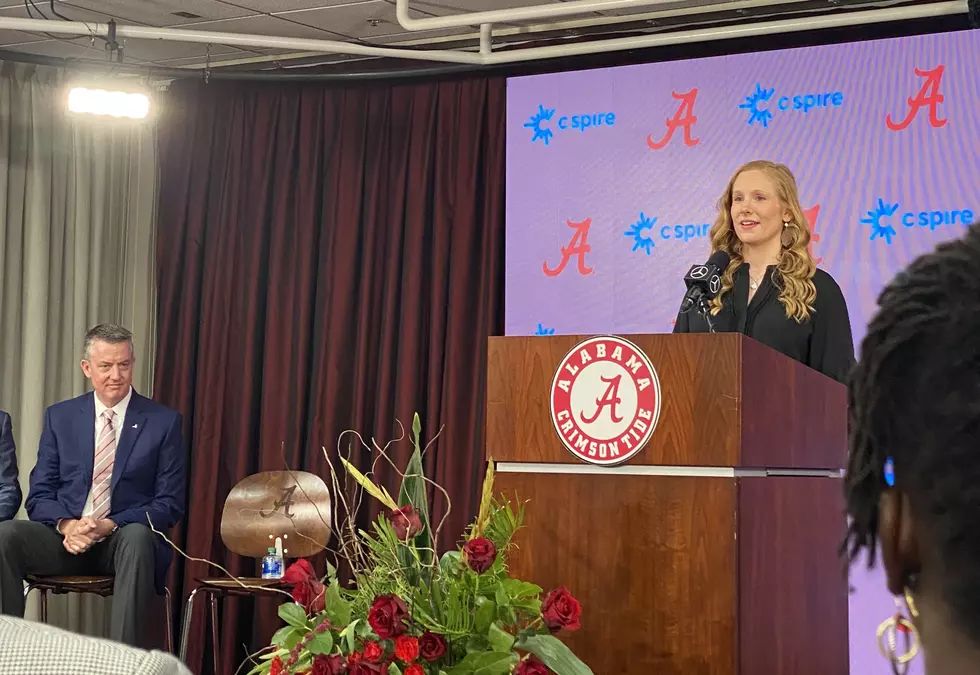 Introducing Ashley Priess-Johnston
Photo Courtesy of Aidan Dollins
The University of Alabama's new head coach of gymnastics, Ashley Priess-Johnston, was introduced Friday at a press conference at the Mal Moore athletic facility. The Crimson Tide alumna shared her gratitude for the opportunity, her passion for the University and the community that surrounds it, and her vision for the program.
"As I look out and see so many familiar faces, teammates, mentors, and just current members of the Crimson Tide team, I'm reminded that I'm home," Johnston said to the gathering of school officials, student athletes and members of the media.
Johnston made many allusions to the University's standard of being a champion throughout her address.
"As I stand here today I can't help but think back to my recruitment as a gymnast and how I wrestled with the decision of which college I wanted to attend. You know, my family encouraged me to think about what type of person I wanted to become and who could best lead me on that journey to becoming a champion. Looking at it from that standpoint, I knew Alabama was the place for me."
"I had the honor of learning what it takes to be a champion in the classroom, on the competition floor, and in the community."
Johnston plans to incorporate all three of those aspects of the life of a student athlete in Tuscaloosa into the gymnastics program under her leadership. "Those experiences have allowed me to develop a wholistic vision for this program and my number one priority is to value student athlete well-being above all else," Johnston said.
"We will foster an environment that empowers everyone to have a voice, we will work with excellence to accomplish our goals academically, we will invest in our community and establish relationships that go beyond sport, we will compete for championships and create an atmosphere that is second to none, and we will strive tirelessly to enhance the tradition of excellence and legacy of champions that is Alabama gymnastics."
How Alabamians Like Their Fried Bologna Sandwiches
Outstanding Female R&B Singers from A to Z from Back In The Day
Frank Lloyd Wright Inspired Smith Lake Home
Frank Lloyd Wright Inspired Smith Lake Home