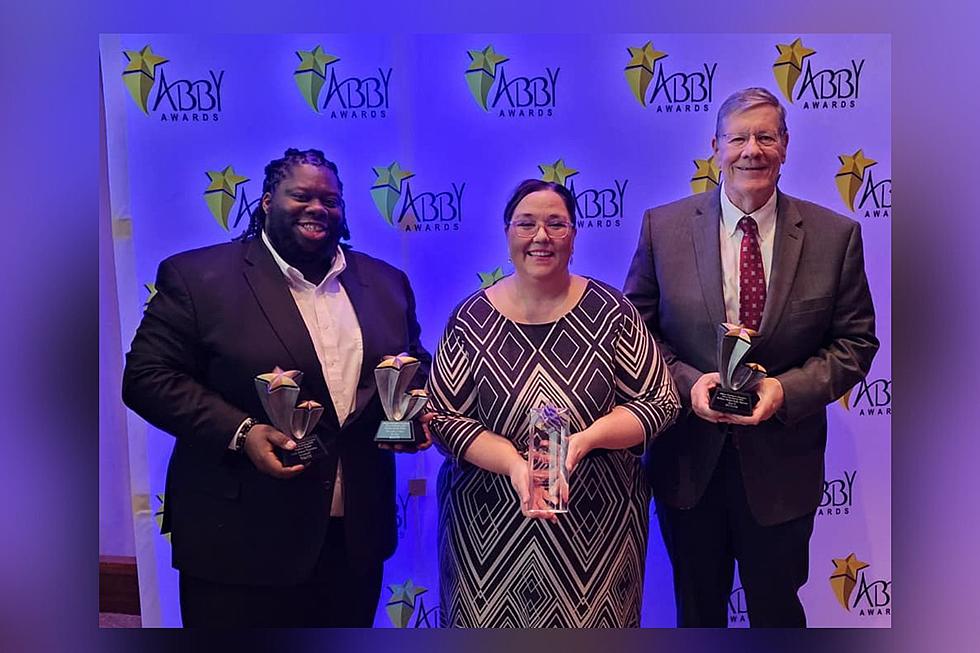 Townsquare Media Tuscaloosa Wins Biggest Award In Alabama Broadcasting
Photo: DC Daniel/Townsquare Media
On Saturday, March 18, the Alabama Broadcasters Association celebrated the 17th Annual "Alabama's Best in Broadcasting" awards at The Club in Birmingham, Alabama.
During the event, there were over 300 radio and television broadcasters who represented a wide variety of companies from across the state. In that count of 300,  were Townsquare Media Tuscaloosa representatives.
"Alabama's Best in Broadcasting awards event is truly a wonderful experience. It gives you a direct connection to key individuals in the business and also allows you to connect with new talent. I've gained two new mentees," said Mary K, Assistant Director of Content for Townsquare Media Tuscaloosa.
How Do Radio and TV Stations Win These Awards?
According to the press release, "judging took place in February with a total of 12 radio and television professionals reviewing entries in person over two full days at an out-of-state location. In addition, three bilingual broadcasters reviewed radio categories with both English and Spanish submissions."
We are honored and humbled to represent Townsquare Media at this yearly event.
The first award that TSM picked up was for "Medium Market Radio Station Promotion" with 105.1 The Block. This award highlighted the partnership with the Tuscaloosa Chapter of the NAACP for the promotion of the Juneteenth Parade and Festival.
The support of Townsquare Media assured the success of the Tuscaloosa NAACP Community Juneteenth Celebration in 2022. Originally, we only expected upwards of 200 people. However,  through its promotion, we had over 500 people to attend, and that was directly the result of events being heavily promoted," said Lisa Young, President of The Tuscaloosa Chapter of the NAACP. "Only through effective collaborations can we positively impact our communities, and we're looking forward to an even bigger event this year."
As the awards event continued the awards kept rolling in for 105.1 The Block. Andre Channel, known as The Big Dawg DreDay, won "Medium Market Personality of the Year" for his afternoon drive show and involvement with the community. Also, this his is second time winning this award since the station's launch in 2019.
Next up, Tuscaloosa's #1 for R&B Hits and Classic, 92.9 WTUG Brand Manager and Afternoon Drive personality, Mary K won "Medium Market Radio Reporter of the Year" which recognizes her commitment to weather and news coverage in West and Central Alabama. This award is a back-to-back win for Mary K as she won this honor in 2022 as well.
"This just confirms the strength of local radio in West Alabama. I'm so proud of our talented staff and the quality content they produce on our radio brands day in and day out," said D.C., Director of Content.
To top off the evening of awards, out of 67 Alabama counties and 300 plus radio stations, 105.1 THE BLOCK was named RADIO STATION OF THE YEAR!
Mary K. and DreDay would like to thank the dedicated TSM staff, wonderful listeners, community partners, and advertisers in West & Central Alabama.
"I would like to thank the Alabama Broadcasters Association for their recognition, our wonderful team at Townsquare Media, all of our community partners, and of course our listeners. The people who allow us to be part of their lives every day. This award truly belongs to not just our station, but our entire community. We did it together," said DreDay, afternoon drive personality.
"I am beaming with pride for Dre Day, Mary K, and the entire Townsquare Media content team in Tuscaloosa. It is such an accomplishment for a new radio station 105.1 The Block to be selected as "Radio Station of the Year" for the State of Alabama," said David DuBose, Market President. "One of the key reasons 105.1 The Block won this award is because of Dre Day. He also has won the "Medium Market Personality of the Year" twice since the station's launch is a testament to his hard work and commitment to the community."
"Mary K deserves recognition as "Medium Market Radio Reporter of the Year" for her outstanding severe weather coverage keeping thousands of people safe during tornado events through Operation Storm Watch. I am also very pleased the Townsquare Media team was recognized for our work on the local Juneteenth celebration," said DuBose.
LOOK: The 25 least expensive states to live in
LOOK: Here's where people in every state are moving to most
States with the most registered hunters
Stacker
analyzed data from the U.S. Fish and Wildlife Service to determine which states have the most registered hunters. Read on to see how your state ranks on Stacker's list.