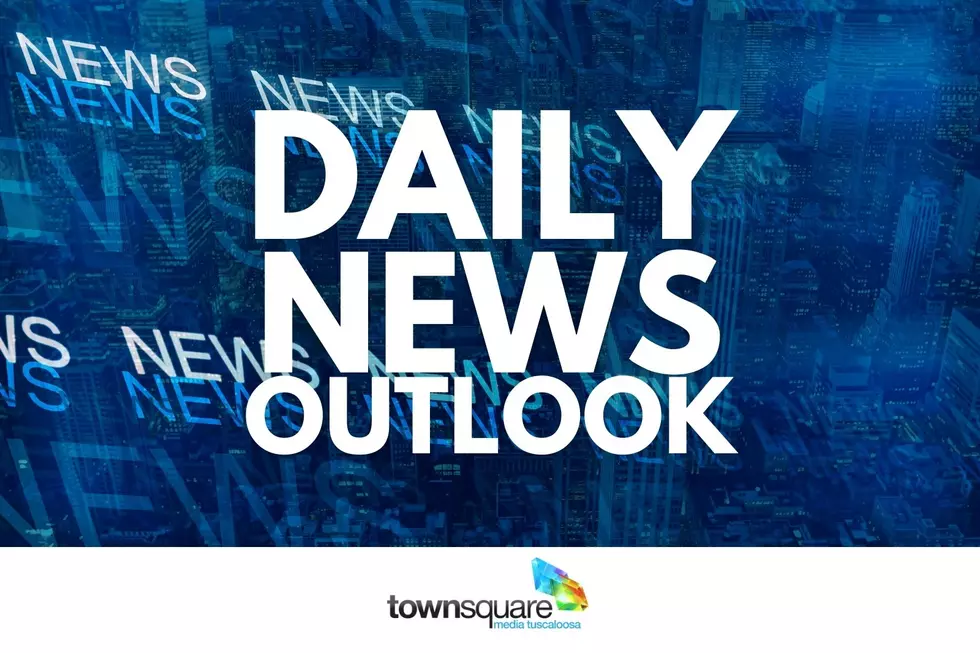 West Alabama Wednesday Briefing
Canva
It is "hump day", Wednesday, September 27, 2023. and according to the National Weather Service in Birmingham, we have seen the last of the rain, at least through Tuesday of next week. So, get ready to drag out those garden hoses again. Between now and then, the forecast is pretty repetitive.
The Forecast:
Today: Partly sunny, with a high near 88. East wind 5 to 10 mph.
Tonight: Partly cloudy, with a low around 64. East wind around 5 mph.
Thursday: Partly sunny, with a high near 86. East wind around 5 mph.
Thursday Night: Mostly clear, with a low around 63. East wind around 5 mph.
Friday: Sunny, with a high near 88. East wind around 5 mph.
High School Football Friday Night: Mostly clear, with a low around 65.
Saturday: Sunny, with a high near 90.
Crimson Tide Football in Starkville MS Saturday Night: Mostly clear, with a low around 64.
---
---
Topping the News:
E.coli is just one of the pollutants being discharged illegally by the City of Tuscaloosa according to a civil complaint filed by the Alabama Department of Environmental Management. ADEM claims pollutants have been discharged from the Hilliard N. Fletcher Wastewater Treatment Facility into the Warrior River and Cribbs Mill Creek. The Black Warrior River Keeper is one of the organizations that has filed an intent to sue the city in federal court unless the problems are resolved this week. The city issued a written statement saying it is working with ADEM.
---
Republicans Bryan Brinyark and Brad Cox are in a runoff for the Alabama Legislative District 16 seat vacated by now West Alabama Chamber Executive Kyle South. The two were the top vote getters in yesterday's special election for the Fayette County and northeast Tuscaloosa County district. That runoff is October 24th.
---
21-year-old Markevion Rice has been charged with murder in Pickens County. Investigators say Rice shot and killed 21-year-old Kenny Ray Brown, Jr. and wounded another victim on Highway 14 in Aliceville Saturday night. Bond is $2 million.
---
During last night's Tuscaloosa pre-council meeting, Mayor Walt Maddox sent condolences to the families of two Paul Bryant High Seniors, 17-year-olds Elijah Clark & Mariyae Gulley who died in a one-car crash on 69 south over the weekend.  Maddox told council members, as a father he cannot imagine what it is like to lose your child. Counselors are at the school this week.
---
The City of Tuscaloosa has secured an updated 2020 decennial census count from the Census Bureau, reflecting that the City's population in 2020 was greater than 100,000 people. The change results from UA and the city identifying 1,100 living in campus housing.
---
From 8 a.m. this morning until 5 p.m. Monday, October 2, Greensboro Ave will be closed near the Jack Warner Pkwy intersection. There will be no through traffic access. A marked detour will be in place for local business/residential access.
---
---
In Sports: 
This coming weekend's Alabama/Mississippi State game kicks off at 8pm Saturday night. And we now know the Tide's Road tussle with Texas A&M will be a 2:30 game the following weekend on CBS.
---
The Braves fell behind 6-zip to the Cubs last night. Then they scored 5 runs but with two out in the bottom of the 8th it looked like they might be done until Atlanta catcher Sean Murphey hit a routine popup to Chicago right fielder Seiya Suzuki, a player with only 3 errors on the season.  He misjudged the ball and Atlanta scored two runs. The Braves held on for a 7-6 win that eliminates the Cubs from the NL Central Wildcard.
---
Have a wonderful Wednesday!!