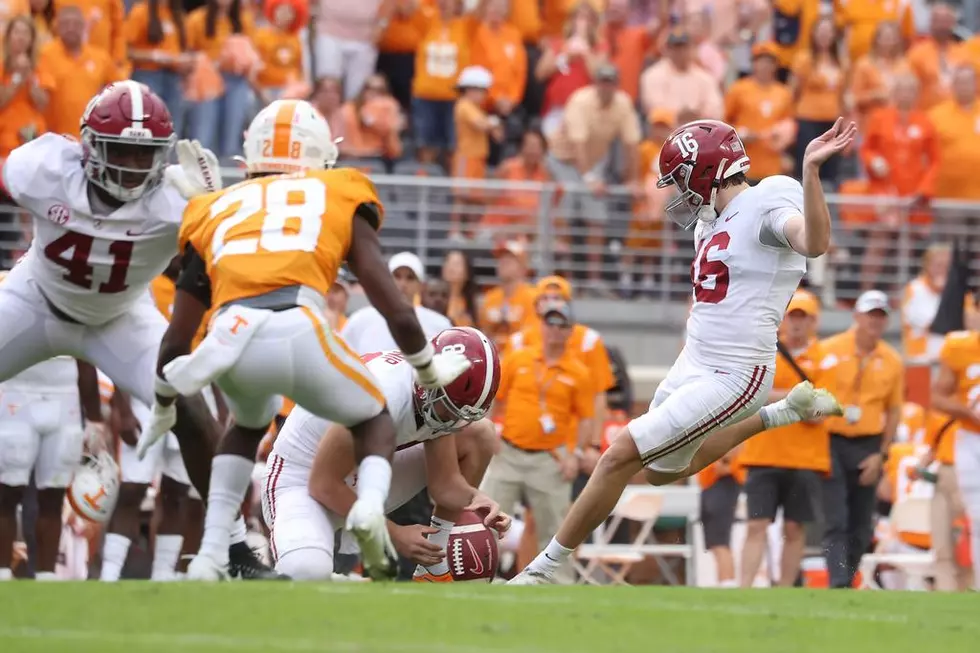 Tennessee Tops Tide in Rocky Top
Crimson Tide Photos / UA Athletics
No. 6 Tennessee handed No. 3 Alabama its first loss of the season after the Volunteers defeated the Crimson Tide 52-49 at Neyland Stadium in Knoxville, Tenn., on Saturday.
Alabama quarterback Bryce Young returned from his AC shoulder sprain, going 35-of-52 for 455 yards and two touchdowns.
Tennessee got on the board first during its first possession of the day. Volunteers quarterback Hendon Hooker led Tennessee down the field and running back Jabari Small ran in the one-yard score.
Alabama responded with an eight-yard touchdown run by running back Jahmyr Gibbs to tie up the ballgame.
The Volunteers scored on its next two possessions to take the quick 21-7 lead. Both touchdowns came from wide receiver Jalin Hyatt. The first was a 36-yard pass and the second was an 11-yard pass.
Crimson Tide kicker Will Reichard kicked a 21-yard field goal to cut the deficit, but Tennessee's offense exploded down the field for another score when Volunteers tight end Princeton Fant ran in the two-yard touchdown.
Alabama saw its biggest deficit of the season, trailing 28-10 early in the second quarter. Young took charge and led the Alabama comeback. Alabama scored on its next three drives of the game which included a seven-yard pass to wide receiver Ja'Corey Brooks, a 43-yard field goal by Reichard, a 26-yard run by Gibbs, and a two-point conversion by Brooks to tie up the game.
Both teams exchanged touchdowns to continue the back-and-forth battle. Tennessee struck with an explosive, three-play drive capped off by a 60-yard touchdown pass to Hyatt, but a missed extra point attempt kept the lead at six. Alabama responded with a two-yard touchdown run by Gibbs and a good extra point gave the Tide its first lead of the game.
The Volunteers retook the lead at the start of the fourth quarter with a 78-yard pass to Hyatt and a two-point conversion by Fant.
Young tied things up with a one-yard pass to tight end Cameron Latu.
Alabama took the lead halfway through the four quarter after Hooker fumbled the ball on a handoff to Small and Alabama linebacker Dallas Turner scooped up the ball and ran it into the end zone.
The Crimson Tide had a chance to force a turnover when linebacker Kool-Aid McKinstry picked off Hooker in the end zone, however a pass interference call on defensive back Malachi Moore kept the ball with Tennessee and Hyatt scored with a 13-yard pass from Hooker.
Reichard missed a 50-yard field goal with 15 seconds in the game. The Volunteers got the ball at its own 32, went 45 yards down the field in two plays, and Tennessee kicker Chase McGrath hit the game-winning 40-yard field goal as time expired.
"[We had] way too many penalties, did too many things to help them, gave up explosive plays, had a major error on special teams. It was totally unnecessary that led to a score on their part. Got to give them a lot of credit, they did a nice job with their offense based on what we were trying to do on defense, but we didn't execute well enough," said Alabama head coach Nick Saban.
Alabama had 17 penalties for 130 yards in the game, breaking the program record for most penalties in a single game.
Hooker finished his night 21-of-30 for 385 yards, five touchdowns, and one interception. Hyatt led both teams in receiving yards with six receptions for 207 yards and five touchdowns.
"The big thing that our players need to do is learn from this experience, have more respect for playing with discipline so we don't get penalties, we don't help the other team, we don't make mental errors that help the other team," said Saban.
The Alabama Crimson Tide takes on the Mississippi State Bulldogs on Saturday, October 22, 2022, at 6 p.m. CT. Coverage will be on Tide 100.9 and 95.3 The Bear.
Alabama vs Texas A&M Week 6 2022