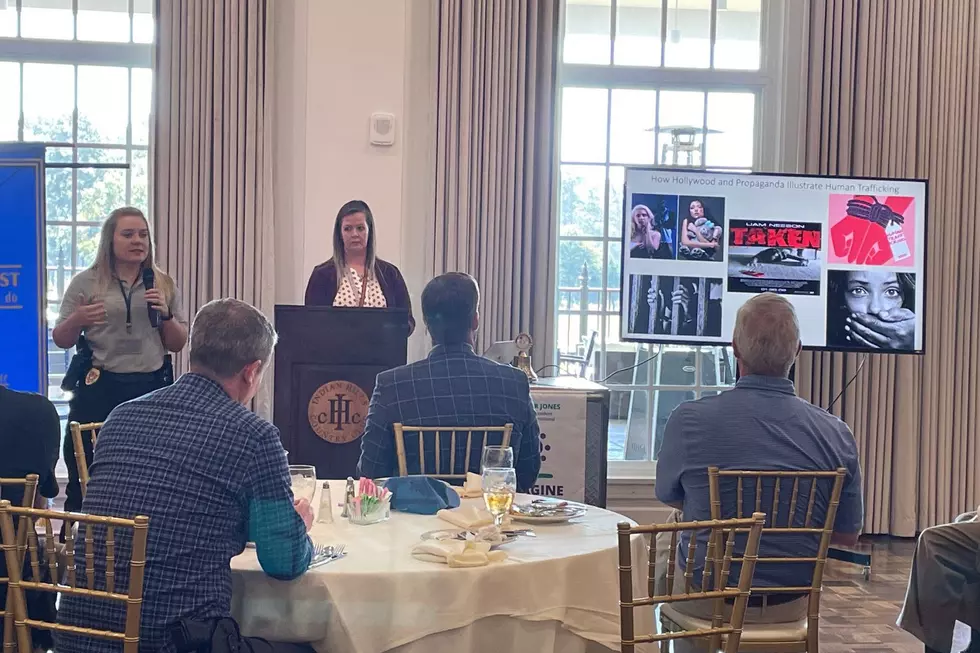 Sex Trafficking Spikes During Football Games, Other Events in Tuscaloosa
(Brittany Marshall|Tuscaloosa Thread)
Fall in Tuscaloosa brings concerts, festivals and football games, but members of the West Alabama Human Trafficking Task Force warn that a climb in tourism can also mean more sex trafficking in the area.
During a lunch and learn with the Rotary Club of Tuscaloosa on Tuesday, Investigator Jessica Wilson and Sergeant Ashley Blalock, who are both assigned to the task force, held a sex trafficking training to teach community members the signs of sex trafficking and ways they can help prevent it in our community.
According to statistics provided in the presentation, sex trafficking is a $150 billion industry worldwide. Sex trafficking is prominent along the interstate highway system, the officers said, making Tuscaloosa an ideal place for the practice to occur.
The presenters said the demand for commercial sex increases when large tourist events bring thousands of visitors to Tuscaloosa, and traffickers understand that.
"A few years ago, we looked at the amount of commercial sex ads during home football games and they doubled," Blalock said. "But this isn't just football, it's any large tourist events, including concerts and festivals."
Blalock said there are many misconceptions about what trafficking is, but by conducting these community forums, the WAHTTF is teaching people what signs may point to the practice and what prevention methods they can take to combat the problem.
"If people are expecting it to look a certain way and it doesn't look like that, then they are missing it happening right in front of them," Blalock said. "Also, victims [of human trafficking] who seek help usually get help from friends and family and we all fall under that category. The community are extra eyes for us so we would like to get as much education out as we can."
Blalock said community organizations or local businesses who would like to receive sex trafficking training can visit the West Alabama Human Trafficking Task Force pages on Facebook or Instagram or call the Tuscaloosa Police Department to be transferred to the unit.
Top Stories from the Tuscaloosa Thread (10/3 - 10/10)
18 of the Top Stories published by the Tuscaloosa Thread during the week of October 3rd, 2022.