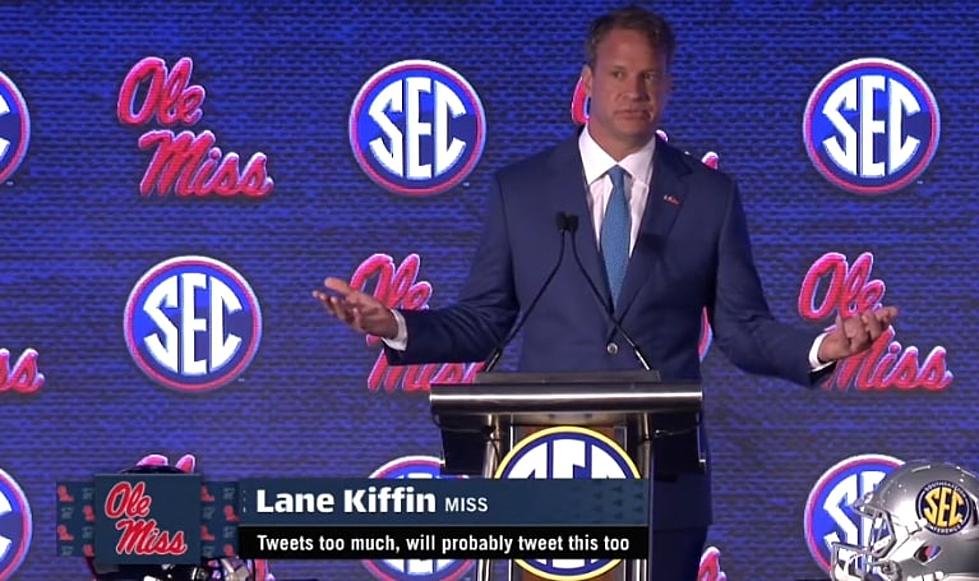 Lane Kiffin Trolls Saban on Twitter, Shocked at Young's NIL Money
SEC Network on Twitter | @SECNetwork
It's only natural that Ole Miss head coach Lane Kiffin received the lion's share of Alabama-related questions among the 13 other coaches in the SEC.
The offensive mastermind spent three seasons with the Alabama Crimson Tide as an offensive coordinator from 2014-2016. Last year he took the reigns of a founding Ole Miss program and nearly sparked the biggest upset of the season in Oxford as he unleashed all of his "tricks" in a losing effort to Nick Saban's juggernaut, 63-48.
This season, the Rebels face the Crimson Tide in Bryant-Denny Stadium on October 2.
Still, there's no denying Ole Miss gave Alabama one of its biggest scares of the season last year and with quarterback Matt Corral returning for the Rebels, Kiffin's squad may be closer to contending for the SEC West than many Crimson Tide fans would like to believe.
Naturally, the SEC Media Days bring a lot of coach speak though, as Kiffin brushed aside the pleasure it'd be to become the first former assistant to beat Saban.
"We were close, played really well on one side of the ball, but that doesn't matter now," Kiffin said. "The year before, I think we lost 66-3 or something like that. So every year is different. Every year has new challenges."
Kiffin's words are true, anything can happen in college football. But he acknowledges that Saban's empire wasn't built in a day, and while Saban may not meet the Romans' longevity, he won't be seeing quick destruction either thanks to his skill as a recruiter.
"You guys say something that upsets him and gives him 'rat poison' and makes him mad, and then we have to deal with that," Kiffin said. "So I don't know what the storyline is this year. It will be something that you did about losing too many staff guys or the quarterback or whatever, but he just finds a way, and it starts with recruiting. He just does such a phenomenal job of recruiting."
Kiffin's respect for Saban isn't as sarcastic as his Twitter timeline. No, it's very real. Kiffin said he used nearly his entire bag of tricks trying to upend the Crimson Tide in Oxford last year, but the Tide was simply too much.
"When you have an elite program you're playing against that you play every year that's in your division, it just means more," Kiffin said. "So we had a chance. They did a great job. Sark did a great job on offense. It's kind of exhausting afterward even as coaches, let alone being the players. That will be a big challenge going there."
Still, the Twitter trolling is something Kiffin will always take just as seriously as his game plans. He said his Twitter use allows him to feel like a normal person, but the chance to poke some fun at Saban isn't something he can let pass by.
"He's certainly not on Twitter, we know that," Kiffin said. "Now, Linda, his assistant, is -- probably prints them out, especially the ones that he may not like. So he probably does see those. But I think it's all in fun."
Kiffin reassured after his comments about his Twitter fun that he holds the utmost respect for the coach that gave him an opportunity despite the red flags that followed him early in his coaching career.
"I think you guys know, are around enough covering us, how much respect I have for him, how grateful I am for him hiring me and the three years together with him and what that did for my career," Kiffin said. "But the respect -- like I said, nobody's done it like he's doing it ever."
Far be it from Saban to do any trolling of his own. However, the seven-time national champion let loose some information early Tuesday that caught Kiffin off guard when he was asked about Byrce Young's NIL earnings, which Saban said is nearing seven figures.
"That number just blew me away. You didn't prepare me for that," Kiffin said pointing to his PR assistant. "That's amazing. He made a million dollars and hasn't started a game yet? Wow, I don't even know what to respond to that, but great for him."
Kiffin interrupted the next question, still in shock of the information he just digested about his rival's star quarterback.
Read More: Alabama QB Bryce Young Earned A Million Dollars
"I'm still blown away on this Bryce Young," Kiffin said. "The guy's made a million dollars already? That's good, man. He doesn't need to play next year against us, then. I mean, that's mind-blowing."
Kiffin's football team may not have the athletes of the Alabama Crimson Tide, but it remains a quality rivalry as long as Kiffin is the top guy in Oxford. October is just around the corner and we know that while Bryce Young is securing his own bag, both monetarily and in a yet-to-be-revealed play style, Kiffin is refilling his bag of tricks for another crack at the empire.
The 2021 Alabama Football Schedule in Photos
Alabama Crimson Tide All-Time Passing Leaders
Highest Rated Recruits of the Saban Era