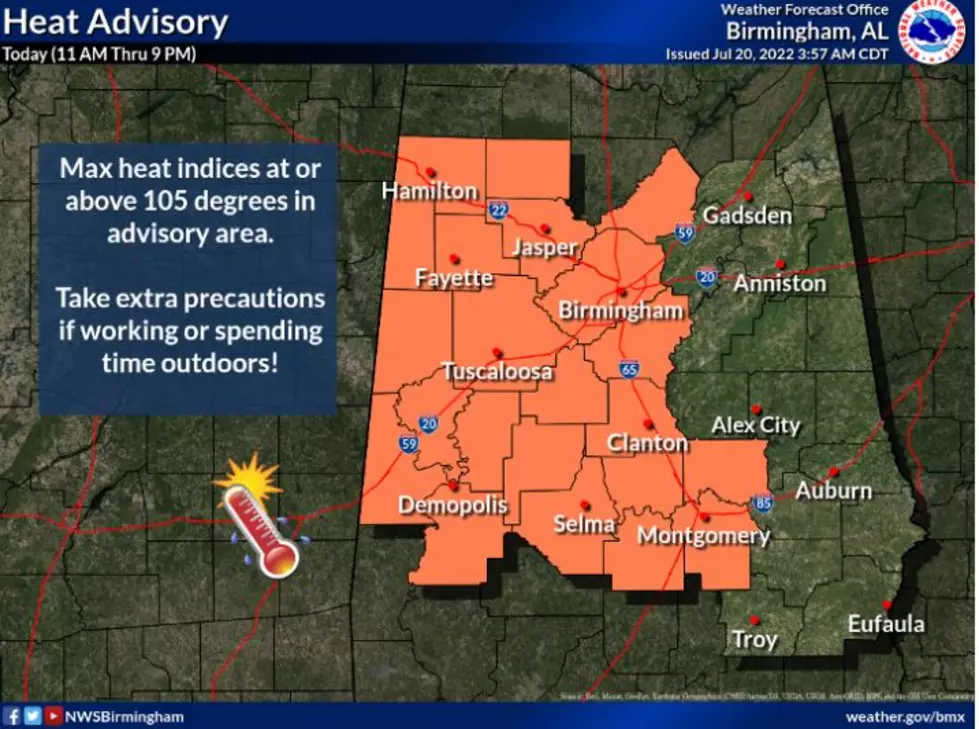 Heat Advisory in Effect Wednesday for West Central Alabama
National Weather Service
The National Weather Service in Birmingham issued a heat advisory that will go into effect Wednesday morning at 11 a.m. and continue into Thursday night with heat index values expected to reach up to 105 degrees.
What to Expect
The National Weather Service in Birmingham said the advisory is in effect for the following counties:
Marion
Lamar
Fayette
Winston
Walker
Blount
Pickens
Tuscaloosa
Jefferson
Sumter
Greene
Hale
Perry
Bibb
Marengo
The advisory includes the cities of Hamilton, Sulligent, Vernon, Fayette, Double Springs, Jasper, Oneonta, Carrollton, Tuscaloosa, Birmingham, Hoover, Livingston, Eutaw, Greensboro, Moundville, Marion, Centreville, Demopolis and Linden.
Notes from the National Weather Sevice in Birmingham
What:
Heat index values up to 105 today and Thursday
Where:
Portions of West Central Alabama
When:
From 11 a.m. Wednesday morning until 7 p.m. CDT Thursday
Impacts:
Hot temperatures and high humidity may cause heat illnesses to occur
Precautions to Take
Drink plenty of fluids
Stay in air-conditioned rooms
Stay out of the sun
Know the signs and symptoms of heat exhaustion and heat stroke
Never leave young children or pets inside hot vehicles under any circumstances. Click here to find out how dangerous it truly is inside a car and how quickly the temperatures rise to unsafe conditions.
Top Stories from the Tuscaloosa Thread (7/11 - 7/18)
19 of the Top Stories published by the Tuscaloosa Thread during the week of July 11th, 2022.