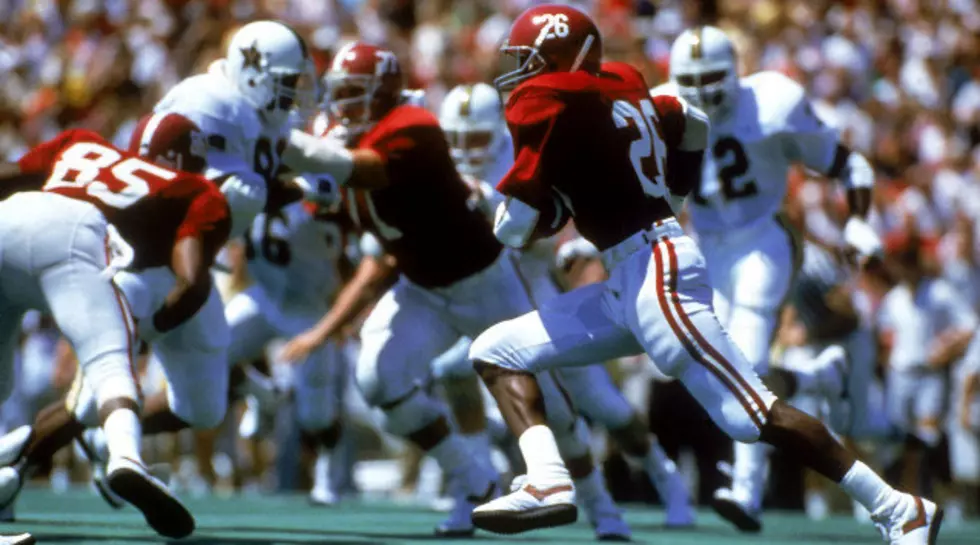 Father's Day: Best Father And Son Duos To Wear Crimson And White
Photo Courtesy of RollTide.com
On the third Sunday of every June comes a day where we get to celebrate the guy we call "dad". Lots of sons and daughters imitate their dads to try to be just like their role models.
But what if your dad played football for the Alabama Crimson Tide? If your dad played for the Tide, everyone already has high expectations of you; however, to walk in his footsteps and to play for one of the most powerful programs in the country, would certainly be an accomplishment. On this Father's Day, Tide 100.9 is taking a look at some of the athletes who did just that: follow their father's path through the city of champions.
Jay Barker - 1990-1995 &  Braxton Barker 2018-Present
For the Barker's, being a QB is in the genes. Jay lead the Crimson Tide to victory at the 1993 Sugar Bowl to clinch the National Title. Now Jay's son Braxton, a redshirt-sophomore, is competing for the same starting position here in Tuscaloosa.
Jeremiah Castille - 1979-1982 - Tim  2003-2006, Simeon  2004-2007, & Caleb  2010-2012
After winning a National Championship in 1979, Jeremiah Castille played corner on Coach Paul "Bear" Bryant's last team in 1982. All three of Jeremiah's sons have worn crimson and white at some point in their college careers. Tim, a wide receiver, and Simeon a corner, were both drafted into the NFL like their father. Jeremiah's third son, Caleb-who was also a corner, walked on at Alabama during their two National Championships in 2011 and 2012.
John Croyle - 1970-1972 &  Brodie Croyle  2002-2005
Another product of Paul "Bear" Bryant, John Croyle (DE) won three SEC Championships and completed the 1973 season undefeated to win the National Championship. Brodie, a quarterback, was named the MVP of the Cotton Bowl as a senior and after seeing the NFL he was inducted into the Alabama Sports Hall of Fame.
Wayne Davis - 1983-1986 &  Ben Davis 2016-Present
"Like father, like son"-right? While in Tuscaloosa, Wayne Davis set the school record for career tackles at 327 as a linebacker. His son, Ben, is a consensus five-star recruit at linebacker that even played at the same high school in Gordo, Alabama.
Herb Hannah 1948-1950 - John  1970-1972, Charley  1974-1976, & David  1975-1979
After serving in the Navy for six years, Herb Hannah would enroll at Alabama and start as a 26-year-old freshman offensive lineman. John, who was on the o-line as well, would play 13 NFL seasons for the New England Patriots after being a two time All-American at Alabama. Charley would play 12 seasons between the Tampa Bay Buccaneers and Los Angeles Raiders. Though he chose not to pursue the NFL, David won two National Championships at Alabama, out-numbering his whole family.
Bobby Humphrey 1985-1988 & Marlon Humphrey 2014-2017
Prior to being drafted in the first round by the Denver Broncos, Bobby Humphrey was a two time All-SEC and All-American running back for the Crimson Tide. At defensive back for Alabama, his son Marlon would also be selected in the first round of the NFL draft. This is also one of the few father-son duos to have both be named to an NFL Pro-Bowl.
For more content from J.R. Moore listen to Tide Tonight MWF at 6:00-7:00 p.m. or check out more articles on our website.
In loving memory of Raymond Nicholas Moore, 1956-2012.
Enter your number to get our free mobile app