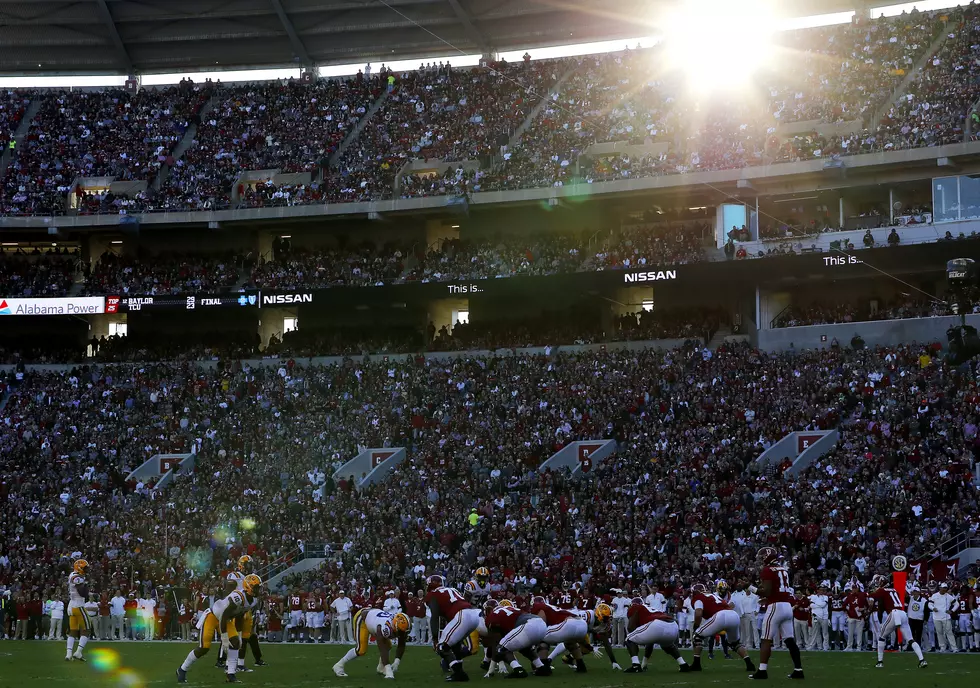 Even at Partial Capacity, How does Attendance Work in 2020?
Getty Images
We're less than 100 days away from college football kicking off.
I say that confidently. There's little doubt in my mind the games will be played. There's a chance I, and many of us, could be wrong in that assessment, but let's be optimistic for a second.
What is completely up in the air is whether fans will be at these games. Tens of thousands of people packed into ruckus stadiums across the country every Saturday on the heels of this pandemic is difficult to visualize.
And don't mistake me; I want fans to be able to see their teams on the gridiron. I want to attend Alabama games this fall just as much as anyone. But the statement remains the same as it's been since March: We just don't know.
However, there are those working to make it happen.
Ohio State Athletic Director Gene Smith said last week the Buckeyes' Horseshoe could fit 20-40k dependent upon social distancing guidelines and whether those are relaxed in the coming months.
So, let's take what could be at Ohio State and tie it to Bryant-Denny Stadium under the stead of Greg Byrne and Nick Saban.
Buckeye Stadium holds just under 105k people. Students generally take up in the range of 25k of those seats: 28k in 2018, 21k in 2019. So, if the Buckeyes are able to welcome the shy side of their 20k-40k scale, a major dilemma is cast: do you keep the same quarter percentage of students, what about season ticket holders and boosters. What about media? Every person adds to the struggle of meeting these social distancing guidelines.
When Alabama re-opens Bryant-Denny Stadium with all its fancy new upgrades against Georgia State (oof), how many fans, student or otherwise, will even show up, let alone stay for four quarters.
Now yes, these noncompetitive games provide opportunities for fans to see the Crimson Tide on a budget. I get that; those are the games I usually attend myself.
But monetarily, is it worth having a near empty stadium after spending over $107 million on upgrades against a Sun Belt team? Maybe to some, but again: We just don't know.
Ohio State is in the same boat. The Buckeyes open with Bowling Green.
Anything can happen, but both of these programs are looking at blowout victories to open their home schedule.
College football is in a weird spot in the pursuit of having fans in attendance.
With 130 teams plus FCS programs interweaving in schedules, the level of competition is so broad, game by game interest fluctuates. The NFL won't have this problem.
Students make up a great deal of the college atmosphere, but also pay slightly less for tickets. Students will also leave once the game is over to party or whatever. The NFL doesn't have this problem.
Conversely, the NFL will be just fine if games are played in empty stadiums. The Alabamas and Ohio States of the college football world likely would be too. However, this doesn't even bring up the struggles for smaller programs that struggle to fill its stadiums on a regular basis: Troy, South Alabama and so many others across the country.
Under improved circumstances, some fans are better than no fans. Hopefully, we get to a point by September stadiums can simply be filled as any other year.