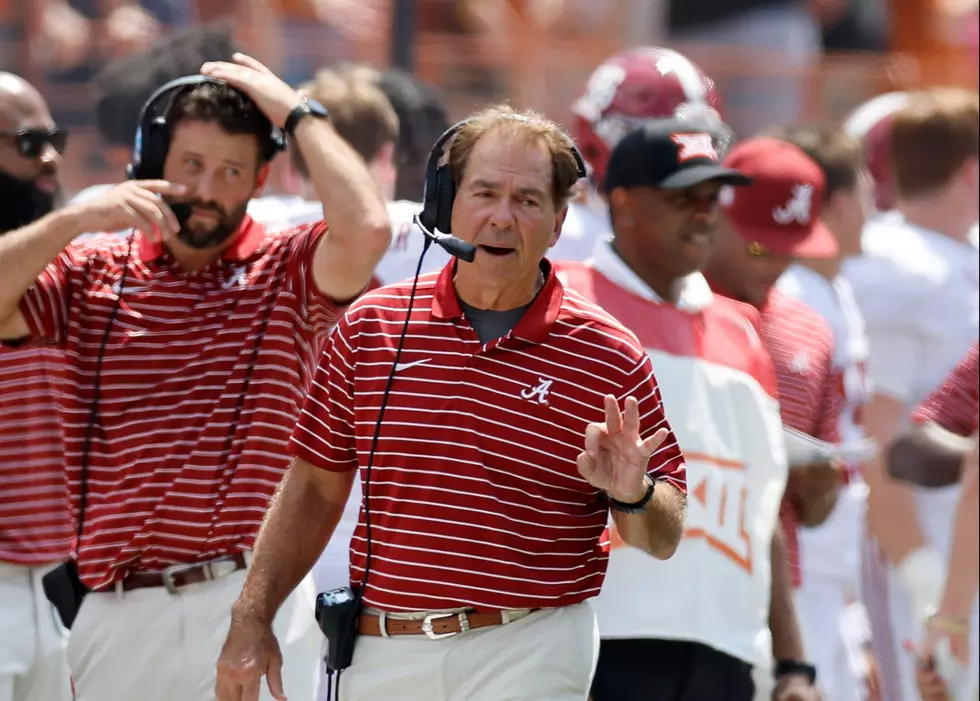 Coach Saban Dials Back on His Response to a Reporter's Question
Getty Images
Alabama coach Nick Saban has no problem letting a member of the media know when they have asked a "bad" question. However, Wednesday's press conference went a little differently than normal.
Saturday, after Alabama soundly defeated Middle Tennessee State, Bama Central reporter Austin Hannon asked Saban a question pertaining to the performance from quarterback Jalen Milroe and his confidence for the rest of the season.
Saban didn't mince his words.
"So you asking me to speculate and answer a hypothetical question about how some guy's going to perform in the future. I don't really know. I mean, I love him. I think he's doing well. I know he's working hard trying to improve."
Saban, in his true fashion, grabbed the Coke bottle in front of him and said, "This is a Coke bottle, it's not a crystal ball. How do you think he'll play? Do you have any idea?"
The seven-time national champion has taken some heat lately from media on his alleged "bullying" of local reporters.
Tim Brando, among other national journalists, has been vocal about Saban's antics.
In Wednesday's press conference, Coach Saban called Austin out by name and said, "Look, you didn't ask a bad question the other night, I just didn't answer it very well."
"When a guy plays well in the game at any position, it should help his confidence and it should help him perform better in the future," Saban continued. "But I do think that every player has to understand that just because I played well, I still want to try to improve the few things that I could have done better."
"And I think if a person keeps that mindset, then they're always improving, because you're never satisfied and you're always trying to do better and you don't let complacency creep into your game. And that certainly hasn't happened with Jalen, so hopefully, the confidence that he gained in this game will certainly help him to continue to play better and better in the future. That's what we hope for as coaches. That's what we try to encourage him to do. And that should have been my answer the other night."
Have we seen the last of the "rants" from Coach Saban? Only time will tell.
Lies Auburn Fans Tell Themselves About Bama Football
Starting Alabama Quarterbacks Under Nick Saban
Here is every quarterback that has started for the Crimson Tide under Nick Saban.
Iconic Photos From Alabama's 18 National Championships
Claimed or recognized, no FBS football program has more national championships than the Tide. Look back on all 18 titles in Alabama history with these photos.