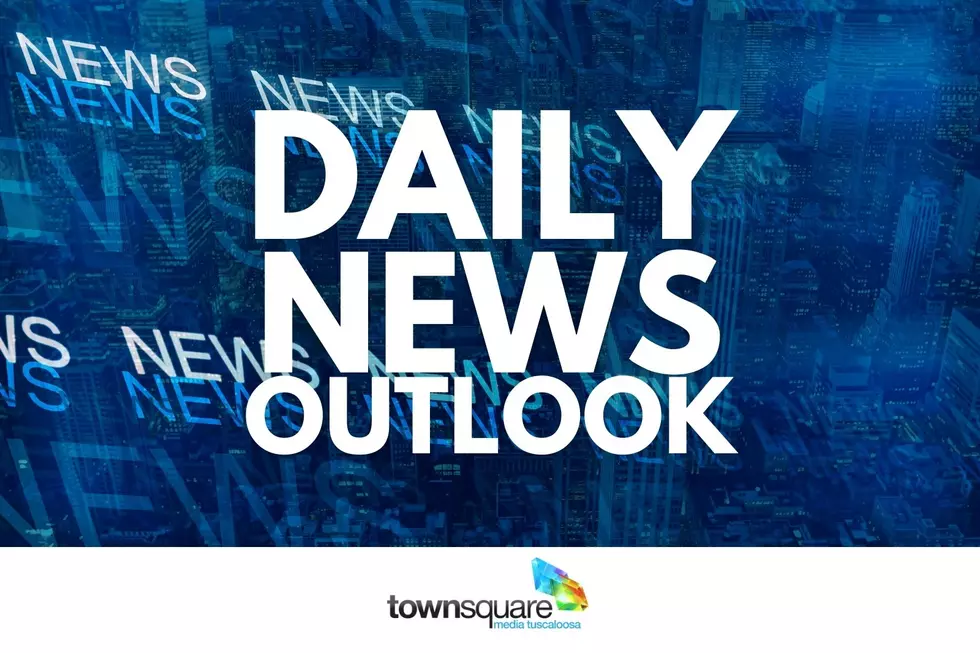 West Alabama Tuesday Briefing
Canva
Tuesday, September 19, 2023, is starting out with yet another fall preview as overnight temperatures were again in the mid 50s. The mid to upper 80s highs the rest of the week will be nice but so would some rain.
Much of West Alabama is experiencing abnormally dry conditions according to the U-S Drought Monitor and with no rain now in the forecast through the end of next week, expect those dry conditions to spread further across the area. And what is even worst, October, just ahead, is typically one of the driest months of the year.
The Forecast:
Today: Ample sunshine today. Highs in the 80s.
Tonight: Mostly clear tonight with lows in the mid 50s to lower 60s.
Wednesday: Partly cloudy on Wednesday with highs in the mid 80s to around 90.
Wednesday Night: Partly cloudy, with a low around 64. East wind around 5 mph.
High School Football on Thursday and Friday nights will have mostly clear skies and gametime temperatures in the lower 70s.
Crimson Tide Football Saturday will be a continuation of what we will have experienced all week, Sunny and 87 degrees for the 2:30pm kickoff against Ole Miss at Bryant-Denny.
---
---
Topping the News:
Help at Home, a provider of personal home healthcare services, with a location in Tuscaloosa, is pulling out of Alabama. The company blames Alabama's unwillingness to expand Medicaid for ceasing operations for some 11-hundred clients. Alabama is one of only 10 states that have not expanded Medicaid. Gov. Ivey claims the state can't afford to expand Medicaid. Low Medicaid payments are blamed for the closure of many of the state's rural hospitals.
---
Alabama Sec. of State and Tuscaloosa native Wes Allen is taking some heat this morning from voting rights groups for waiting so close to the coming primary and general elections to institute a state developed voter registration information system. When he was running for office complained that the national system Alabama previously belonged to shared too much information. The new Alabama Voter Integrity Database was developed in Alabama over the last eight months and will share information with border states as well as Arkansas.
---
The new U-S News and World Report Best Colleges rankings are out, and the University of Alabama has fallen 33 places to 170th in the nation.  Auburn rose to 93rd. U-S News uses 19 indicators to determine school rankings; among them are graduation rates, financial resources and peer assessments.
Stillman College in Tuscaloosa withdrew from the rankings last year in protest of what they termed unfair criteria to HBCUs.
---
An education summit was held in Tuscaloosa this morning at the Bryant-Conference Center. City School Superintendent Dr. Mike Daria and County Schools Superintendent Dr. Keri Johnson are being joined by Executive VP and Chief Workforce Office of the Chamber of Commerce of West Alabama Donny Jones for the annual breakfast and panel discussion about the status of local schools and career preparation.
---
Patrick Braxton was the only candidate to enter the mayor's race in the Hale County town of Newbern but the town's white mayor, Haywood Stokes III, who inherited the seat from his father, continues as mayor. A federal suit by Braxton claims resident's 14th Amendment rights were violated by Stokes and the town council and now the town of Newbern itself has been added to the suit. It claims Stokes and the all-white council illegally retained their seats by a hand-me-down process.
---
---
In Sports:
Before the season Tide Coach Nick Saban told media he wanted to see all 3 Bama QBs in game action before deciding on a starter. That has been done now and Jalen Milroe will be the starter against Ole Miss Saturday afternoon. Kickoff is 2:30.
You can hear the game in West Alabama on 95.3 The Bear and Tide 100.9.
---
It was not a good night for former Tide QB Bryce Young last night as Carolina lost 20-17 to New Orleans in one of two Monday Night Football games. In the other Pittsburgh beat Cleveland 26-22. Former Georgia star RB Nick Chubb suffered a serious injury for Cleveland.
---
The countdown is on for the return of Joey Freshwater (aka Lane Kiffin) to Tuscaloosa Saturday afternoon. Let's make Lane's return to T-Town a miserable one.  ROLL TIDE!!