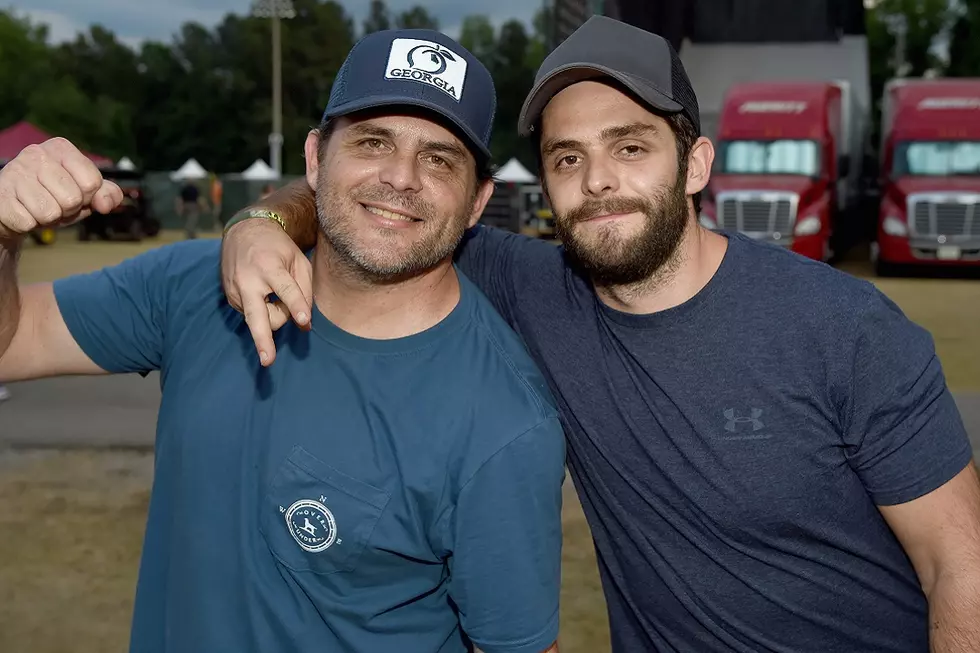 Thomas Rhett Gives Dad Rhet Akins' Very Hot Summer Tour Set a '10 Out of 10′
Rick Diamond, Getty Images
"I give my dad's set a 10 out of 10," Rhett said backstage at CMA Fest 2019. "Of course I'm biased, but when [I] get out there and watch my dad live, I remember how much of a great entertainer he is. For somebody to walk out there after not playing shows for, like, 15 years and do what he did [at our tour stop] in Orange Beach, [Calif.], is pretty special. It's like he has no fear, you know what I mean?"
Akins released two albums on Decca Records in the 1990s, earning several charting singles, including the No. 1 hit "Don't Get Me Started." These days, he's an active songwriter in Nashville, and has co-penned hits for A-list artists such as Luke Bryan, Blake Shelton and Brooks & Dunn.
In fact, not only has he written hits for his superstar son, but Akins also co-wrote the No. 1 hit "Small Town Boy" for another one of his tourmates, Dustin Lynch. Rhett explains that the group of artists on the road together for the Very Hot Summer Tour -- which also includes Russell Dickerson -- are a close-knit foursome who all have a lot of fun onstage. The tour had just kicked off when he returned to Nashville for CMA Fest, but Rhett hopes for more onstage collaboration between the four artists as the trek continues.
"We did two shows and then had a two-week break," the singer explains. "We literally did two shows in Orange Beach, and then we pick it back up next weekend. [Before the first shows], everybody came to soundcheck going, 'Man, I wish we could figure it out right now,' but everybody was trying to dial in their set. But going into Virginia Beach, [Va.], we're gonna get back out there and figure it out."
There will be plenty of time for the group to come up with creative ways to collaborate onstage: The Very Hot Summer Tour is set to run through October, when it will wrap with a hometown show in Nashville.
LOOK: Thomas Rhett's Best Live Shots