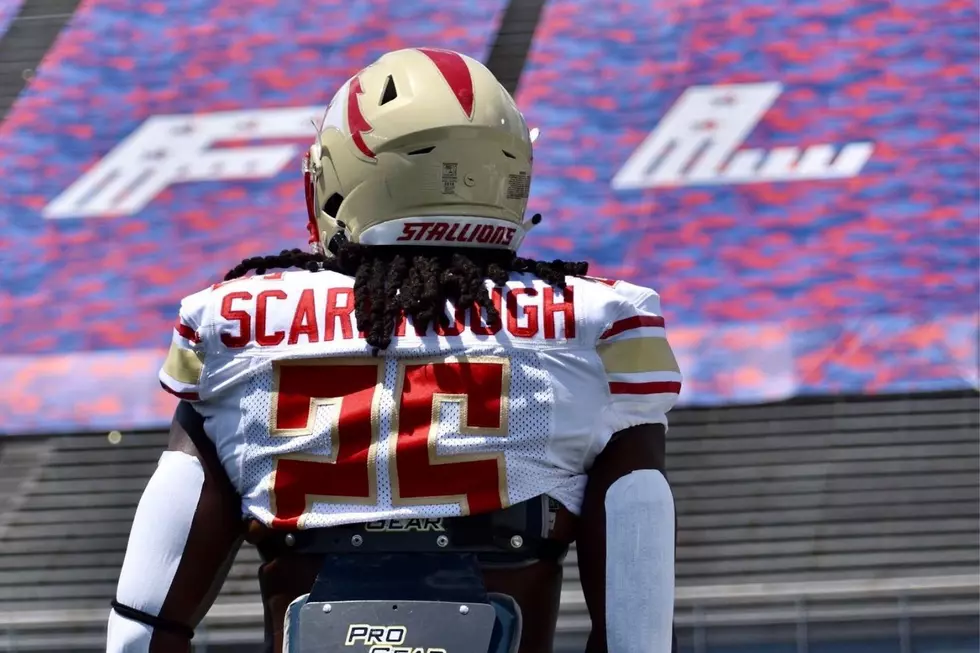 Stallions Finish Inaugural Regular Season With One Loss
Photo courtesy of the Birmingham Stallions (@USFLStallions) via Twitter.
With a 21-18 win over the Tampa Bay Bandits (4-6) in Week 10, the South division champion Birmingham Stallions enter the 2022 USFL playoffs at 9-1.
Former Alabama running back Bo Scarbrough recorded a 10-yard catch, nine carries and 38 yards in the season closer for Birmingham. Tampa Bay running back BJ Emmons, who also spent time with the Tide (2016), recorded one three-yard catch and three and three rushes for 21 yards.
Birmingham's only loss on the year came in Week 9, falling to the then 1-7 Houston Gamblers, 17-15. However, the Stallions' ticket had been punched on June 4 after starting the season a perfect 8-0 with their win over the New Orleans Breakers.
The Breakers will get a shot to avenge their Week 8 loss to the Stallions in the 2022 USFL playoffs as the teams from the league's South division, holding the two best records, will face each other in the postseason for a trip to the championship game.
New Orleans is 0-2 against Birmingham and has been outscored by the Stallions 32-22 in their regular season meetings. The two USFL teams representing the league's North division, the New Jersey Generals and Philadelphia Stars, also went winless against Birmingham, leaving the Stallions currently 4-0 against the entire playoff field.
However, it is also important to keep in mind that due to the nature of the inaugural year back in play, all regular season USFL games were played in Birmingham, Alabama's Protective Stadium – creating a season-long advantage for the Stallions.
All three USFL postseason games are scheduled to play at Tom Benson Hall of Fame Stadium in Canton, Ohio, between Saturday, June 25 and Sunday, July 3. Winners of the two divisional semifinal games on June 25 will meet for the 2022 USFL Championship on July 3.
For more from J.R. and all of the talented staff at Tide 100.9, make sure to check out our content at tide1009.com and on the Tide 100.9 app.
Top 20 Safest Alabama Cities
Take time to find out where your city ranks on the safest Alabama cities list.
Must-Visit Quirky Museums in Alabama
Most Dangerous Cities in Alabama
Find out if your city made the 10 Most Dangerous Cities in Alabama list.