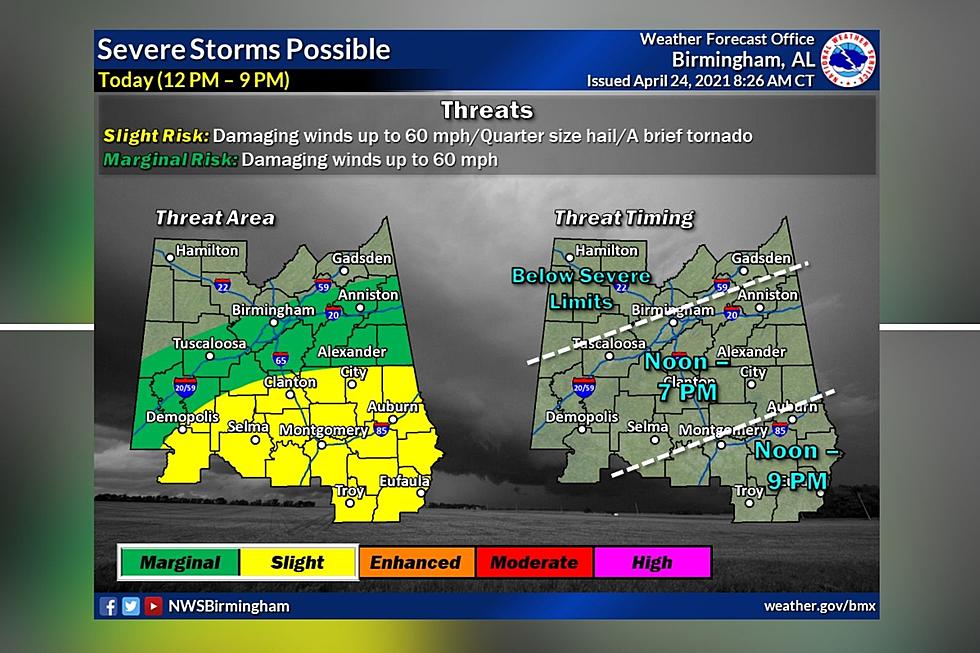 Severe Storms Possible Saturday in Central Alabama
National Weather Service
The National Weather Service in Birmingham provided new information about the potential for severe weather today, Saturday, April 24, 2021. The perspective of threat levels has decreased for our coverage areas.
However, the National Weather Service in Birmingham notes that "after a lengthy discussion and review of observational trends this morning, the forecast afternoon severe weather threat for Central AL has decreased. This is certainly good news. However, don't let your guard down. We continue to monitor the situation closely."
Some of our coverage areas either have no risk, marginal, or slight levels. The time frame for most of our listening areas is between Noon and 7 pm.
Marginal Risk
Damaging winds up to 60 miles per hour
Slight Risk
Damaging winds up to 60 miles per hour, quarter-sized hail, and a brief tornado
James Spann, ABC 33/40, and Townsquare Media Tuscaloosa Chief Meteorologist forecasts the "highest severe weather probabilities in Alabama this afternoon will be south of I-85 and east of I-65. Storms that form could produce large hail, damaging winds, and a few isolated tornadoes."
My advice is to stay weather aware and have multiple ways to receive warnings. Weather information can change and quickly. I know we are super concerned about tornadoes in general in our area, but damaging winds can cause significant damage as well. The National Weather Service in Birmingham gives us a great reminder about the impact of damaging winds.
(Source) Click here to follow the Facebook Page for James Spann. For more from the National Weather Service Birmingham, click here.
KEEP READING: Get answers to 51 of the most frequently asked weather questions...
Severe Weather Terminology You Should Know