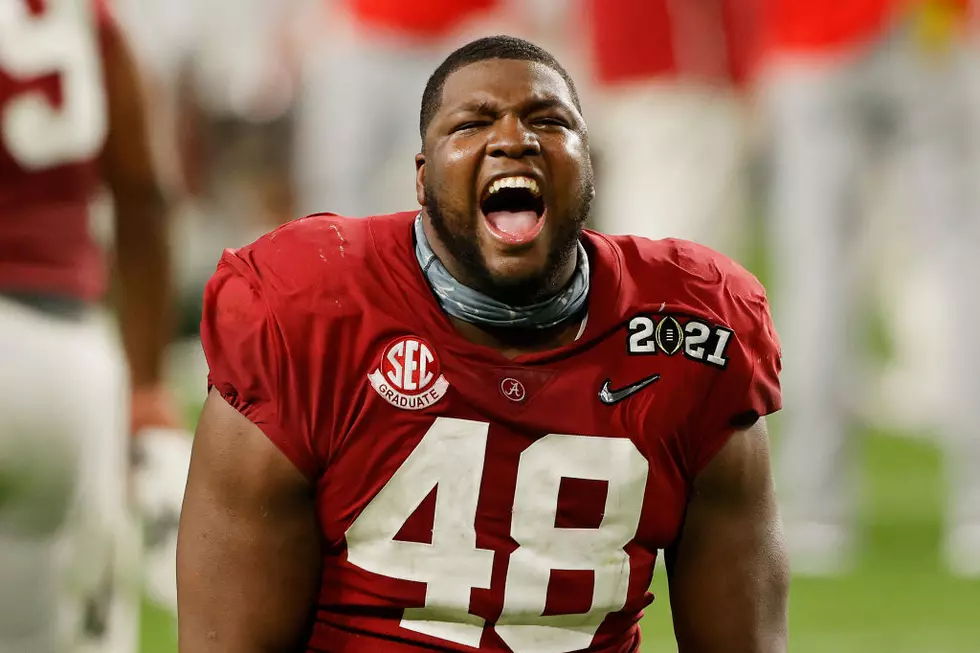 Phidarian Mathis: "It's A Whole New Squad."
Getty Images
Phidarian Mathis kept his answers short and sweet at SEC Media Days Wednesday morning, but the message was clear from the senior defensive lineman: the past is in the past and the 2021 Crimson Tide is a unique team.
Whether the man they call "Phil" was asked about the rise of talent in the SEC West or last year's success, Mathis stood firm that the changes in and around the Crimson Tide won't deter 'The Process' in his final season.
"That's in the past, that's last year's team," Mathis said when asked about the challenge of fighting complacency off last year's success. "It's a whole new squad, we gotta build our own team chemistry and set our own goals, you know, keep pushing."
Last season the Alabama Crimson Tide ran the gauntlet in historic fashion, finishing undefeated through an altered 10-game all-SEC schedule capped by a dominant performance in the College Football Playoff en route to the program's 18th national championship.
Mathis did his job in 10 games with 31 tackles, five for a loss and 1.5 sacks and a forced fumble. While he and seven other defensive starters return for 2021, only three return for the Crimson Tide offense, which brings a new challenge to grow as a team.
"I'm very excited, man," Mathis said of his team. "I got good hopes in this team, it's going to be a very good team. Everybody's coming along, man the chemistry is starting to get well, everyone is buying in doing their job, no complaining. I'm just ready to go into my last Fall camp with a lot of great guys."
Returning alongside Mathis on the interior defensive line is LaBryan Ray. Ray, a fellow senior in the same class as Mathis, missed 10 games last season after missing 11 in 2019. Ray returns for his final season in 2021 and Mathis believes in his teammate to rebound not only as a leader but as an impact player for the defense.
"LaBryan, man, he's very healthy, I'm excited that he's back," Mathis said. "His confidence, I love it. He never gave up, he never cried about anything. He just kept pushing."
"I'm just really expecting him to come back just to be the leader he's always been and to give it his all," Mathis added later. "You know, we ain't got that many more left. I'm just ready for him to be back on the field, for real."
Offensively, Mathis was asked about the new starting quarterback Bryce Young and what he brings to the team
"I'm very excited for Bryce Young," Mathis said. "He's stepped up in being a leader. He's more vocal now and I'm just very excited to see what does coming into Fall camp."
Of course, Young's NIL earnings have been a hot topic throughout SEC Media Days. However, Mathis showed that the team is happy for him.
"If that's the case, we are happy for him," Mathis said. "I just want to see everybody win, at the end of the day."
Mathis said "Ain't nothing going to change about Bama," which rang true through each of his answers Wednesday morning -- There's no looking ahead, there's no attention to the competition, there are no individuals. It's about the Crimson Tide in 2021 just as much as ever, even if the squad has a few new faces.
Alabama Crimson Tide All-Time Sacks Leaderboard
Alabama Non Con Opponents
Iconic Photos From Alabama's 18 National Championships
Claimed or recognized, no FBS football program has more national championships than the Tide. Look back on all 18 titles in Alabama history with these photos.