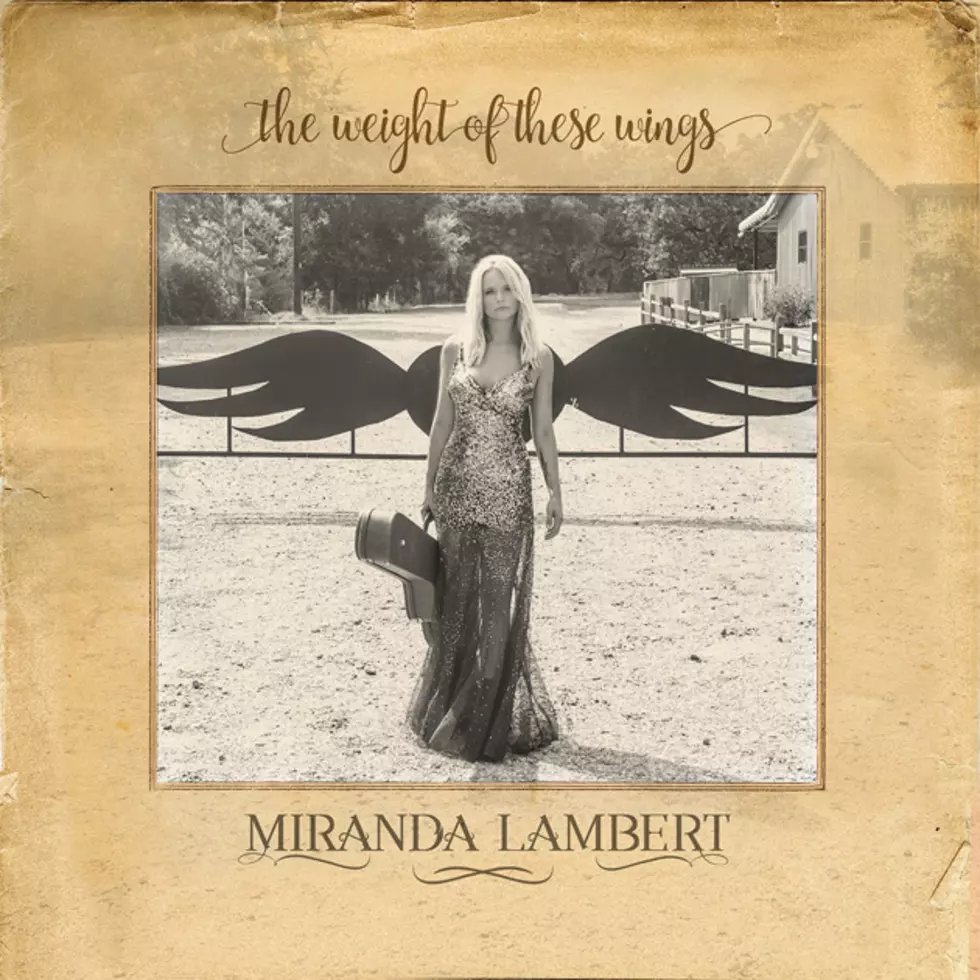 Miranda Lambert Reveals 'The Weight of These Wings' Track Listing
Sony Music Nashville
As promised, Miranda Lambert's new The Weight of These Wings album will include two discs and 24 songs. The singer revealed the full track listing on Monday (Oct. 17) via Instagram.
A few song titles are familiar. Current single "Vice" makes Disc 1, while the names of her last and next tour are on Disc 2 ("Keeper of the Flame") and 1 ("Highway Vagabond"), respectively. "Highway Vagabond" was penned by songwriter Luke Dick, Taste of Country has confirmed. Songwriter credits for the remaining songs have not been revealed.
It's not completely clear what differentiates the themes of the two albums. Lambert has indicated that events from the last 18 months of her life make up songs on the double release. That includes a divorce from Blake Shelton and new relationship with Anderson East. There isn't a song title that immediately connects to what fans and media know about those relationships.
The Weight of These Wings (Nov. 18) is Lambert's sixth studio album. It's her second to not include a title track, following the creatively named Four the Record from 2011. The Highway Vagabond Tour will begin in January.
Miranda Lambert's The Weight of These Wings Track Listing:
Disc 1: "The Nerve"
1. "Runnin' Just In Case" (Miranda Lambert, Gwen Sebastian)
2. "Highway Vagabond" (Luke Dick, Natalie Hemby, Shane McAnally)
3. "Ugly Nights" (Lambert, Hemby, Liz Rose)
4. "You Wouldn't Know Me" (Shake Russell)
5. "We Should Be Friends" (Lambert)
6. "Pink Sunglasses" (Rodney Clawson, Dick, Hemby)
7. "Getaway Driver" (Lambert, Anderson East, Hemby)
8. "Vice" (Lambert, McAnally, Josh Osborne)
9. "Smoking Jacket" (Lambert, Hemby, Lucie Silvas)
10. "Pushin' Time" (Lambert, Hemby, Foy Vance)
11. Covered Wagon" (Danny O'Keefe)
12. "Use My Heart" (Lambert, Ashley Monroe, Waylon Payne)
Disc 2: "The Heart"
1. "Tin Man" (Lambert, Jack Ingram, Jon Randall)
2. "Good Ol' Days" (Lambert, Brent Cobb, Adam Hood)
3. "Things That Break" (Lambert, Jessi Alexander, Hemby)
4. "For the Birds" (Lambert, Aaron Raitiere)
5. "Well-Rested" (Lambert, East, Raitiere)
6. "Tomboy" (Lambert, Hemby, Raitiere)
7. "To Learn Her" (Lambert, Monroe, Payne)
8. "Keeper of the Flame" (Lambert, Hemby, Rose)
9. "Bad Boy" (Lambert, Saenz)
10. "Six Degrees of Separation" (Lambert, Galyon, Hemby)
11. "Dear Old Sun" (Lambert, Terri Jo Box, Sebastian)
12. "I've Got Wheels" (Lambert, Sebastian, Scotty Wray)
Hear Miranda Lambert's "Highway Vagabond," as Performed by the Writer