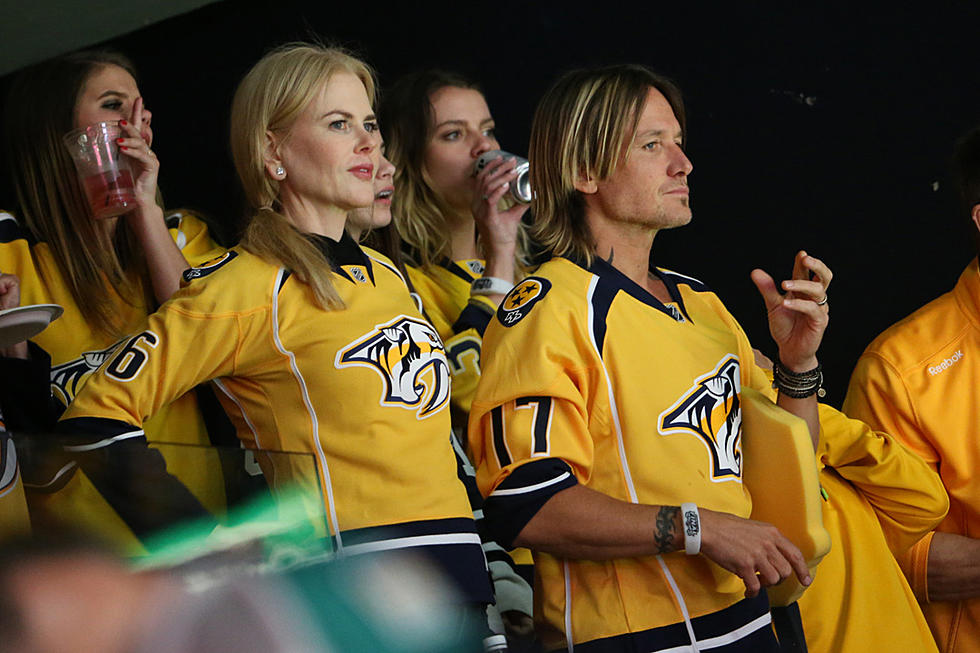 Keith Urban, Nicole Kidman Celebrate Nashville Predators Win in Style
Terry Wyatt, Getty Images
Keith Urban is likely the Nashville Predators' No. 1 Australian fan. He's surely the most famous, as proven in this gallery of pics with wife Nicole Kidman from Game 3 of the Stanley Cup Finals.
The couple took in the third game on Saturday (June 3) from a suite, with Martina McBride and a few other friends nearby. In fact, McBride's reactions are as priceless as Urban's. In this gallery, Kidman mostly keeps it together, or takes a rest. The "Blue Ain't Your Color" singer pumps a fist, raises his arms and prays throughout. No worries Keith, the home teams's got this!
Keith Urban + Nicole Kidman's Most Adorable Red Carpet Moments
Of course the Preds did win, setting up Monday night's (June 5) Game 4 in Nashville. Both Urban and McBride have sung the National Anthem to start a game, as has Carrie Underwood, Kelly Clarkson and Trisha Yearwood. Dierks Bentley is another country fan who's a big Nashville Predators' fan.
The Pittsburgh Penguins lead the best-of-seven series two games to one. It will either be the first Stanley Cup championship for the Preds or the second straight for Pittsburgh. Nashville has embraced the game and series in ways that are making national news. Alan Jackson shut down Lower Broadway outside of the Bridgestone Arena for a concert prior to Game 3. Two to three times the arena's capacity turned out for the show, or one of the viewing parties.
The Cutest Pictures of Carrie Underwood and Mike Fisher