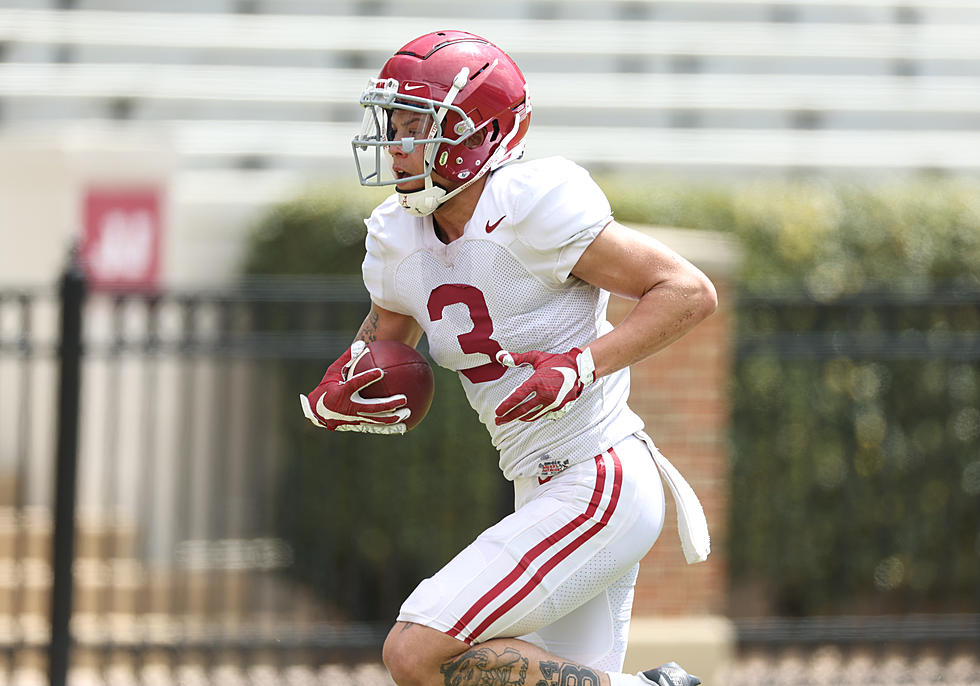 Jermaine Burton: A Jack of All Trades
Crimson Tide Photos / UA Athletics
Every week in the lead up to the 2022 season, I'll break down a position group, a Crimson Tide player and an SEC team here on Tide 100.9. The first player I'm doing a film study on is the Georgia transfer wide receiver, Jermaine Burton.
Don't let 53 career receptions fool you. Don't let Georgia's usage of him fool you. Jermaine Burton, a junior wide receiver from California by way of the Bulldogs' program, is a total package receiver for the Crimson Tide in 2022.
Throughout this breakdown of Burton, you're going to see the name John Metchie a lot. Burton is a faster version of Metchie, possessing strong hands, the ability to make tough catches, speed to get behind the defense and exceptional route-running ability.
Despite holding the bragging rights for the 2021 season, Kirby Smart and the Bulldogs program have to feel foolish for letting this kind of talent get away. But, with the sincere possibility of doubling his total receptions from the previous two years with Bryce Young tossing him the rock, it's easy to see why Burton headed west to Tuscaloosa.
Smart's offense practically pushed Burton out the door though. In 2021, Burton saw the second-most snaps of any wide receiver for the 2021 champions. His 388 snaps accounted for just 39% of the Bulldogs' total offensive snaps last season, and a concerning 163 of those were run downs. Because the Bulldogs run the ball so much with a bevy of tight ends and rotate its wide receivers like students on barstools on a Thursday night in T-Town, there isn't much to take away from Burton's numbers or even his run-blocking ability, as the Georgia offense opted for beefier receivers in those instances.
Of course, that won't be the case in 2022 for Burton. When I say he can catch 106 passes or more this season, I absolutely mean it. In 2021, Metchie caught 96 passes in 13 games. He missed two games at the end of the season and had a first-round pick in Jameson Williams hauling in his fair share.
Should Burton stay healthy, he'll most likely be making up for Metchie's targets and much of Williams's with the wide receiver room in its current state at Alabama.
Read More: Previewing the 2022 Tide: Quarterbacks
We even got a glimpse of this at Alabama's A-Day game. Burton received the first two targets of the scrimmage, the first an RPO slant reception and the second a deep shot that just missed his grasp.
The second target, though not shown there, is what leads me to the first bit of intrigue surrounding Burton in Crimson and White.
Oh, He's Fast
When Burton first announced his transfer decision to come play for the Crimson Tide, I rewatched some of his play against Alabama in the SEC Championship and College Football Playoff National Championship games.
The only thing that stuck out to me was that he played like Metchie with crisp underneath routes and reliable hands, though, it was somewhat clear why the Georgia offense didn't run through him. He wasn't overly dynamic.
My opinion hasn't completely shifted, but I was surprised to see the speed he possesses in returning to his film. He won't take the top off of every defense - he is far from Jameson Williams. However, he'll punish defenses that don't respect his speed or those that simply can't keep up with him.
Check out these four plays from Georgia's 2020 game against Mississippi State.
Burton has enough speed. Alabama might not have a Williams on this year's roster, but it can't afford to fully rely on Burton to be that type of receiver. His other gifts are simply too valuable to the structure of the offense.
However, this does ensure that Alabama will be able to flip the field and create explosive plays. It's worth noting that Metchie averaged 11.9 yards per catch in 2021. Burton averaged 19.1. Burton will likely come down to about 15 or so with his possession receptions in the Tide's offense, but that's still a great number for any receiver.
The Possession Traits That Pop
It's funny. Daniel Jeremiah once compared John Metchie to Jarvis Landry (I have too, but who's counting). Coincidentally, Greg Biggins at 247 Sports compared Burton to Landry coming out of high school.
The intermediate route. The quick first down. Sitting in zones. Racking up receptions. That's what Burton was made for, what his skillset begs for.
Check out these two receptions against Alabama in Atlanta.
Read More: Tour de SEC 2022: The Georgia Bulldogs are Still Elite
Fast feet, quick hips, sure hands - it's all there for him.
He possesses the traits of an elite slot receiver that his quarterback can lean on in the tightest situations. Not many slot receivers can act as the number one option in an offense, but I believe Burton can.
Ironically, he doesn't have much choice in the matter. Alabama needs him to be the number one wide receiver. Burton's NFL aspirations need him to be the number one wide receiver.
Thankfully for him, in Tuscaloosa Burton should be able to take full advantage of the opportunity to be the number one wide receiver and show the country what Georgia's lack of offensive creativity kept hidden in Athens for the past two years.
Alabama Crimson Tide All-Time Receiving Leaderboard