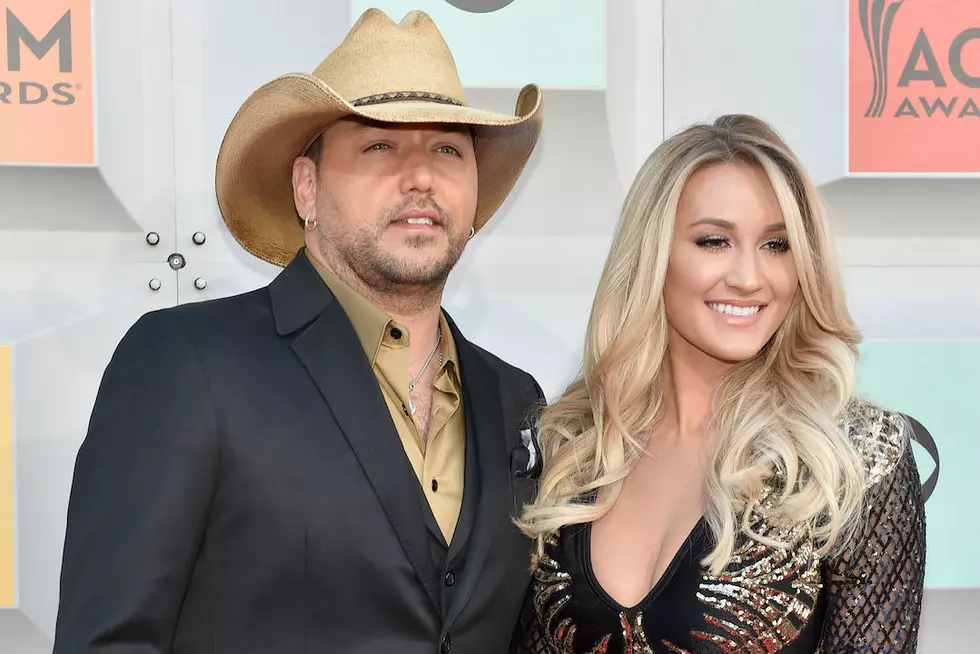 Jason Aldean Has Some Advice for New-Parent Country Stars: 'Balance It Out'
David Becker, Getty Images
Jason Aldean's advice for country artists who are new parents, or parents-to-be? It's actually pretty simple, at least in theory: Spend as much time with your family as you can.
With brand new babies at home, or babies on the way, for artists such as Maren Morris, Kane Brown and Brett Young, the four-time father says the new parents will benefit from the fact that they laid much of the groundwork for their careers before having kids.
"Luckily for a lot of these guys, the early parts of their career are over and they're more established now," Aldean tells The Boot and other outlets. "So the biggest advice I could give would be to try and juggle it. Make sure that you spend time at home. Just balance it out. Make sure that you're home and you're not missing all these things with them, but also make sure that you're still out doing what you need to do for your career."
Aldean goes on to point out that a new baby changes everything, including the motivation behind a parent's career goals. "You kind of start working for different reasons at that point. Now, all of a sudden, you've got these people to take care of, and you're doing this to take care of them," he explains.
As a busy touring artist who juggles fatherhood, Aldean has had to learn the art of saying "no." "Because managers and publicists and everybody that works with you, they'll run you ragged if you don't at some point put your foot down and say, 'Not today,'" he says. "I think it's okay to say 'no' to things. It took me a while to figure that out, but sometimes you have to do that."
Superstardom brings an an additional challenge to parenthood for Aldean and other country artists. Questions such as how much of his kids' lives to share on social media can be tricky, the singer admits.
"Just simply for the fact that I know how hateful people can be on there," he goes on to say. "With the younger ones, they're not old enough to read stuff that gets said ... Even with my older two, I make sure they're private, and I don't tag them in pictures and stuff. I'll post pictures of them, but may not tag who they are, just because they're old enough to read that stuff."
Aldean knows that the majority of his fans like to see pictures of and read updates about his children because they're invested in his family. However, he still has to protect his kids from the few commenters who have more sinister intentions. "The good part of it outweighs the bad," he adds.
Aldean's wife, Brittany, has spent the past couple of years busy with family life, too. The couple's first child together, a son named Memphis, was born in December of 2017, and their daughter, Navy, followed in February of 2019. Long before they started a family, however, Brittany was an aspiring country artist who competed on American Idol -- so will she ever return to music?
"I don't know. Professionally, I don't think so," Aldean explains. "We've never really had that conversation. With her doing Idol and then being married to me and kind of seeing everything that goes into this, I think she's kind of like, 'I'm good.'"
Brittany has settled happily into the life she has now, Aldean continues. "She's doing great, and she loves being a mom. People always ask me, 'Are you guys gonna do a duet?' ... And I'm sure she'd probably be into it, but as far as making a career out it, I don't know that she's down for that anymore."
Do Y'all Know These 10 Facts About Jason Aldean?
Test Your Jason Aldean Knowledge!