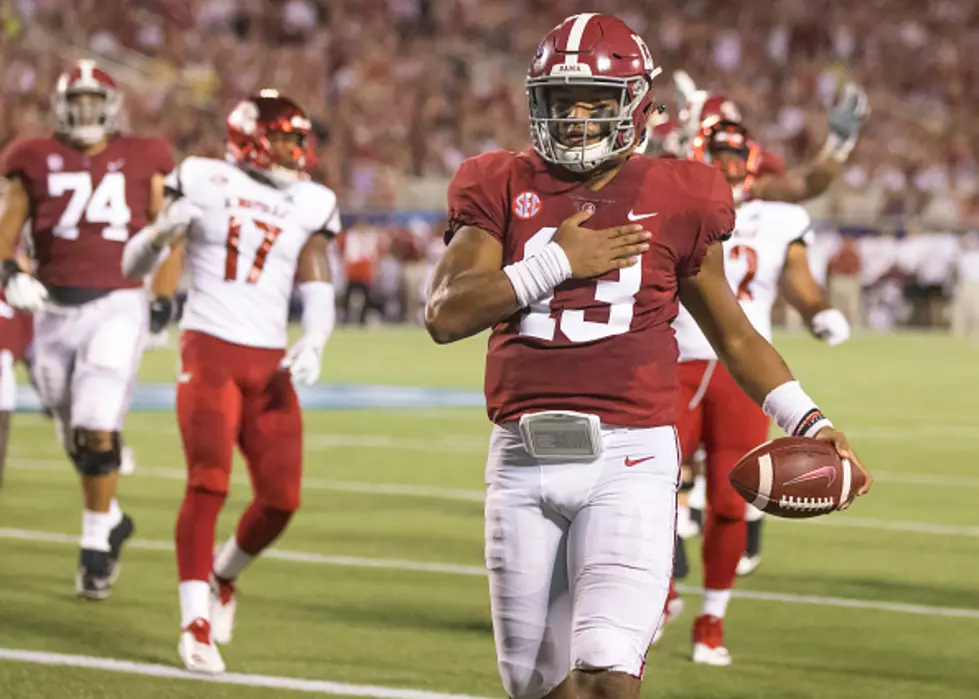 Is Alabama Joining the Heisman Campaign for Tua Tagovailoa?
Icon Sportswire via Getty Images
With Alabama in search of its 18th national championship, the focus in Tuscaloosa continues to be on the next opponent. But that doesn't mean a little promotion can't be done for the guy that might become the school's third Heisman Trophy winner.
Quarterback Tua Tagovailoa has been one of the biggest stories in college football this season leading the Crimson Tide's high-scoring offense. The sophomore already broke AJ McCarron's single-season touchdown record (31) and reached that milestone despite sitting out the majority of fourth quarters this year. His numbers and efficiency have made Tagovailoa the Heisman favorite heading into the final week of the regular season.
Now the Alabama football social team is doing its part to remind the country just how special the team's Hawaiian quarterback has been this year because some national analysts don't think he's the Heisman leader at this point. The program released this short video with the hashtag #TuaForHeisman, joining the campaign to add another iconic stiff-arm statue to Mal Moore Football Facility.
If you haven't followed the Heisman race, you might be surprised to find out that Tagovailoa has actually been the betting favorite since the preseason. That's before he started his first college game and prior to Nick Saban making the official decision that he'd be the starter over incumbent Jalen Hurts.
According to Bovada, Tagovailoa is now a -400 favorite to win the trophy while Kyler Murray is second at +450. That's a huge differential and Alabama has two huge games ahead that could only add to his highlights this year. Oklahoma plays a top-10 matchup at West Virginia and would advance to the Big XII title game should it win on Saturday, which would also give Murrary a chance to make another statement.
If Tagovailoa wins the award on December 8, he would join Mark Ingram (2009) and Derrick Henry (2015) as the only Crimson Tide players to win the prestigious honor. It would also give Saint Louis School in Honolulu its second Heisman winner along with Marcus Mariota.