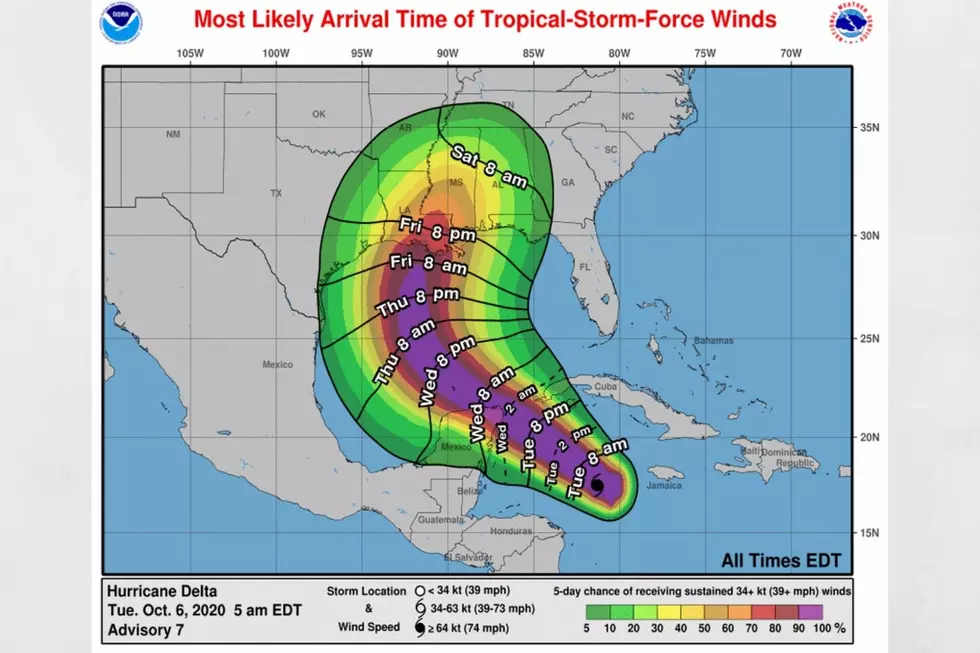 Intensified Delta Could Take Aim at the Northern Gulf Coast
National Weather Service
Enter your number to get our free mobile app
UPDATE: Hurricane Delta has rapidly gained strength. It is now a category 4 hurricane on the Saffir-Simpson Hurricane Wind Scale. It has sustained winds of 130 mph. 
Hurricane Delta has rapidly intensified into a category 3 hurricane and now late morning into a category 4 hurricane. There is now a westward tracking shift. Therefore, the cone includes the coastlines from the upper Texas coast to the Florida panhandle. The potential landfall to the Louisiana coast.
Currently, Delta has 100 mph maximum sustained winds and moving West North West at 15 mph. Hurricane-force winds extend outward up to 25 miles from the center.  Tropical Storm force winds extend outward up to 90 miles. Those in the immediate impact area of Delta are the Cayman Islands and Mexico's Yucatan Peninsula.
The impacts to central Alabama could change with any tracking variations. A track to the west could mean lesser impacts, while a track to the east brings the possibility of a more significant impact.
At this time, the current projections are that our area will be on the storm's eastern side.  According to the National Weather Service, we could expect "breezy conditions and an abundance of rainfall should occur." Delta could bring us rain that is "widespread and heavy" and occur from "Saturday morning into Saturday night, with zone of highest rainfall amounts near the AL/MS border." Rain amounts could range from 1 inch in the southeast and 4.5 inches in the northwest.
I want to stress, that this line of thinking could change with any variance of the tracking of Hurricane Delta. This information could be updated and shifted.
Extreme Outer bands into southern Central Alabama by Thursday midday that move into the northern counties
More showers and thunderstorms
More than likely, Delta will be a tropical storm and will be moving quickly through Mississippi and the northern counties of Central Alabama. The thoughts right now on activity are rain, possible severe wind gusts, and very low threat of a possible tornado.
Wet morning with clearing in the evening.
Delta quickly intensified into a hurricane yesterday evening in the western Caribbean Sea. It will continue to strengthen as it continues its track towards the Northern Gulf Coast.
Delta grew from a tropical storm to a hurricane within a day. This is the ninth hurricane during the 2020 Atlantic hurricane season. The early prediction is that Delta could grow intensity. There is the chance that Delta can become a major hurricane with a category three status.
(Source) From more from the National Weather Service, click here.
Things To Have Before It Rains