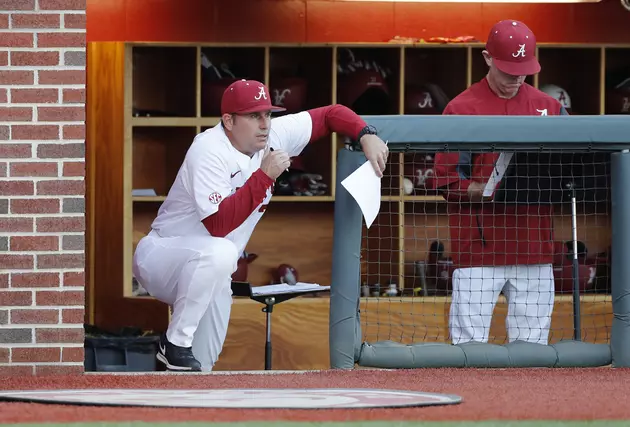 Greg Goff, Relieved of Duties Today
Crimson Tide Photos / UA Athletics
95.3 The Bear is reporting that University of Alabama head baseball coach Greg Goff has been relieved of his duties.  According to Tide 102.9's Ryan Fowler the players learned the news at 1pm this afternoon.
"Things are not easy for these coaches; their families; this program; and this is not something we take lightly at all," said Byrne. "I would like to thank Coach Goff and his staff for their contributions over the past year, and I wish them well in future endeavors. Coach Goff has had a lot of success over the years as a baseball coach, and I know that he will have success in the future as well.
"We felt this was the best decision going forward for our baseball program, and that is why we made the decision. You look at these situations when it comes to coaches, and you decide, 'What is the best long-term solution for the program?' – not based off a season or anything like that – just based off the long-term health of the program.
"As we move forward and look ahead, we are looking for the best possible baseball coach that we can get with college experience – that can be a head coach, that can be an assistant coach – but we want somebody that has been in college baseball and understands the dynamics of that.
"We have a lot of desirable resources here at The University of Alabama, including: the incredible stadium, our budget – we fund our baseball program at a very high level – and the Alabama brand that gives all of our teams the ability to recruit nationally for the best opportunity for success. People want to be at Alabama. This is a great and special place, and we are all fortunate to be a part of this athletics department."
Associate head coach Terry Rooney will now serve as interim head coach until a replacement for Goff has been named. The search to hire Alabama baseball's next head coach will begin immediately.
The Tuscaloosa News reported that Goff attempted to reduce scholarships for up to 10 players in violation of NCAA rules during their exit interviews on Monday.
Goff signed a five-year deal worth $450,000 per year on June 17, 2016 running thru the 2021 season.  Listen for more details with Don Hartley on today's Wild Bill Show.