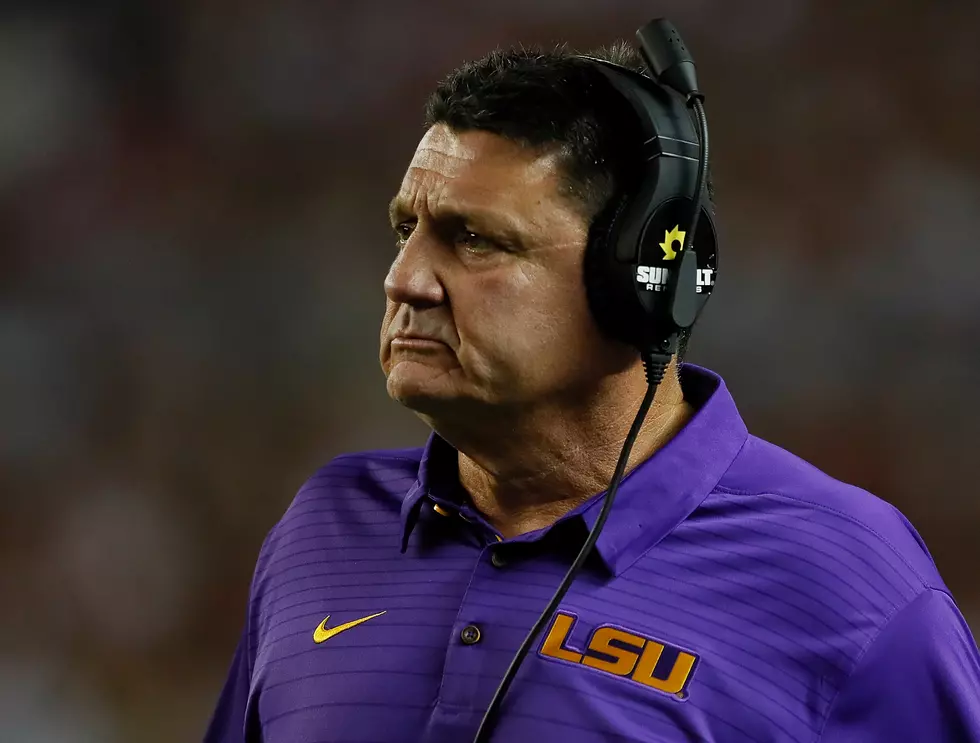 Ed Orgeron and LSU Parting Ways After 2021
Getty Images
There's change coming to Baton Rouge, LA, in 2022 as national champion coach Ed Orgeron and LSU have decided to part ways after the 2021 season, according to Sports Illustrated's Ross Dellenger.
LSU is officially terminating Orgeron without cause, according to Dellenger, and will payout on his $16.949 million buyout through 2025. If eligible, "Coach O" is still expected to coach if the LSU Tigers were to make it to a post-season bowl appearance.
Just a year after a perfect 15-0 season capped with LSU's first national title since 2007, Orgeron and the Tigers have only managed a 5-5 record for the 2020 season.
LSU (4-3) hasn't necessarily improved its play in 2021 either, losing their opening game to an unranked UCLA in Week 1. Since then, they've struggled in matchups with Central Michigan and Mississippi State, and lost in two straight weeks to No. 22 Auburn and No. 16 Kentucky.
Orgeron and the school have come under significant fire over the past two years for their handling of off-the-field issues – including sexual harassment and assault allegations – against current and former LSU football players.
The gravel-voiced coach has a 49-17 record as the head coach in Baton Rouge, LA, and a 65-44 all-time record.
LSU's next game will see the Tigers on the road taking on No. 13 Ole Miss and Heisman-candidate Matt Corral on October 23.
For more from J.R. and all the talented interns at Tide 100.9, make sure to tune in for Tide Tonight on Wednesdays and Thursdays at 6:00 pm. You can see all of our content at tide1009.com and on the Tide 100.9 app.
Alabama Tight Ends and Defensive Backs at Fall Practice
Alabama held its fall practice on Thursday. Tight ends and defensive backs practiced hard yesterday as the season opener approaches. Alabama will face Miami in Atlanta for the season opener on Sept. 4.
Alabama vs. Mercer - Week 2 2021
The Alabama Crimson Tide hosted the Mercer Bears and won 48-14 in the home opener of the 2021 season. Alabama was in control from start to finish with Jase McClellan impressing the crowd scoring in three different ways.
The Anti- Alabama Team
Alabama has lost 23 games while Nick Saban has been in charge. These athletes were pivotal in helping to secure a rare victory for their teams.