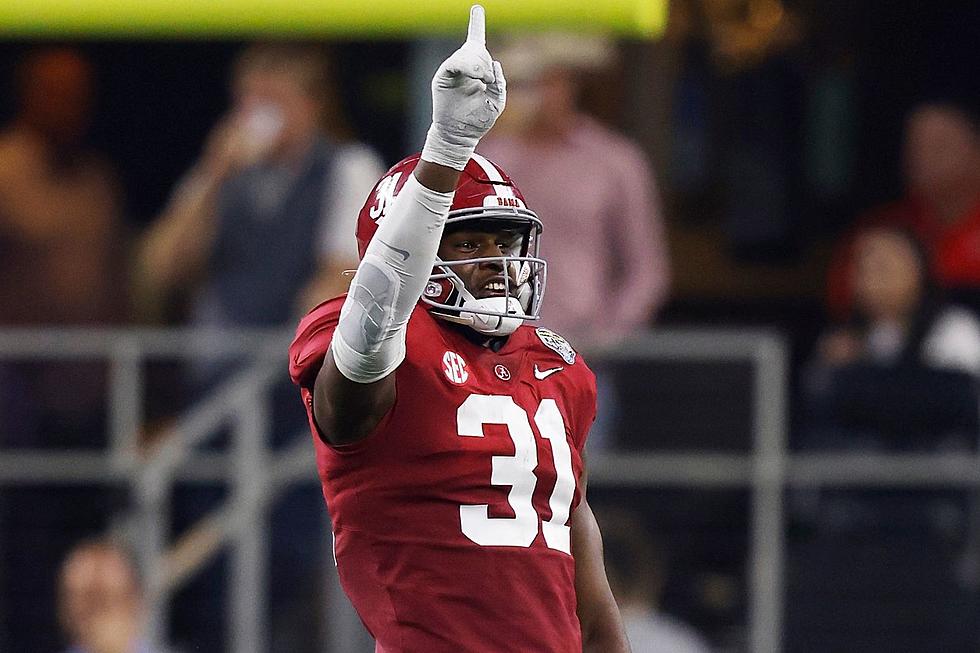 21 Facts, Quotes, and Stats for Crimson Tide Star's 21st Birthday
Getty Images
Alabama's defensive star, Will Anderson, celebrated his twenty-first birthday on Friday. Here's 21 facts, quotes, and stories about the junior linebacker.
21. Hometown: Hampton, Georgia
20. Parents: Tereon and Will Anderson Sr.
19. Major: Communication studies
18. Grew up with five sisters.
Anderson credits lots of his strength to growing up with five older sisters.
"I always tell people, they terrorized me every day," Anderson told AP News writer John Zenor.
Anderson grew up in a three bedroom house and shared a room with two of his sisters, which formed a close-knit bond between him and his family.
17. Football didn't always come easy for the projected Heisman candidate.
Many Crimson Tide fans probably assume Anderson's always been good at football, but an interview with The Athletic revealed that he had to put extra effort in to become the player he is today.
"I used to suck at football when I was little– literally, I was terrible," Anderson said.
16. Anderson wasn't a highly touted prospect going into his senior year of high school.
247Sports Composite listed Anderson as the No. 390 overall prospect in the country. The Georgia native dreamt of playing for the Bulldogs, but Georgia didn't show much interest early on in his recruiting journey.
"I got recruited by them a little bit," Anderson said in an SEC Championship preview press conference. "I didn't get too much attention from them, but it all worked out well."
Anderson was ranked at No. 78 overall when he signed with the Crimson Tide.
15. Playing angry
Labeled "The Terminator" by his teammates, one could see why he was nicknamed that after viewing this pic of Anderson at team picture day.
He looks angry and plays that way too. Anderson credits the way he plays to his dad for always firing him up and making him angry before he took the field growing up.
14. "The Terminator" outside football
Anderson loves terrorizing opposing quarterbacks on the field; however, outside of football, the junior enjoys hanging out with his family, watching comedies, and fishing.
13. Funny stories
During a press conference, Anderson shared he accidentally hit Bryce Young. It happened during a two-minute drill when he was coming off the edge and put his hands up to defend a pass, but what followed wasn't well-received by his coach or team.
"My hand came down on I think his forearm and his hand and the whole practice it just went like '*gasp* is Bryce okay?' and my coach started cussing me out," Anderson said.
Safe to say that Anderson hasn't made that mistake again.
12. Grandma Betty
Anderson was extremely close to his paternal grandmother Betty.  Anderson even convinced his parents to switch middle schools so he could live with her for a year. Betty passed away three months after he started college.
11. Basketball star
Anderson used to play basketball until an injury cut his career short.
10. Well received in the community
Being a star can be exhausting, but Anderson takes time to sign autographs, take pics with fans, and give back to the community in anyway he can.  He's volunteered with Habitat for Humanity which Coach Saban's foundation is heavily involved in. He also volunteered for Meals on Wheels as a kid.
9.  NIL
Anderson decided not to join his teammates last season in looking into NIL deals and instead focused strictly on football. This season, the standout defensive player is capitalizing on the opportunities.  While he keeps some of it for himself, Anderson said he's mainly doing NIL for his family.
"I don't want my parents stressed and worried about how they're going to get to my games, " Anderson said at SEC Media Day. "So to be able to take care of all of that and to help them out to make sure that they're living well enough to balance everything out has been great."
8. Humble 
Even with all the attention and praise he receives, Anderson continues to remain humble and kind. Anderson credits his sisters for never letting his head get too big.
"If they don't get me right outside the locker room... they get to texting me 'Good game, but you could have done this better. I don't know what you were looking at right here on this play,'" Anderson told ON3 reporter Ivan Maisai, "I'll promise you, they literally stop the TV: 'What are you doing right here?'"
7. Making People Feel Pain
Anderson's mentioned multiple times that he loves playing football because he likes to "make people feel pain."
"It's fun. You're going out there and you get to abuse somebody," Anderson said. "And you don't go to jail for it."
6. Leadership
Last season the Alabama squad was relatively young and lacked vocal leaders. Anderson didn't feel like he was in a place where he could be a vocal leader as a sophomore; however following the Texas A&M loss, Anderson made his voice heard and hasn't let up since.
5. Heisman Hopeful
Many sites have Anderson listed as a Heisman trophy favorite. He would be the second defensive player to ever receive the award. Charles Woodson won it in 1997.
Anderson mentioned that winning the Heisman is one of his goals and he wants to win it for the younger defensive players that look up to him.
4. Anderson was the first true freshman to start at linebacker under Saban.
3. Superstitious
Anderson told SI reporter Richard Johnson, "his pre-game meal is the exact same every Saturday: macaroni and cheese, lasagna, a little bit of ranch dressing and a Gatorade."
2. Determined
Players opt out of playing in hopes of not getting injured and hurting their draft stock. The thought of opting out never crossed Anderson's mind.
"I love football too much, I don't think that I could sit out a year and not play football," Anderson said.
1. Secretive personal life
Anderson isn't one to post about his personal life which leaves fans wondering: "does Will Anderson have a girlfriend?" Some sources say he's too focused on football and doesn't have time to have a relationship, but who knows? He could be the next Tua and fans find out he's married in a couple years via a marriage certificate posted on Twitter.
Alabama Football Eats Steak and Beans After A-Day
The Alabama Crimson Tide celebrates the end of spring practice with the annual Steak and Beans dinner. Team White enjoyed a nice steak dinner while Team Crimson was relegated to beanie weenies.
Alabama's Seventh Spring Practice 2022
The Alabama Crimson Tide holds practice on Thursday at the Hank Crisp Indoor practice facility. The Tide is preparing for a Saturday scrimmage this weekend.