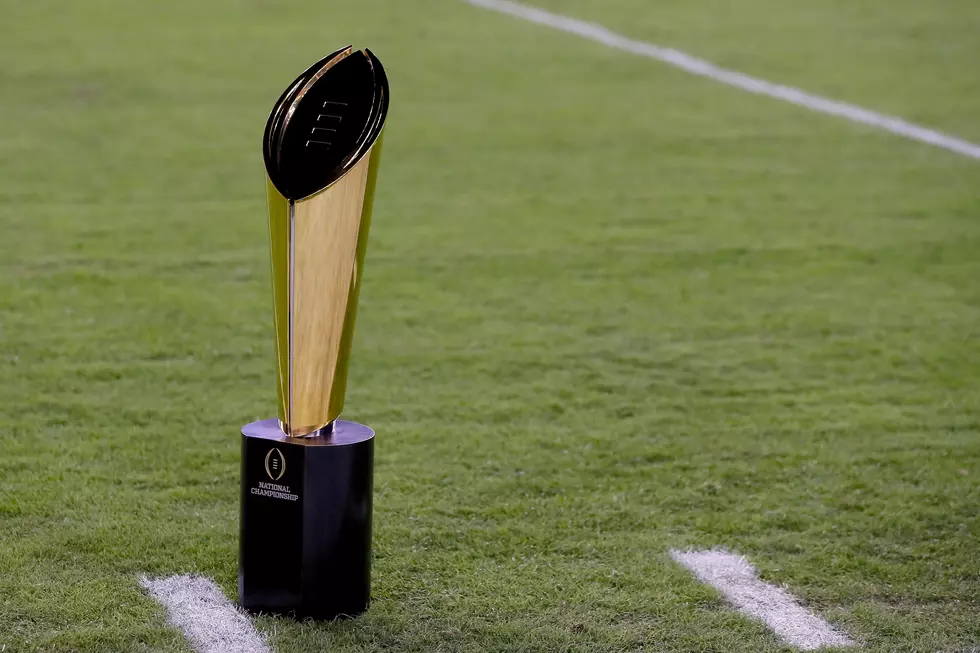 Will The 2020 CFP Champion Come With an Asterisk?
Getty Images
As we enjoy a full weekend of football, both collegiate and professional, the question of a championship asterisk still looms over the 2020 college football season. On the whole, this conversation has been an either-or conversation filling sports radio and television talk segments.
Before Saturday morning I viewed the topic just the same. I took my stance just as any other personality on the Tide 100.9 airwaves would. Before Saturday morning I felt strongly that this year's College Football Playoff Champion would not endure the blight of the dreaded asterisk.
Saturday morning changed my mind, but not to the other side of the aisle, per se.
While watching ESPN's College Gameday, former Indianapolis Colts punter Pat McAfee joined the show, jorts and all, to give his fiery takes on the day's proceeding action. What he said shocked me.
But before we get to that, let's be honest on what we thought an asterisk would mean: the 2020 CFP Champion would not be a real champion. The 2018 Houston Astros come directly to mind. They cheated. The 2017 UCF Knights come to mind. They didn't play in the College Football Playoff, whether the team deserved to be in or not (and they did, but that's a different argument.)
That's why I held firm on the Tide 100.9 airwaves and in conversations with friends that this season would not have an asterisk. No cheating. The team would come through a valid schedule and the playoff structure laid ahead against all but one of the suspected teams to make the January two-round tournament.
For others, the asterisk would exist because, despite history, Ohio State, Oregon, and the rest of the Big 10 and PAC-12 favorites wouldn't be involved in the conversation. Say what you will, those are good teams that deserve a fair shake.
I countered the argument that if the Big 10 and PAC-12 being absent was the base of the argument, what about the MAC and Mountain West conferences. Sure, those two Group of 5 conferences aren't likely to make the playoff structure, because let's face it, the college football playoff structure is broken (again, another argument for another day, but seriously, four teams out of 130?) But are the MAC and MWC any more likely than the PAC-12 who haven't been in the CFP since 2016? Or how about a team from the BIG 10 other than Ohio State making it in?
It really just dissolves into my long-standing argument that college football is broken from there.
But then came Pat McAfee. A comedian of a sports talk show guy who came on College Gameday to give some hot takes and some betting advice. He changed my mind.
You'd wear that ring. I'd wear that ring. Alabama hopes to wear that ring, as does Clemson, Notre Dame, Oklahoma, Texas, Florida and the rest of the College Football Playoff favorites.
But McAfee is right. There will be an asterisk. Just, not a negative one.
Everyone on this planet has faced a ridiculous 2020. Our favorite football players weren't exempt from that. Nor were the rich and powerful, both political and sport. Mistakes have been made. Excellent decisions have been made.
Sure, we'll point and laugh at the Big 10 and PAC-12 for canceling the season with each snap of high school, college and NFL football.
But this is the reality of 2020. The SEC is playing football alongside the ACC and Big 12. Thankfully those conferences represent the bulk of the top collegiate programs in football.
There will be a champion of college football, just like there will be a World Series Champion, an NBA Finals Champion, an NHL Stanley Cup Champion, an NFL Super Bowl Champion; and each of them will have an asterisk on them.
But not a negative mark that diminishes the accomplishments of each respective champion. But a call back to history. This year, for a plethora of reasons, is a massive mark in our human timeline and sports help tell the story, just as it always has.
When we see the asterisk on the Lombardi Trophy years from now, or the NBA Larry O'Brien Trophy, or the Stanley Cup, or, yes, the College Football Playoff Trophy, we'll look back on this year, at everything we overcame, everything we fought through to seek normalcy of sport.
Enter your number to get our free mobile app
Alabama's 2020 Schedule