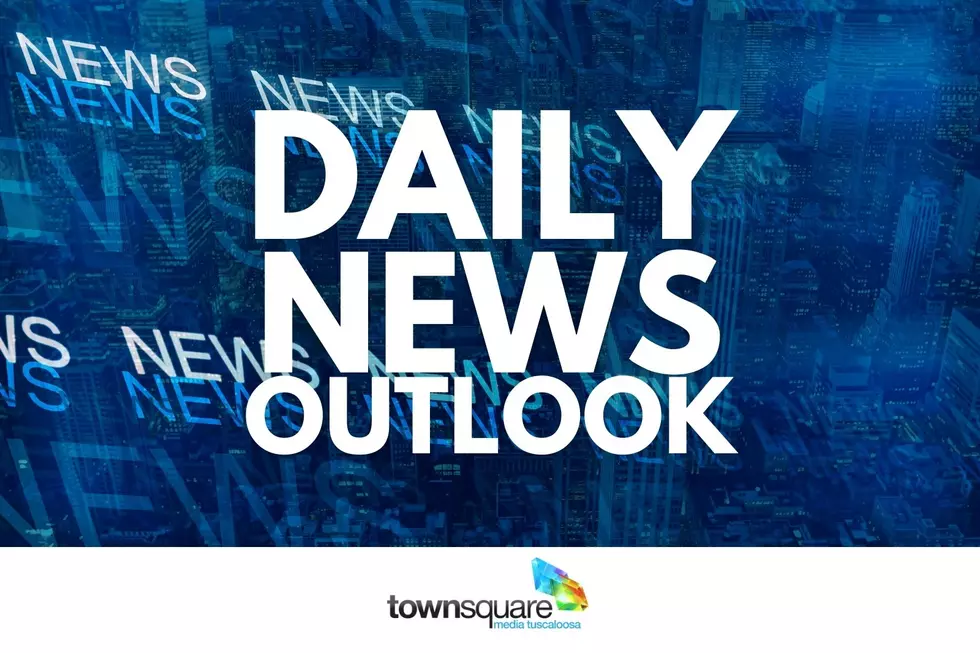 WEST ALABAMA THURSDAY BRIEFING
Canva
It is Thursday, June 8, 2023, and light smoke from those massive Canadian wildfires continues to linger over the northern half of Alabama. The is no significant health hazard from the smokey haze but it is creating some interesting, if not downright beautiful sunrises and sunsets.
Today's weather will be familiar, it's very similar to the last few days. Partly cloudy will give way to Isolated showers and perhaps a thunderstorm from Tuscaloosa northward this morning, then isolated to scattered showers and thunderstorms across areas south of Tuscaloosa this afternoon. Highs will be in the upper 80s to lower 90s.
Tonight, lingering showers or thunderstorms early south of Tuscaloosa. After midnight, there is a slight chance for some additional light rain behind a front. Lows will be in the 50s to low to middle 60s elsewhere.
Topping Today's News:
On a 5-4 vote, U.S. Supreme Court this morning struck down congressional districts drawn up by the Alabama Republican super majority state legislature. The ruling agrees with civil rights activists who say the map violates the Voting Rights Act. They claim and the court agrees the single black dominated congressional district is discriminatory because it dilutes minority voting strength. Civil rights activists have long claimed Alabama should have two majority black congressional districts because the state is more than a quarter black. The ruling will impact the fragile majority Republicans currently hold in the U.S. House.
------
Stillman College has a new president. Dr. Yolanda W. Page will begin her tenure as the HBCU's eight president on July 1st. According to a release from the college, Dr. page is currently provost and vice president for academic affairs as Savannah State University in Georgia. She replaces Dr. Cynthia Warrick who announced her retirement last fall after coming to Stillman in 2017.
------
Multiple shots were fired into a vehicle occupied by two people in the parking lot at the Mercedes Plant in Vance last night. The Tuscaloosa Violent Crimes Unit reports an altercation in one of the plant parking lots led to 21-year-old Zachory Broom to go to another parking lot and retrieve his vehicle. He then drove back to the other parking lot where he opened fire on a vehicle containing the person he had fought with. Broom was later located in Jefferson County and arrested on two counts of attempted murder and one count of discharging a firearm into an occupied vehicle.
------
Kennis Croom, a Tuscaloosa native, who once served as a Tuscaloosa Police Officer, was killed in the line of duty one year ago tomorrow while responding to a domestic violence call with the Meridian, MS Police Department. He will be remembered in both cities this weekend. In Meridian, E Street will be renamed after Croom. In Tuscaloosa, the Croom Foundation will host the inaugural Officer Kennis Croom Memorial Scholarship Benefit Gala at the Hotel Capstone. Proceeds will fund two scholarships for deserving West Alabama youth.
------
According to a release from the Alabama Community College System, Shelton State and five other Alabama community colleges are the first two-year schools in the U.S. to gain membership in the Thurgood Marshall College Fund. Named after the first black U-S Supreme Court justice, the fund provides $300 million in scholarships and program support to the black college community.
------
Joran van der Sloot is expected to arrive in Birmingham sometime today after being extradited to Alabama on charges of extorting money from Beth Holloway for information he reportedly would reveal about the 2005 disappearance of her daughter, Mountain Brook teenager Natalee Holloway, while she was on a high school graduation trip to Aruba. Legal experts credit the mother's high profile, and the popularity of Aruba as an American vacation destination kept the case in the spotlight. Natalee Holloway had been set to enter the freshman class at UA for the 2005 fall semester.
----
Republican members of the Alabama Congressional Delegation are vowing to override President Biden's veto of a bill that would cancel college student debt relief. If enacted, Biden's plan would forgive up to $20,000 in federal student loan debt for borrowers making less than $125,000 per year. The only Alabama delegation member to support the presidential veto was West Alabama Democrat Congresswoman Terri Sewell.
------
Golden Junjian Zhang, Elliot J. Bolton and Arnav Gupta, all students at Northridge High School in the Tuscaloosa City System along with home school students Henry J. Halgren and Hudson N. Markin are among the nearly 100 Alabama high school students to be honored with a National Merit Scholarship. Based on academic performance, it provides between 500 and 2-thousand dollars for college under-graduate studies.
------
If you noticed a red sun rising this morning, don't worry, it's not something out of an H-G Wells novel, it is the result of hazy smoke from those giant Canadian wildfires. ABC3340 Chief Meteorologist James Spann tells us smoke from those fires has been blown as far south as Montgomery according to satellite imagery. The smoke is not expected to create major air quality issues in Alabama as it has in the northeast.
------
In Sports:
38-year-old Ryan Pannone, the former Head Coach of the NBA G-League Birmingham Squadron has been hired to fill one of the open assistant basketball coaching positions on Nate Oats staff at UA.
------
Enjoy your Thursday, the weekend isn't that far away.