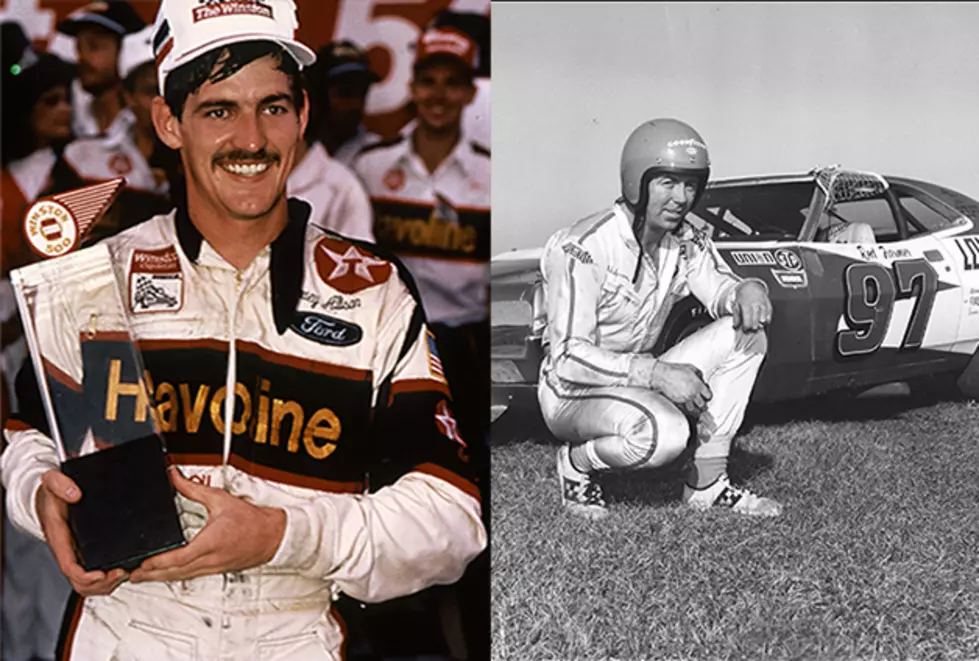 Two Members of the Alabama Gang Are Nominees for NASCAR Hall of Fame
Talladega Superspeedway
Charles "Red" Farmer and fellow Alabama Gang legend Davey Allison were announced Wednesday as nominees for the 2018 NASCAR Hall of Fame.
Joining Farmer and Allison as 2018 nominees are car owners Roger Penske and Joe Gibbs, as well as 2000 NASCAR Champion Bobby Labonte, all with wins at Talladega.
These motorsports greats join 15 others who are eligible for election into the NASCAR Hall of Fame, which will host its voting day on May 25, where five individuals will be selected for enshrinement.
A press release from Talladega Superspeedway reads,
Hailing from Florida, Farmer, along with Bobby Allison (Davey's father) and Donnie Allison, saw opportunities in Alabama, so they settled in Hueytown, AL. In the early 1960s, they galvanized local race fans at tracks in Huntsville, Birmingham and Montgomery, before eventually achieving much success at Talladega Superspeedway. Farmer's two wins in the ARCA Racing Series (today known as the General Tire 200) at Talladega came in 1984 & 1988.

Farmer captured the 1956 NASCAR Modified title, reeled off three NASCAR Late Model Sportsman Championships in 1969, 1970 & 1971, and was voted by his peers as NASCAR's Most Popular Driver four times. Named one of NASCAR's 50 Greatest Drivers in 1998, he has won nearly 800 short track races in his career, and currently still competes at Talladega Short Track (dirt track) in the Late Model division on a regular basis at 84 years old.

He's been inducted into the International Motorsports Hall of Fame, Talladega/Texaco Walk of Fame, the Alabama Sports Hall of Fame, and the Dirt Track Hall of Fame. Farmer was the 1999 recipient of the Alabama Governor's Award, annually given to an individual or organization for their contribution to auto racing.

Davey Allison made his MENCS debut at Talladega in 1985 when he finished 10th. He captured his first career triumph (in only his 14th career start) at his home track just two years later in 1987 in the spring event (today known as the GEICO 500) on his way to the NASCAR Rookie of the Year title.

Davey ranks second only to Dale Earnhardt Sr. in total Talladega wins with eight. In addition to his three MENCS wins (1987, 1989, 1992), he has four ARCA triumphs (two in 1983, 1984, 1985) and one International Race of Champions (IROC) win in 1992. Davey is one of only eight drivers to post their first career NASCAR Cup win at Talladega.
He had 19 MENCS career victories, including the 1992 Daytona 500. He finished third in the 1992 championship in one of the most dramatic and highly contested finales in NASCAR history. Also, named one of NASCAR's 50 greatest drivers, Davey is a member of the International Motorsports Hall of Fame and Talladega/Texaco Walk of Fame. His life was tragically cut short after a helicopter accident at Talladega in 1993.

Davey cut his teeth working at his dad's shop after school and at night. His behind-the-wheel career began in 1979 at Birmingham International Raceway. Allison finished fifth in his very first feature, and won his first race that year in only his sixth start.
In honor of the famed "Alabama Gang," Talladega Superspeedway's 4,000-foot backstretch is named "The Alabama Gang Superstretch." Bobby Allison, a four-time TSS winner, is in both the NASCAR Hall of Fame and International Motorsports Hall of Fame while brother Donnie, who claimed two triumphs at Talladega, is in the International Motorsports Hall of Fame.
To purchase tickets for the upcoming May 5-7 race weekend, which features the GEICO 500, Sparks Energy 300 and General Tire 200, visit the newly revamped talladegasuperspeedway.com or call 1-877-Go2-DEGA.