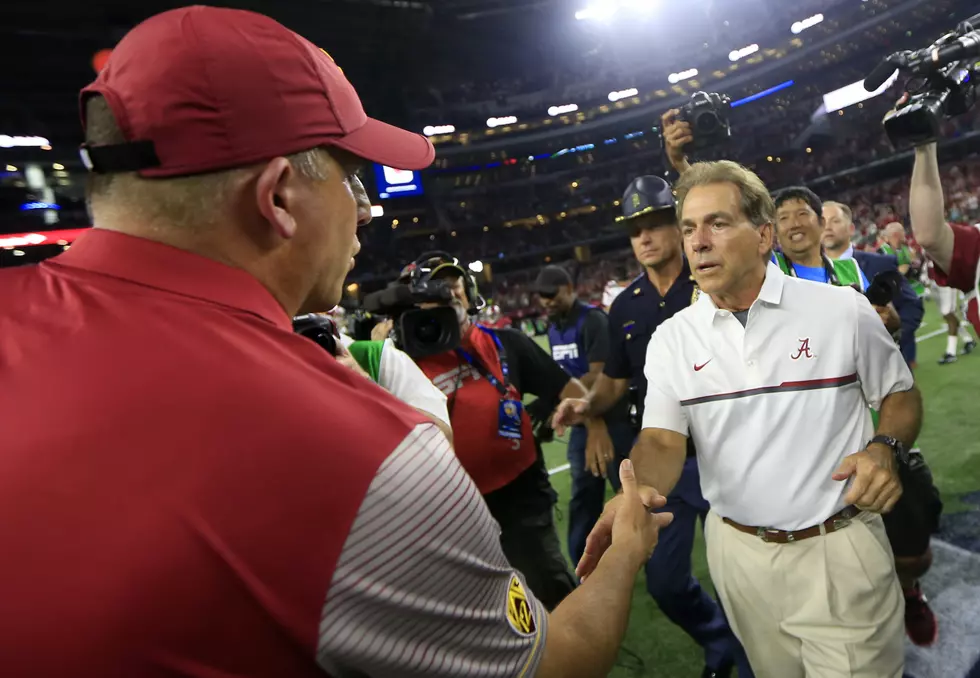 Tide Exploring Options for Opener
Getty Images
Alabama is scheduled to take on Southern Cal on September 5 in Arlington, Texas to open up its college football season. The COVID-19 pandemic has forced that matchup to come into question. Will both schools be able to make the trip to Texas? Will one need to back out?
Alabama's President Stuart Bell recently told CBS42 in Birmingham that it was the schools intention to begin the school year and football season on time as previously planned.
USC's coach Clay Helton recently admitted that the Pac-12 has been discussing a conference only schedule but said the coaches are hopefully their season will be played as currently scheduled.
Today on ESPN's "Get Up" Paul Finebaum told the cast that there are already discussions about alternative plans in case the two schools can not meet for the opening game.
"There's already scrambling going on. Alabama plays Southern Cal in the first game of the season in Jerry's world. There's already talk going on between Alabama and TCU about meeting instead of the other two because TCU plays at Berkeley and the California schools, they do not believe, will be available for that date," Finebaum told "Get Up".
TCU is scheduled to open its season at Cal-Berkeley on September 5. Should the Pac-12 decide it will not play out-of-conference games, both the Crimson Tide and the Horned Frogs would need to schedule alternative opponents. TCU and Alabama have played five times in total with the Horned Frogs leading the all-time series 3-2. The schools last met in 1975.
Longtime Alabama beat writer Cecil Hurt of the Tuscaloosa News reached out to Alabama's Athletic Director, Greg Byrne, after Finebaum made his statements this moring. Hurt reported that Byrne responded, "Our plan is to play USC."
Bryne recently told a group of ticket-holders that the deadline to make decisions about football season will come in the final week of June or the first week of July. The athletic director was sure that the Crimson Tide would be playing football this season, when and where that season takes place still remains to be seen.
Enter your number to get our free mobile app
Alabama's 2020 Football Schedule