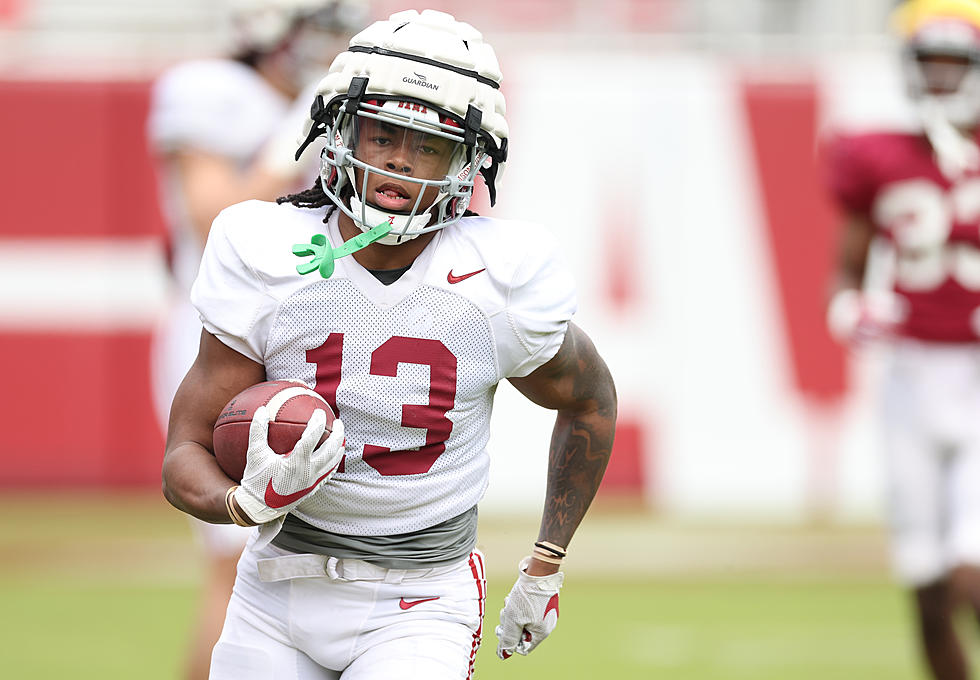 Saban Impressed By Running Back Room
Crimson Tide Photos / UA Athletics
While speaking to the media on Saturday afternoon, Alabama head coach Nick Saban praised his offensive weapons, including the running backs. He specifically points out Jahmyr Gibbs, Trey Sanders, and Jamarion Miller.
"Both those guys did really well. I can't read the stats here but they both had some good runs. We wanted those guys to all carry the ball 10, 12 times. I think Trey had 73 yards, Jahmyr had 54 or 55. Jamarion Miller got an opportunity too, and he did a nice job. I think we're running the ball a little better than we were at this time a year ago. Hopefully we can continue to build on that," said Saban.
Gibbs, the dual threat transfer from Georgia Tech, spent two seasons with the Yellow Jackets in Atlanta, Ga. During his tenure, he attempted 232 rushes for 1,206 yards, and 8 TDs. He picked up receiving experience receiving as well, grabbing 60 receptions for 773 yards, and 5 TDs. Saban also discussed his performance in crimson and white last month, when asked about how the transfers looked at the first spring practice. 
Sanders has played two seasons with the Tide. During his time in Tuscaloosa, Ala., he ran 102 attempts for 448 yards and 2 TDs. He also saw time on the field as a receiver as well, catching seven receptions for 53 yards.
Miller in ESPN 300's class of 2022 as No. 118 nationally, No. 8 in running backs, and No. 18 in the state of TX.
"[He] Plays stronger than listed size suggests. Runs with good pad level and consistently finishes runs. Finds nooks and crannies in traffic to gain extra yards. Strong enough to run through arm tackles," said Gabe Brooks, Midlands region recruiting analyst for 247 Sports.
Alabama's annual A-Day game is Saturday, April 16, 2022, at 2 p.m. CST. Admission is free.
Alabama Crimson Tide All-Time Receiving Leaderboard
Alabama Crimson Tide All-Time Sacks Leaderboard
Iconic Photos From Alabama's 18 National Championships
Claimed or recognized, no FBS football program has more national championships than the Tide. Look back on all 18 titles in Alabama history with these photos.