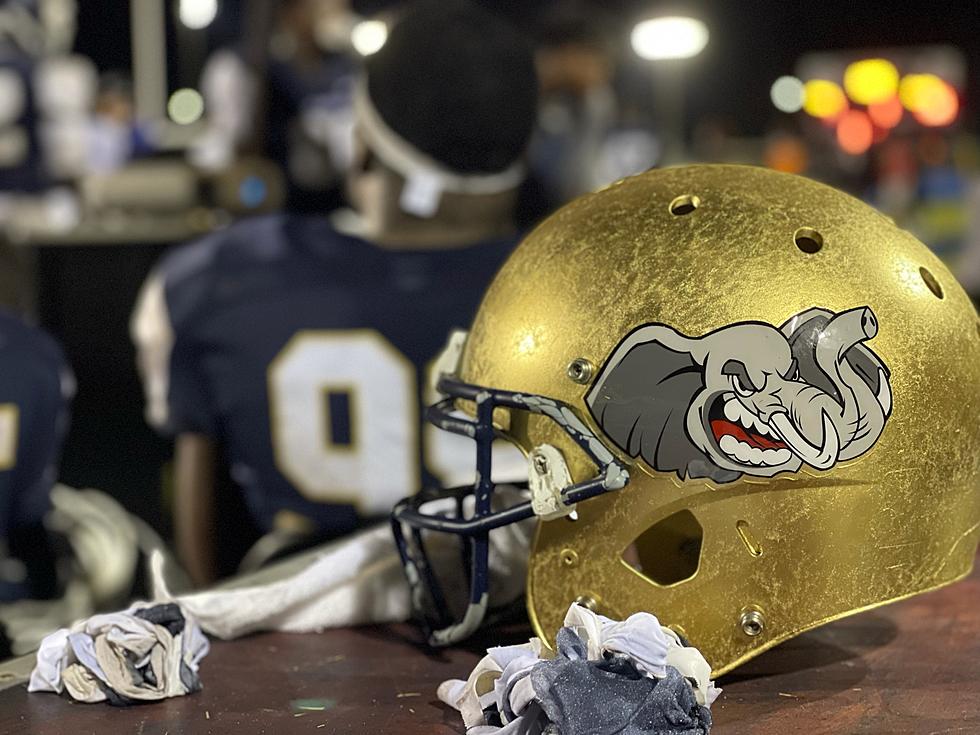 Paul Bryant Stampede Fall To Visiting Sidney Lanier 33-13
Stampede Golden Helmet (picture by Tyler Maines)
The Friday night spotlight was on Paul W. Bryant High School as they played host to Montgomery's Sidney Lanier High School. Lanier came into the matchup 1-0, while the Stampede of Bryant High were looking for their first win of the season coming in at 0-1. 
Lanier started off slow, going a quick three-and-out on their first possession. Bryant responded by marching right down the field into a goal-to-go situation, but were unable to cash in for six as they turned the ball over on 4th and goal at the 2 yard line. 
Lanier fared much better on their second possession as QB Braylon Jones was able to find WR Jaterrius Robinson for a 41 yard score. A missed PAT gave Lanier a 6-0 lead with 3:38 to go in the first quarter. A short kickoff gave the Stampede good field position at their own 32 yard line. A quick 10 yard scramble by QB Cameron Ellis gave Bryant a new set of downs, and on 1st & 10, Ellis was able to find WR Calvin Henry downfield for a 58-yard touchdown pass, giving Bryant the lead 7-6. Henry finished the night with just the one reception.
Following the Bryant score, Lanier stalled on offense. On 3rd and 13 on their own 44, CB Justin Peoples was able to get to the quarterback to force a punt on 4th and 22. Bryant's special teams was able to get a hand on the punt and downed it on Lanier's 26 yard line. 
Bryant started their drive in excellent field position, but a pair of false start penalties quickly backed them up. A 19 yard reception by WR Tobias Burrell put the Stampede just inside the 10 yard line where they were unable to get anything past Lanier's front four. In a wildcat formation on 4th and goal, Bryant's center Jayden Hobson mishandled the snap which led to a turnover on downs.
Both teams traded punts which brought both squads into the halftime locker room with Bryant leading 7-6.
Bryant received the ball for the 2nd half in hopes to increase their lead. Just over a minute after they got the ball back, Ellis threw an interception to linebacker Terrance Watkins, who returned it all the way for a touchdown to make it 12-7 (missed extra point).
Bryant looked to rebound and take back the lead on their next drive. Tobias Burrell, Bryant's star player, was kept quiet for most of the first half. However, during this drive he made a 30-yard catch, and threw for a 32-yard play as well, due to Ellis having a short-term injury.
Burrell took the Stampede all the way to the three-yard line before running back their fumbled it in the endzone and the Poets recovered.
Lanier now had all the momentum on their side, as they just made a game-changing stop. The biggest play of the game was the very next play as running back Tacaris Bozeman ran for an 80-yard touchdown to make the score 20-7 (wide receiver Anthony Shackelford made the catch for the two-point conversion).
Bryant's next drive resulted in a turnover on downs after seven plays including a 15 yard run by Ellis.
Lanier had the opportunity to put this game out of reach. However, they were forced to punt after five plays.
This next drive was very important for the Stampede, as they could have made it a one-touchdown game. Bryant made it all the way to Lanier's three-yard line by having dozens of all-purpose yards by Burrell. The drive ended poorly as they threw a goal-line interception for a touchback.
Lanier went three-and-out on the next drive and was forced to punt. Bryant blocked the punt and recovered it in the endzone to cut the lead to seven (extra point failed). With a score of 20-13, momentum was thought to be on their side.
Eldrick Hill, Bryant head coach, made a questionable decision to go for an onside kick with over five minutes left in the fourth quarter. Needless to say, it failed as Lanier recovered on Bryant's 30-yard line. 
Now back on the defensive side of the ball, they had to stop Bozeman. On the third play of the drive, Bozeman ran it in for six from 28 yards out to make the score 26-13 (extra point failed).
On the third play of Bryant's drive Ellis had his pass intercepted once again. That interception was the dagger.
Just to put the cherry on top, on the next drive, Bozeman had yet another touchdown for 31 yards. This made the score 33-13 (extra point is good). Bryant's final drive was a four-and-out. Lanier finished off the final seconds by running out the clock with their backups.
The top players for Bryant were Cameron Ellis with 290 passing yards and a touchdown with three interceptions and Tobias Burrell with 10 receptions for 126 yards.
The top players for Lanier were Braylon Jones with 90 passing yards and a touchdown, Anthony Schackelford with 42 receiving yards and a two-point conversion, Jaterrius Robinson with 41 receiving yards and a touchdown and the player of the game, Tacaris Bozeman with an unbelievable 227 rushing yards and three touchdowns.
Tuscaloosa's High School Football Programs
Here are some of the high school football programs located in or around the Druid City!
Tuscaloosa County Wildcats vs. Paul W. Bryant Stampede
The Tuscaloosa County Wildcats defeated the Paul W. Bryant Stampede 59-34 in the opening game of the 2021 season for both schools. For the Wildcats it was the debut of new coach Adam Winegarden.
Alabama's Top 10 Athletes - Fall 2021
The Alabama Crimson Tide boasts an extremely successful athletic department with amazing athletes playing multiple sports. The top 10 athletes include national champions, an Olympic athlete, SEC champions and various record holders.