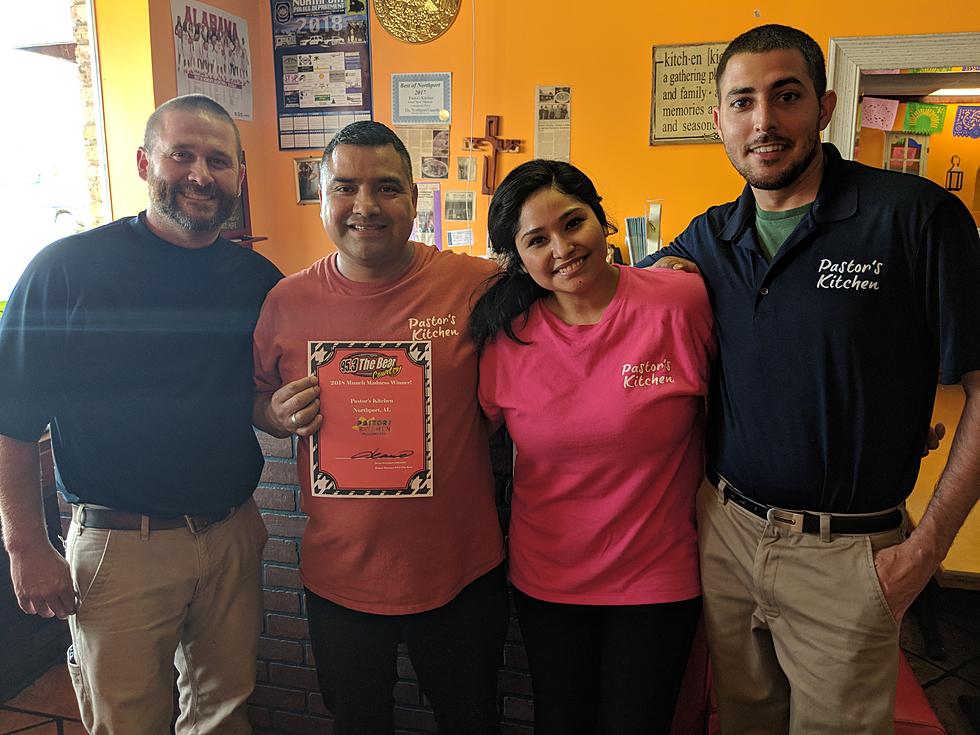 Pastor's Kitchen In Northport Is Our Munch Madness Winner
Maker:0x4c,Date:2017-10-10,Ver:4,Lens:Kan03,Act:Lar01,E-Y
Back in March we asked you to vote for your favorite restaurant in either the Tuscaloosa or Northport area. Not only did you vote, but you voted A LOT! In fact, over 100,000 votes came in and after weeks of narrowing the bracket down, two finalists were named. Pastor's Kitchen and Philly Boyz squared off in friendly competition, but ultimately, Northport's Pastor's Kitchen edged out Philly Boyz to take the win.
When I stopped by Pastor's Kitchen earlier today to present owner Pastor Garcia the certificate to make his win official, I asked him what made his restaurant and more specifically his food stand out above all the rest. His answer? Authenticity.
Pastor Garcia was born and raised in Mexico City. Ya know, the place where REAL, AUTHENTIC Mexican food comes from. Pastor Garcia had a rough childhood that found him homeless and on the streets of Mexico City at an early age. He says that he had no choice but to learn how to cook for himself just to survive. It wasn't until a local gentleman found Garcia in Northport, homeless and hopeless and gave him the help he needed. Pastor Garcia credits this person as mentoring him and making him the man he his today. Yes, Pastor Garcia is actually a Pastor. He Pastor's a local Hispanic community of believer's and credits his faith in God as the reason for any success he's seen.
Garcia also credits his commitment to keeping his menu AUTHENTIC as possible. When you choose to dine at Pastor's Kitchen, you'll actually find two different menus. On one menu are authentic Mexican dishes, just like you'd find in Mexico itself. These dishes aren't close to the real thing, they are the real thing. Garcia encourages his customers to branch out and try some of these non-traditional dishes. If you choose to dine on the more traditional Tex-Mex style dishes, there's a "regular" menu for you. On this menu you'll find familiar favorites like burritos', fajita's and tacos. If you do decide to go more traditional, rest-assured that it'll be some of the best Tex-Mex food you've ever put in your mouth.
Congratulations Pastor Garcia and staff. You beat out dozens of other great restaurants to be chosen as THE best restaurant in the land.
All this typing has made me hungry. Think I'll head to Northport. ;)