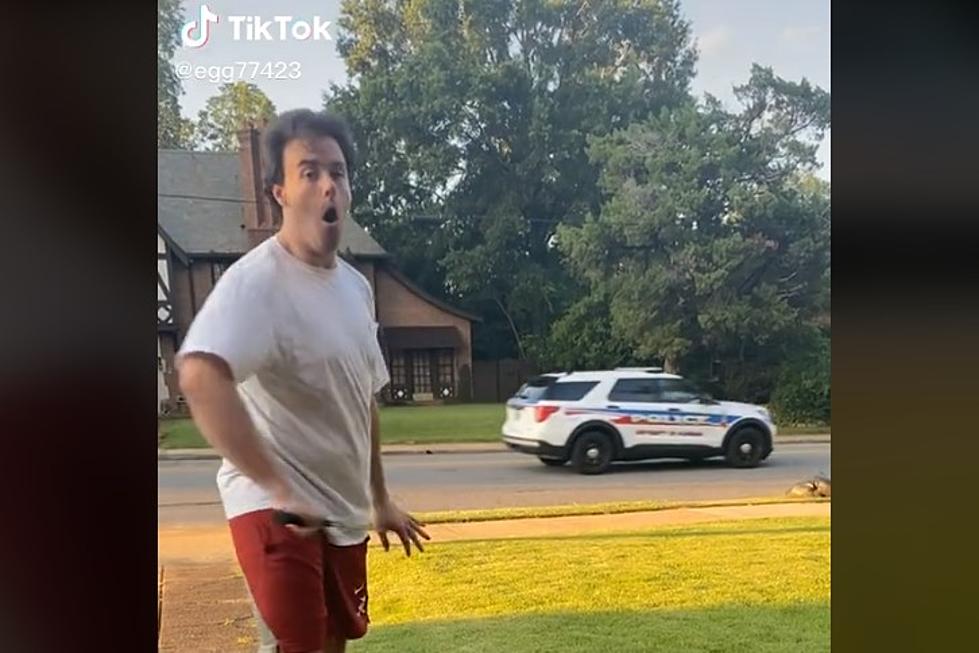 Viral Video Shows Man Drill UAPD Cruiser With Golf Ball in Tuscaloosa, Alabama
(@egg77423 on TikTok)
A video showing a young man positively drilling a passing police cruiser with a golf ball on University Boulevard in Tuscaloosa went super-viral Friday.
The clip captures the man teeing up on a golf ball sitting in the yard of a house just off the Tuscaloosa Strip.
He smashes a shot toward University Boulevard, only to watch in horror as the ball bounces off a marked SUV driven by an officer with the University of Alabama Police Department.
The young man, aghast at what he had just done, immediately went inside, followed by the person filming the video.
More than 26 million people have watched the clip since it was posted to TikTok.
The Tuscaloosa Thread was able to interview the man in the video, Patrick Carley, who said the incident took place on Thursday, June 24, when Carley and friends were in their front yard.
Carley said they were "doin' nothing good," trying to shoot golf balls over his neighbor's house before he accidentally hit the wheel of the passing UAPD car.
"It was just bad timing, and I knew I just needed to go inside," Carley said.
The next day an officer came to Carley's house and issued him a non-academic misconduct ticket. Carley still has to meet with someone about the ticket, but he said he is not worried.
A statement from a UA spokesperson indicates that Carley was not charged with any crimes.
"The University of Alabama Police Department is pleased to report no damage to the car or injuries to the officer after this unintentional and reckless action," the spokesperson said. "UAPD met with the individual to address the incident, and urges everyone to be cautious, conscientious and aware of their surroundings."
Iconic Photos From Alabama's 18 National Championships
Claimed or recognized, no FBS football program has more national championships than the Tide. Look back on all 18 titles in Alabama history with these photos.
Alabama Lovers: Check Out These 15 Dazzlingly FREE Phone Wallpapers
Let "Alabama the Beautiful" spruce up your phone with these 15 free wallpapers. Save one, or save them all: you can't go wrong!
To save the photo(s) on mobile, just long-press on an image to bring up the menu to save it to your camera roll. If on desktop, simply right-click on a photo to save it to your computer.