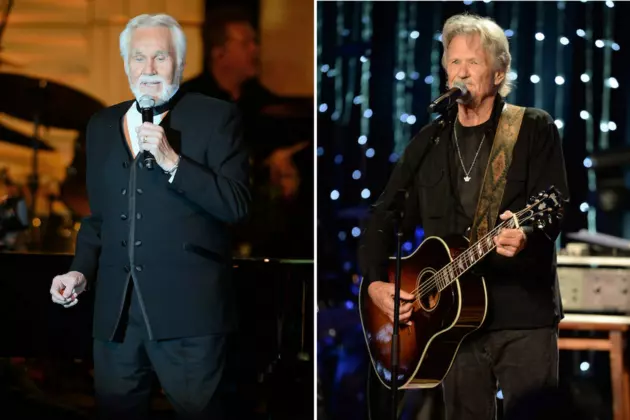 Kenny Rogers, Kris Kristofferson Among 2017 Texas Medal of Arts Recipients
Ethan Miller / Jason Davis, Getty Images
Kenny Rogers and Kris Kristofferson were both born and raised in Texas, and in 2017, they're among a prestigious group of artists being honored by their home state. In February, Rogers and Kristofferson will both be presented with Texas Medal of Arts awards at a special event in Austin.
Celebrating artists and entertainers who call Texas home, the Texas Medal of Arts Awards honor those who have embodied Texan culture and helped to spread it all over the world. Founded by the Texas Cultural Trust in 2001, 99 medals have been bestowed to 105 native Texans throughout the past 15 years, celebrating those who have contributed to the world through their creative talents and whose generosity has opened doors of artistic opportunity in the Lone Star State.
A Houston native, Rogers will be honored with a Lifetime Achievement Award, in recognition of his career, which has lasted nearly six decades, made him a successful country crossover star and resulted in more than 80 singles, including his signature song "The Gambler" and the 1983 duet with Dolly Parton, "Islands in the Stream." Rogers was inducted into the Country Music Hall of Fame in 2013 and has earned countless awards throughout his music career.
Born in Brownsville, Texas, Kristofferson will receive the Multimedia Award, for his work as both a musician and an actor. His discography includes 17 studio albums and 29 singles, not including countless classic country songs such as "Sunday Mornin' Comin' Down," which was recorded by Johnny Cash in 1970 and earned Kristofferson his first CMA trophy, for Song of the Year. In addition to his career in music, Kristofferson has also made invaluable contributions to the film industry through movies such as the Blade trilogy and A Star Is Born with Barbara Streisand, for which he won a Golden Globe.
Rogers and Kristofferson join a list of past Texas Medal of Arts winners who embody the spirit of Texas. Past honorees include Willie Nelson, Lyle Lovett, southern gospel trio the Gatlin Brothers and acclaimed music producer T Bone Burnett.
The Texas Medal of Arts Awards will take place on Feb. 21 and 22 at the University of Texas in Austin. For more information on the two-day event and to purchase tickets, visit the Awards' official website.
See Kenny Rogers' + More Country Stars' Yearbook Pictures