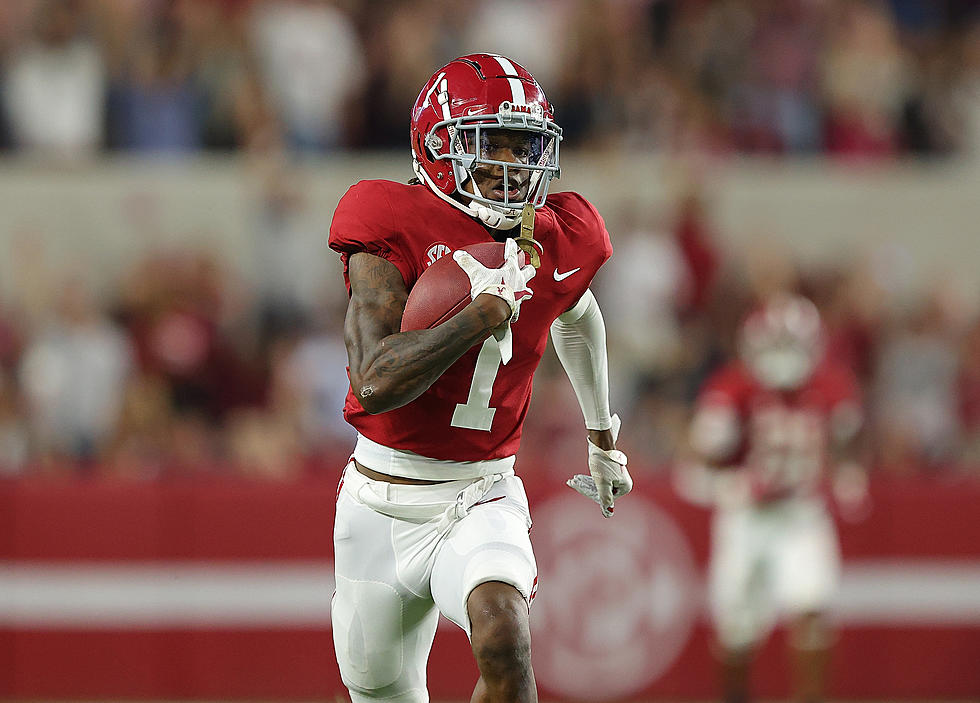 Jameson Williams Provides Positive Update on His Rehab
Getty Images
Alabama wide receiver Jameson Williams provided a positive update when he took the podium at the NFL combine in Indianapolis. Williams, who is recovering from a torn ACL he suffered against Georgia in the national championship said he's ahead of schedule six weeks out of surgery and it's been three weeks without crutches and two weeks without a brace.
The St. Louis, Missouri native quickly burst onto the scene for the Crimson Tide. Against Miami in week one, Williams hauled in four receptions for 126 yards, including a 94-yard touchdown from Bryce Young. He finished the 2021 campaign with 79 receptions for 1,572 yards and 15 touchdowns, he led the Southeastern Conference in the latter two, earning First-Team All-American honors.
The former high school track star became the first player Alabama history with four receiving touchdowns of 75-plus yards and his 11 touchdowns of 30-plus yards or more led the country.
"You're betting on a kid, Todd, that had he stayed healthy, I think Alabama wins that game against Georgia," said ESPN NFL draft analyst Mel Kiper Jr. "It was a shame he got hurt. Obviously from Alabama's standpoint they move on to win a national title and for Jameson he would have been a guaranteed top 10 pick. He took the top off the defense every week. And now he falls into the late first round. You talk about being a bargain. Yeah, I would wait it out for Jameson Williams. That kind of speed. That electricity. The hands. The attitude. The warrior mentality he has."
The Alabama wideout said his first two interviews were with the Bills and Packers. "I would love to play with Josh Allen," he said on Wednesday. Williams has also met with the Falcons, Dolphins and Patriots at the combine.
Alabama Basketball All-Time Scoring Leaders
Alabama Crimson Tide All-Time Receiving Leaderboard
Crimson Tide Will Anderson Jr. 90s Playlist
Here are some songs that we think Alabama Crimson Tide player Will Anderson Jr. should add to his playlist, or better yet, he should just listen live on the free WTUG app.