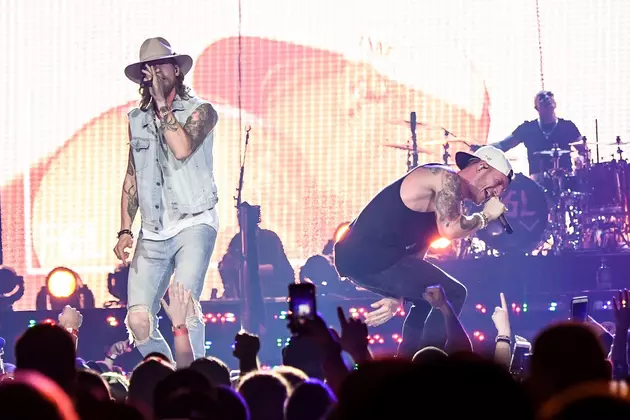 Florida Georgia Line: ACM Awards Nominations Help Keep Them Driven
Mike Coppola, Getty Images
Florida Georgia Line are nominated for five ACM Awards in 2017; among those nominations is the duo's second career nod for the night's highest honor, Entertainer of the Year. To Tyler Hubbard and Brian Kelley, their multiple noms are further proof that their hard work is paying off.
"We'll never forget the New Artist of the Year award that we won unexpectedly, and the way that it catapulted our career and our drive and our hunger," Hubbard tells The Boot. "We just want to win. And I think that's what we're going to work for. So, regardless of what happens that night, we're really excited to just try to push ourselves to be better on all aspects of life. We really appreciate the love."
Two months after the 2017 ACM Awards, on June 2, Florida Georgia Line will hit the road with rapper Nelly and rising country star Chris Lane for their Smooth Tour 2017; additionally, the Backstreet Boys will join them at select stadium dates. Kelley says that coming up with a name for the genre-bending tour "came easy."
"The relationships that we all share with the Backstreet Boys, Chris Lane, Nelly -- everything runs so smooth. I know that's kind of cliche, but it's just very organic, all the relationships; there's a brotherhood that's really evolved," he adds. "We just wanted to set the tone, set the vibe, with that name of the tour ...
"It's going to be a good time," Kelley continues. "We're going to throw a big ol' party. We're going to have really good moments, where we're connecting with the fans and playing a bunch of hits with the Backstreet Boys and Nelly and Chris Lane. It's going to be non-stop good music, and good weather. I'm excited."
Some days, it can be hard for Florida Georgia Line -- two guys who met in college with little money and lofty goals -- to believe how far they've come. Kelley says they're "still living the dream, every single day."
"The thing I take away from it is just, [it's] God working. I know that's crazy, but we believe that God has placed us together to live out our dreams and hopefully affect people through music and song, and the lives we live and the people we get to come in contact with," he notes. "We get to hear amazing stories and turn them into songs, and share them with people and travel."
2017 ACM Awards Nominations: The Surprises and the Snubs
How Well Do You Know the ACM Awards?