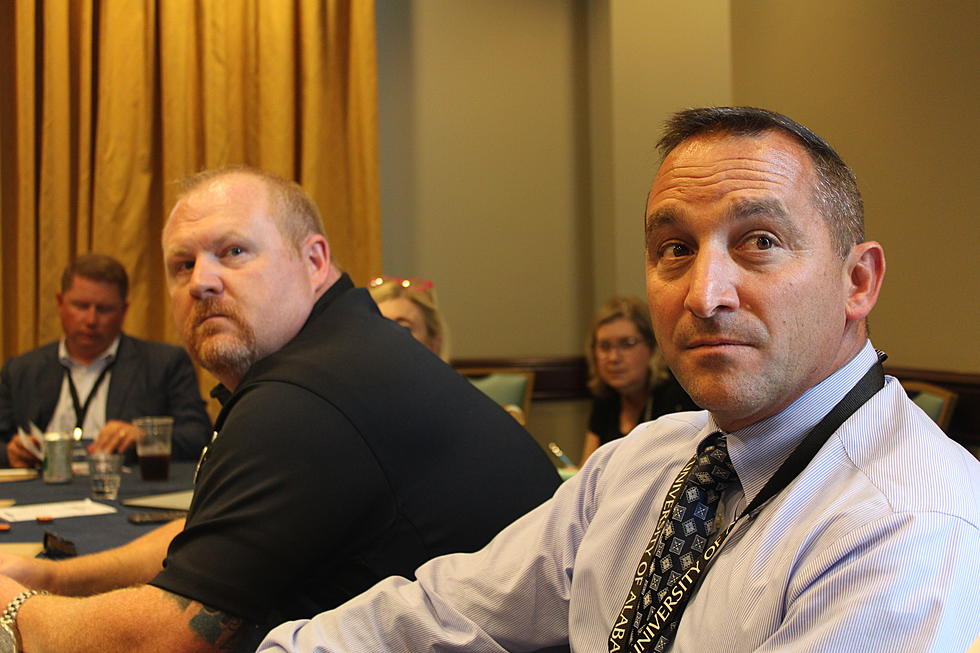 'This Is Not a Prank Worth Doing': Superintendent Condemns Threats at Tuscaloosa Schools
(Stephen Dethrage | Tuscaloosa Thread)
Any threat made towards a Tuscaloosa City School, its students or staff will be treated seriously and could result in expulsion and even arrest, Superintendent Mike Daria said Friday morning.
In an interview to condemn the spate of meritless threats called into area schools recently, Daria said students who call in a bomb threat or use language about hurting someone may think it's a joke, but school officials and local police aren't laughing.
"Unfortunately, what we're seeing here and in other parts of our country is that these kinds of 'prank calls' or these fake threats are being made and we've had a couple occurrences of that early this year already," Daria said. "We've got a protocol for responding to any such threat and we follow that protocol all the way. Whether it's a prank or fake threat or just words that are threatening, our operation is to follow that all the way through and that's why you've seen the response that you've seen where we include Tuscaloosa Police Department immediately and we follow our emergency operation plans."
These 'pranks' have led to at least four lockdowns at city schools this academic year, and each has drawn TPD officers to affected campuses who spend time and resources guaranteeing the schools are secure.
Daria is obviously limited in what he can share about the disciplinary outcomes of those events, but he was explicit Friday in saying the consequences for these threats are severe.
"I am saying very clearly we've got a code of conduct that addresses that up to and including expulsion because look at the severity of this -- even in cases where a threat is made but there's no validation to it or it's not a credible threat, it disrupts the environment," Daria said. "Teaching and learning potentially get stopped and it really interferes with our safety readiness."
Daria said students and teachers deserve to go to school without worrying about their own safety.
"When we get these fake threats or pranks, it really triggers an anxiety in all of us," he said. "Our schools are to be safe places and our students and our teachers and staff members, they need to be in school and they need to be safe in school."
Daria said Dr. Janet Sherrod, TCS's executive director of learning supports, is in the process of visiting every secondary school in the system with a representative of the police department to address students directly and underscore the severity of the consequences of making a threat.
"We just want to be clear, unambiguous and explicit of what a threat is and what that response looks like," Daria said. "That's why the police department is with us in this messaging, because they get involved in threats. Threats don't just stop at the principal's office. We respond with our police department and our district attorney has been involved. We will not tolerate threats and unfortunately, some of these things we're seeing are simply pranks and we just need to be clear with our students that that is not a prank worth doing."
Daria praised the system's See Something, Say Something strategy and said knowing about alarming behavior is always better than the alternative.
"One of our greatest safety strategies is knowledge, and when students report to us things that they've heard or when families report things that they've heard, we can at least look at it and determine where that falls in the continuum of concern," he said. "See Something, Say Something, for us, is really important. We would rather know something even if we determine it later to be not an issue or not a threat."
Finally, Daria thanked the stakeholders who are working together to combat this issue.
We appreciate our students and our families and our faculty and staff for their work together to make sure our schools are safe," Daria said. "We've got an amazing Tuscaloosa Police Department that is really supportive, responsive and helpful in all things related to school safety and we appreciate you all being a communication mechanism in highlighting the importance of communication and safety in our schools."
For more updates from the city school system, stay connected to the Tuscaloosa Thread.
Top Stories from the Tuscaloosa Thread (9/19 - 9/26)
20 of the Top Stories published by the Tuscaloosa Thread during the week of September 19th, 2022.