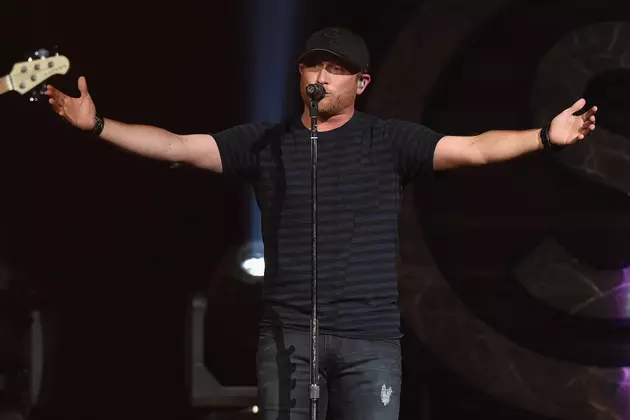 Cole Swindell 'Couldn't Be More Proud' to Tour With Dierks Bentley
Rick Diamond, Getty Images
Cole Swindell will kick off his run as an opening act on Dierks Bentley's What the Hell World Tour on Thursday night (Jan. 19), in Dayton, Ohio, and the singer admits that he can't quite believe that he is fortunate enough to tour with the man whom he says inspired his entire career.
"You've heard me talk about Dierks Bentley, how much I think of him as an artist, but then to get to know him and see what kind of person he is ..." Swindell recently shared with The Boot and other reporters during his stop at St. Jude Children's Research Hospital as part of the annual Country Cares for St. Jude Kids event. "I couldn't be more proud to be on tour with anybody."
Swindell is especially excited to debut new production elements for his No. 1 hit "You Should Be Here," which was written in tribute to his late father.
"Lyrics are one thing, but to have stuff that pulls everybody in ...," Swindell gushes. "Looking up there and seeing my dad's eyes on the screen and stuff like that -- I hope people can take that and relate that to who they're missing."
Swindell's newest single, "Flatliner," includes guest vocals from his tour boss, which makes hitting the road with Bentley even more special.
"To go from somebody wanting to write songs like Dierks Bentley, or singing every song, in college, he ever put out on an album, and now touring with him and having a song that's going to be at country radio with him, it's another thing that lets me know how fortunate I am," Swindell notes. "I can't say enough about how excited I am for this tour. Jon Pardi, me, Dierks -- it just sounds like a good time."
Swindell, who has previously opened for both Jason Aldean and Florida Georgia Line, hints that he may have top billing on a tour soon ... but for now, he's content to continue to take notes from the headliners.
"I've been fortunate enough to, I think, be on the best tours I could possibly be on the first four years of my career, but this one sort of caps it," he says. "One day, I do want to headline, but there's still more I can learn, I know that, and if I'm going to learn from anybody else, I think Dierks is a good one."
A list of all Swindell's upcoming shows is available on his website.
See Pictures of Dierks Bentley + More Country Stars Then and Now
How Well Do You REALLY Know Dierks Bentley?