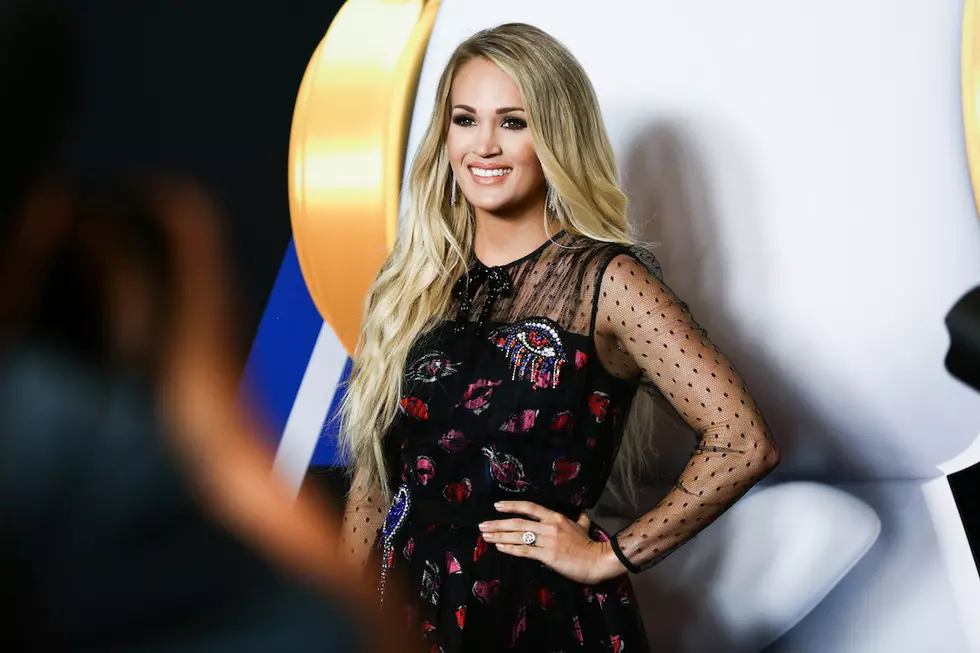 Carrie Underwood Reveals Three Miscarriages, Says Writing 'Cry Pretty' Was 'Therapeutic'
Rich Fury, Getty Images
In April of 2018, Carrie Underwood explained to her fans that the title track of her new album, Cry Pretty, speaks to some personal issues that she went through in 2017, describing the times in life "when emotions take over and you just can't hold them back." In a new interview with CBS Sunday Morning, Underwood went into more detail about those personal struggles, sharing that she suffered three miscarriages that year.
Underwood had planned to stay off the road in 2017 in order to work on new music and have a second child (her first son, Isaiah, was born in February of 2015). However, although she got pregnant early in the year, she lost the baby. "And that was the thing in the beginning," Underwood recalls to CBS. "It was like, 'Okay, God, we know this just wasn't your timing, and that is alright. We will bounce back and figure out a way through it.'"
That spring, the country superstar became pregnant again, but once more, it didn't work out. Then, Underwood suffered a third miscarriage early in 2018. "So at that point, it was just kind of like, 'Okay, what's the deal?'" she goes on to say. "And throughout the whole process, I'm writing."
In November of 2017, Underwood suffered another setback: She fell outside her Nashville home, breaking her wrist and injuring her face so severely that she required dozens of stitches. While the accident forced her into some much-needed downtime, it added more pain to what was already a deeply challenging year.
In the days when she was writing for the new album, the pain of losing a child was extremely fresh. "Right after I'd found out I'd lose a baby, I'd have a writing session," she explains. "I'd be like, 'Let's go,' you know? I can't just sit around thinking about this. I wanna work. I wanna do this. Because I would literally have these horrible things going on in my life, and then have to go smile and do some interviews, or do a photo shoot, or something. So it was just kind of therapeutic, I guess."
Writing helped Underwood through a painful time in her personal life, and helped her process her anger. "I had always been afraid to be angry, because we are so blessed," she continues. "My son Isaiah is the sweetest thing, and he's the best thing in the world. And I'm like, 'If we can never have any other kids, that's okay because he's amazing, and I have this amazing life.' Really, what can I can complain about? I can't. I have an incredible husband, incredible friends, an incredible job, an incredible kid. Can I be mad? No. And I got mad."
Underwood says that the difficult time taught her a lot about prayer. "For the first time, I feel like I actually told God how I felt, and I feel like we're supposed to do that," she says. She got pregnant for a fourth time, and during one evening earlier in that pregnancy, she became convinced she was miscarrying yet again. The country star snuggled with her son and sobbed as she talked to God. "That was, like, a Saturday, and then on Monday I went to the doctor to confirm another miscarriage, and they told me everything was great," she adds.
In August of 2018, Underwood officially announced to fans that she and husband Mike Fisher are expecting a second child. Cry Pretty came out on Sept. 14.
Carrie Underwood's Best Live Shots
Carrie Underwood Talks Cry Pretty