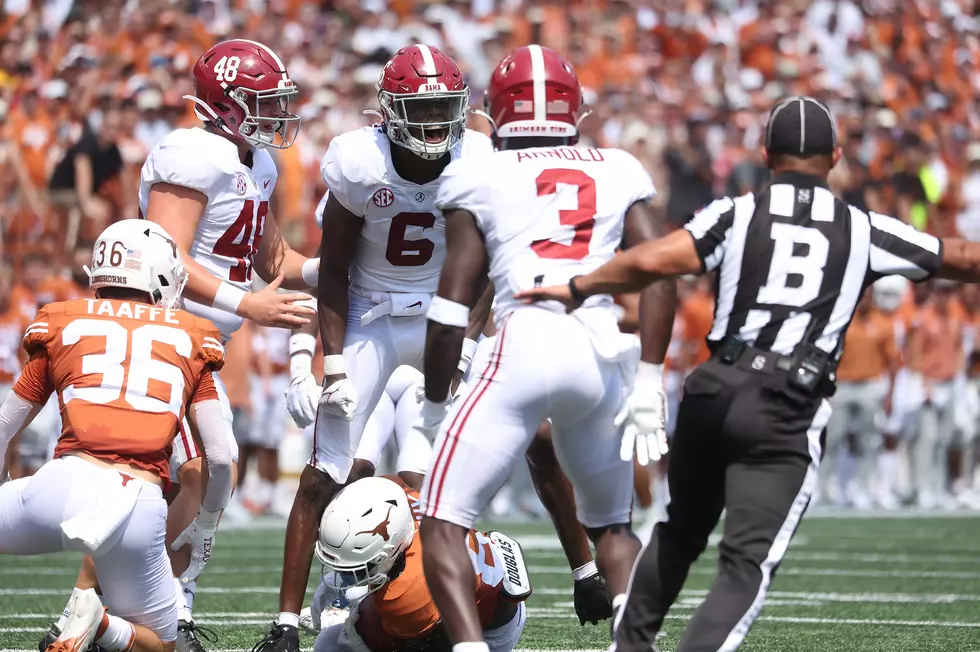 Bama Wins With Class, Nick Saban Keeps Players From Flashing 'Horns Down'
Crimson Tide Photos / UA Athletics
The Alabama Crimson Tide edged out the Texas Longhorns 20-19 on Saturday. Alabama played a sloppy game but came away with a win in a hostile environment.
On Wednesday Alabama head coach Nick Saban was informed about the infamous "Horns Down" hand gesture that is often used to taunt the Longhorn faithful. It's a Big 12 rule that using the gesture results in a 15-yard unsportsmanlike conduct penalty.
"I have not addressed it with the team but I appreciate you letting me know that. So we got a lot of other things we need to really worry about but I think that's a good thing for me to go over with the team, so I appreciate that."
After finally securing the victory on Saturday afternoon Henry To'o To'o and Malachi Moore could be seen flashing the hand sign toward the Texas bench.
This did not sit well with Saban as he often promotes winning and losing with class. Additionally, the Longhorns have several staff members who have worked for him in the past and lastly Texas will make a return trip to Tuscaloosa next fall.
The Tide was penalized 15 times in Austin, but fortunately for Alabama none were due to using the "Horns Down" hand gesture. Saban's message to not use the gesture was received for the duration of the game, but the players couldn't help themselves after the win was secured.
Read More: LOOK: 104 Snapshots From Alabama's Narrow Victory Over Texas
The crowd in Austin did all they could to influence the game as they could often be heard chanting, "F**** you Bama" and "F***** Nick Saban" through the television screen. They already stuck all the Bama fans in the upper deck and they even cut the A/C from the visitors locker room, flashing "Horns Down" on their way out the door was the least the Tide players could do to respond after they had clinched the 1-point win.
Alabama vs Texas Week 2 2022
Alabama vs Utah State Week 1 2022