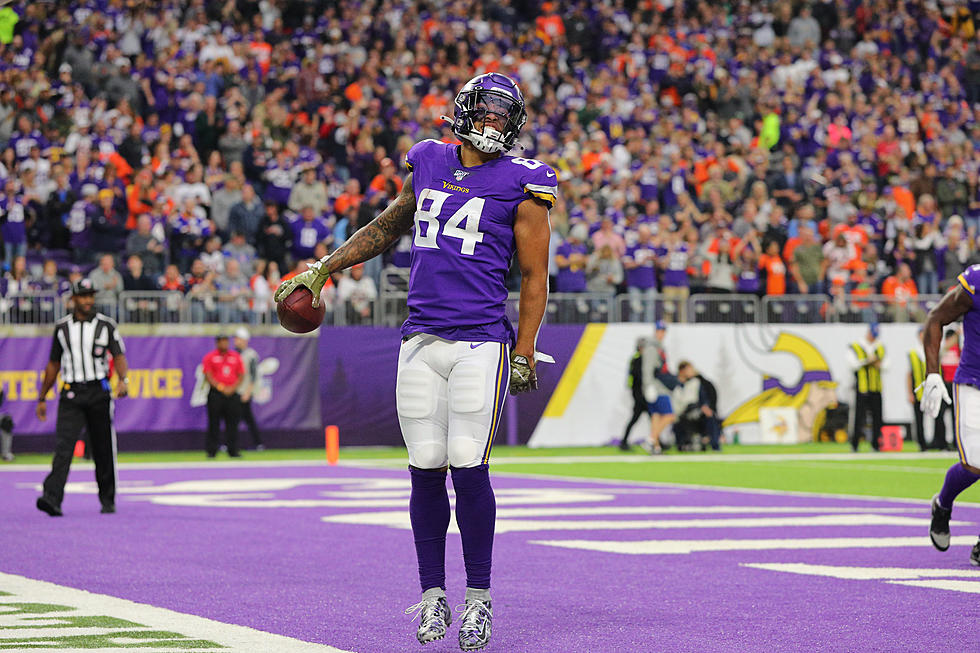 An Injury Delays Former Alabama TE Irv Smith Jr.'s 2021 NFL Season Start
Getty Images
Irv Smith Jr., a former Alabama tight end and 2019 Vikings draft pick, looked for 2021 to be his breakout year. That was until it was announced by NFL Network reporter Tom Pelissero on Sunday morning following the Viking's Friday night preseason finale that Smith had a meniscus injury. This will cause him to miss at least the first few weeks of the season.
A member of the 2017 Alabama national championship team and the 2016 and 2018 SEC Championship teams, he has spent the last  two years working for the Minnesota offense behind veteran Kyle Rudolph. In 2019, he set the Vikings' rookie reception record for a tight end with 36 receptions. As for 2021, Smith was set to start the season as the first-string TE for the Vikings. Now, that will be put on hold as Minnesota works to figure out what they'll do in his absence.
Smith injured his meniscus during their last preseason game against the Kansas City Chiefs. In that game, he played 11 snaps and was made available to media both during and after the game. It is unknown at what point Smith got injured in the game, and there aren't many details that have been put out about the seriousness of his injury quite yet.
In his Monday afternoon press conference, coach Mike Zimmer announced that Smith will undergo surgery performed by head team physician Dr. Chris Larson this week. When asked about the timetable for his return, Zimmer said, "We really won't know (the timeline) until you get in there."
The Vikings will hope it is a short rehab stint for Smith as their second-string TE Tyler Conklin is set to come back to practice today after rehabbing his hamstring, according to The Athletic's Chad Graff. Smith's recovery time is dependent on the severity of his injury, so we will hear more from the team later this week on whether he should be eligible to play by the end of this season or if this injury is more serious.
Smith ended the 2020 season with 15 receptions, 183 yards, and three touchdowns after Rudolph's suffered a season-ending injury. Hopefully, that was just a glance into a bright future as TE1 for Irv Smith Jr as he prepares to overcome this injury.
Alabama Athletes With NIL Deals
The biggest evolution in college athletics history is here. Check out which current Alabama athletes hold NIL deals in this ever-expanding and changing photo gallery.
Alabama's Top 10 Athletes - Fall 2021
The Alabama Crimson Tide boasts an extremely successful athletic department with amazing athletes playing multiple sports. The top 10 athletes include national champions, an Olympic athlete, SEC champions and various record holders.
Alabama Lovers: Check Out These 15 Dazzlingly FREE Phone Wallpapers
Let "Alabama the Beautiful" spruce up your phone with these 15 free wallpapers. Save one, or save them all: you can't go wrong!
To save the photo(s) on mobile, just long-press on an image to bring up the menu to save it to your camera roll. If on desktop, simply right-click on a photo to save it to your computer.
Tuscaloosa County Wildcats vs. Paul W. Bryant Stampede
The Tuscaloosa County Wildcats defeated the Paul W. Bryant Stampede 59-34 in the opening game of the 2021 season for both schools. For the Wildcats it was the debut of new coach Adam Winegarden.
Meet The 2021 Alabama Offense
The 2021 Alabama offense only brings back three returning starters from the 2020 squad. Get ready for the new season by getting familiar with this year's Crimson Tide offense.