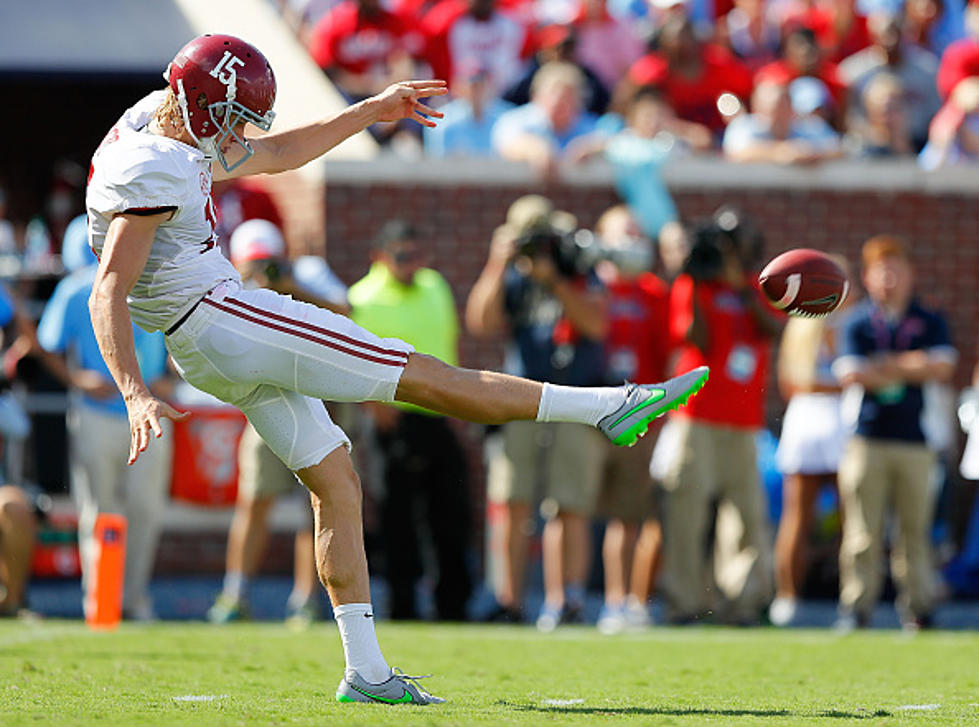 Alabama's JK Scott Selected as Ray Guy Award Semifinalist
Getty Images
Alabama senior punter JK Scott was selected as a semifinalist for the Ray Guy Award, the Augusta Sports Council announced on Thursday morning.
Scott has been dominant once again this season, punting 36 times for 1,533 yards to average 42.6 yards per boot. The senior owns a season-long 59-yard kick with 11 of his punts going for 50-plus yards. Scott has dropped 20 of his kicks inside the opponent's 20-yard line and has allowed only three returns all season totaling just two yards.­­
The Denver, Colo., native's most impressive performance came against LSU, where he punted eight times for 413 yards to average 51.6 yards per kick. In that contest, he matched his career-high mark with five punts of 50-plus yards, including a game-high 58-yard kick. Scott forced five fair catches on the night and dropped six of his eight kicks against the Tigers inside the 20-yard marker. His efforts earned him Ray Guy Award Punter of the Week as well as SEC Special Teams Player of the Week recognition.
One of the most prolific punters to come through Alabama, Scott holds the all-time record for career punting yards with 10,287 on 225 attempts, a total that is second in Tide history. The Tide punter is one of 10 players on the prestigious list recognizing the nation's top punter. Joining Scott as semifinalists are: Corey Bojorquez (University of New Mexico), Drue Chrisman (Ohio State University), Joseph Davidson (Bowling Green State University), Michael Dickson (University of Texas), Corey Fatony (University of Missouri), Cody Grace (Arkansas State University), Cameron Nizialek (University of Georgia), Yannis Roustas (University of Texas-San Antonio), Mitch Wishnowksy (University of Utah).
The 2017 Ray Guy Award winner will be announced at the annual Home Depot College Football Awards Show hosted by the College Football Hall of Fame in Atlanta, Ga., on Dec. 7.