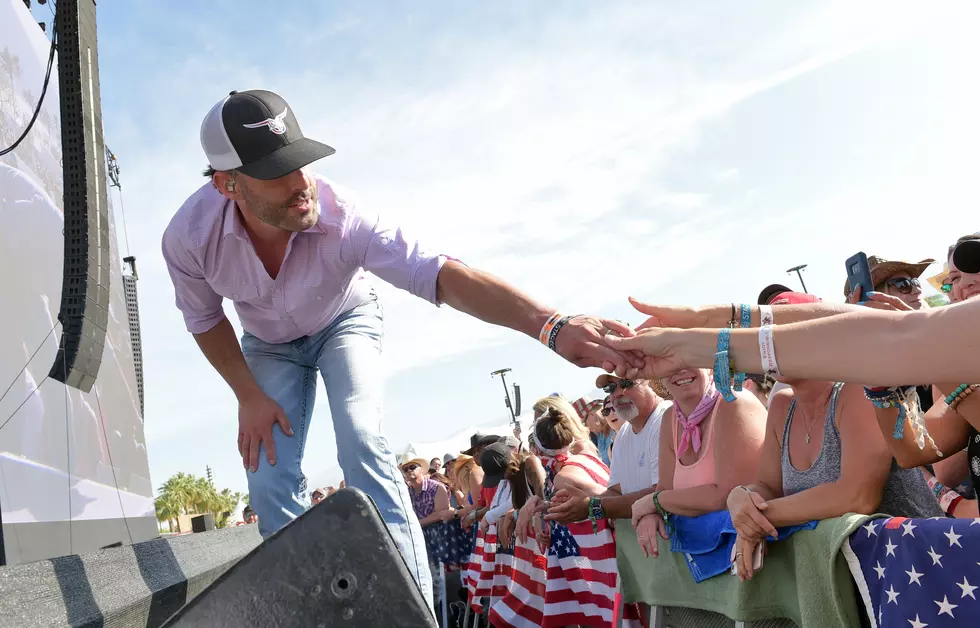 Everything We Know About Aaron Watson's New Album, 'Red Bandana'
Getty Images for Stagecoach
The year 2019 marks the 20th anniversary of Aaron Watson's musical career, and the singer plans to celebrate the milestone with a new project. The forthcoming Red Bandana, the Texas country artist says, is his favorite body of work he's ever created.
"This is the one," Watson tells The Boot in a recent interview. "If this is the last album I make, I'm fine with that."
Many of the details about Watson's upcoming new album are still under wraps, but The Boot has started gathering all of the available information. Here's everything we know (so far) about Red Bandana.
The Title
Watson's new album will  be called Red Bandana. Exactly why Watson selected that name for the project hasn't been revealed, however.
The Release Date
Red Bandana is due out on June 21, according to a March 25 press release.
"We're gonna tease the world like it's a new Star Wars film, for the next eight months," he told The Boot in late 2018. "I'm really excited to share this one with my fans. It took me 20 years to make this record."
The Record Label
Red Bandana will be released through Big Label Records, Watson's own, independent record label. Watson's released every album since 2008's Angels & Outlaws independently.
The Album Cover
Watson's Red Bandana album cover is simple, and literal: It's a classic red bandana sitting on a black background.
"There's nothing more classic, more country or more cowboy than an old red bandana. It signifies hard work, grit and determination," Watson shares in a press release. "I made this record with the mindset that this might be my last one, though I believe this is the beginning of something big. That very mindset helped me focus on writing songs with heart and soul that could leave a lasting legacy.
"I needed a cover that would reflect the meaning behind the music. I needed something with more substance than just another cover with my picture on it," Watson adds. "The title track is a cowboy poem, so I decided, why not just photograph my Dad's old red bandana. We tilted the square red bandana 45 degrees and there it was, like a diamond in the rough."
The Producer
Watson co-produced Red Bandana with Jordan Lehning.
The Single
"Kiss That Girl Goodbye" is the first single from Watson's Red Banana. Instead of being a typical breakup song, it's a celebratory tune about breaking up and moving on.
"If there ever was a good day / It's the day that boy kissed that girl goodbye," Watson sings in the first verse of "Kiss That Girl Goodbye," an uptempo track full of handclaps and fast fiddle. If any listeners were feeling bad for the dumpee, Watson continues in the second verse, "It's a brand-new rhyme and riddle / Your turn to play that fiddle / That same old song and dance is comin' to an end / 'Cause a fresh new start will warm your heart ..."
The Songs
For Red Bandana, Watson wrote, alone, a whopping 20 songs that he says all belong together: "I wrote a lot of these songs in sequence. Every song is married to the next," he explains.
Watson's new project has been in the works for a long time -- since even before he released his 2017 record, Vaquero.
"I've never worked this hard," Watson reflects. "I've been writing every day for like ... I've been working on this album since three months before Vaquero came out. The concept was there."
Aaron Watson, Red Bandana Track Listing:
1) "Ghost of Guy Clark"
2) "El Comienzo Del Viaje"
3) "Dark Horse"
4) "Heartstrings"
5) "Old Friend"
6) "Kiss That Girl Goodbye"
7) "Country Radio"
8) "Legends"
9) "Am I Amarillo"
10) "Blood Brothers"
11) "Live or Die Trying"
12) "Riding With Red"
13) "Red Bandana"
14) "Trying Like the Devil"
15) "Home Sweet Home"
16) "Burn 'Em Down"
17) "Shake s Heartache"
18) "You on My Hands"
19) "To Be the Moon"
20) "58"
The Tour
Although not directly linked to his new project, Watson will be out on the road for the first half of 2019 on a headlining tour. The Texas native kicks off his trek on Jan. 11 in Goliad, Texas.
All of the New Albums Coming in 2019