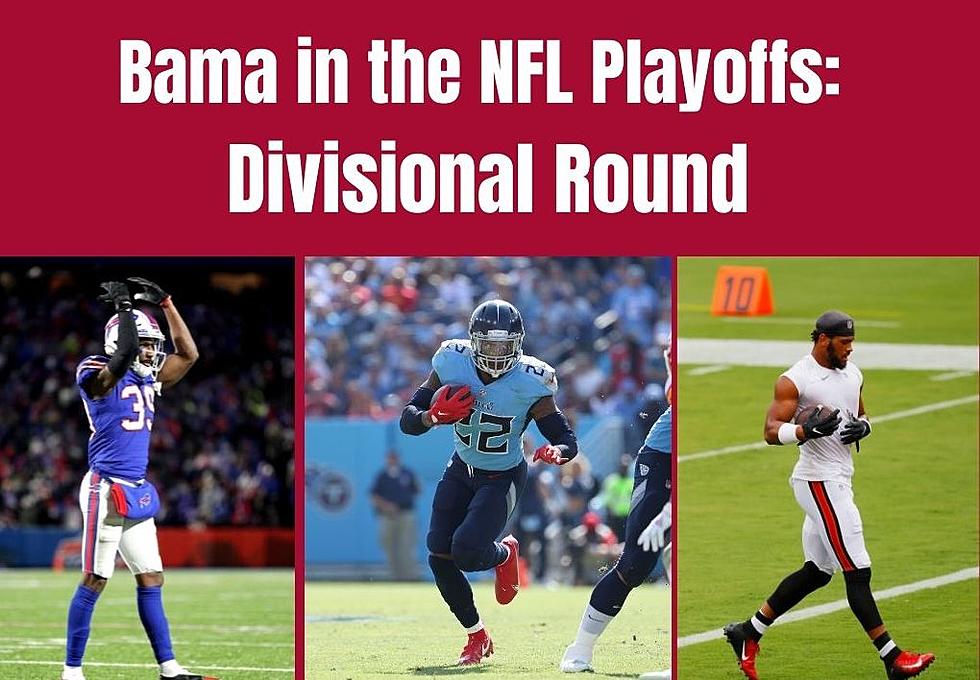 What Bama Players are Left to Support in the NFL Playoffs
all photos of players via Getty Images
Previous to NFL's Wild Card Weekend, Alabama had 23 active players on NFL rosters across 12 of the 14 playoff teams. If you aren't sure who to root for going into the divisional round starting today and want to support some Alabama alumni, here is a list of who's left on the remaining playoff teams.
AFC Teams 
---
1. Tennessee Titans 
The Titans got a first-round bye as the one seed in the AFC, finishing the season 12-5. Geographically the closest team to Title Town, the Titans squad is the proud home of three Alabama alumni.
Derrick Henry 
The King is coming back! After not playing since week eight against the Indianapolis Colts, Henry still had the ninth-most rushing yards in the NFL at the end of the season. Getting Henry back could be huge for the Titans against the Bengals in the divisional round and it will be a lot of fun for Bama fans to get to see Henry back in such a big moment. In six playoff games, he has run for 670 yards on 136 attempts and three touchdowns. He also has 88 reception yards on 13 catches.
Julio Jones 
Jones has had a bit of an up and down season, with injuries deterring him from getting a lot of play. He didn't have a receiving touchdown until the final game of the season, but don't count Jones out as a playmaker in the playoffs. He averaged over 100 yards in the eight playoff games he participated in with the Atlanta Falcons, with 61 total receptions for 834 yards and six touchdowns. This Alabama legend can definitely show up when the lights are brightest.
Rashaan Evans
Middle linebacker Evans missed five games this season but has still been a great part of the success of Tennessee's secondary, recording 57 total tackles, 35 solo, one forced fumble and recovery, and two interceptions. In four playoff games, he has 27 total tackles, 17 solo.
---
2. Kansas City Chiefs 
Jarran Reed 
This starting defensive tackle for the Chiefs had a big moment in the wild card round last week, recovering a fumble and taking it to the 15-yard line. Reed was signed by the Chiefs in the offseason last year, coming to them after his best season with the Seahawks. He has played in 7 postseason games recording 17 tackles, 11 solo, and two sacks for a loss of 15 total yards, as well as that fumble recovery.
---
3. Buffalo Bills 
Levi Wallace 
Wallace became CB1 for the Bills after Tre'Davious White was injured and had a good game in the Bills' blowout playoff victory over the Bama alum-filled Patriots. He had an interception to open the second half and 5 total tackles. In four career playoff games, he has 17 total tackles, two for loss, and a sack.
---
4. Cincinnati Bengals 
Jonah Williams 
Williams and his teammates on offense Joe Burrow and Ja'Marr Chase played in their first professional playoff game last week, but bring college football championship experience with them. The Bengals have certainly gotten a bit hot at the right time and Williams plays a large part in that, playing 100% of offensive snaps in all 17 games this season.
---
NFC Teams 
---
1. Green Bay Packers 
None... 
After extensive research, I couldn't find a Packers tie to any Alabama Alumni. Unless you want to get out a bulletin board and some string, it would be hard to find a reason to root for the Packers if you want ultimate Crimson Tide success in the playoffs.
---
2. Tampa Bay Buccaneers 
OJ Howard 
Howard has played considerably less snaps this season behind Gronkowski and Cameron Brate, but has still been a target for Tom Brady and the Bucs. He has averaged a target a game this season as the third TE, but was used in the last three games of the season pretty much exclusively as a blocker. You can still expect to see Howard on offense in this game, just maybe not in the ways you would expect.
---
4. LA Rams 
Terrell Lewis 
Lewis was considered a game-day inactive for the Rams last week because of back issues, but some are hoping he'll be reactivated for this game against the Bucs. Lewis had a tough hit against Rob Gronkowski earlier in the season when the two met. With the depth at OLB that the Rams have, it is unlikely they'll risk reactivating Lewis and opt for depth elsewhere, but until game time announcements are made, it's unknown whether we'll see him this weekend.
A'Shawn Robinson
Robinson, a 16th ranked defensive tackle by Pro Football Focus, is a part of a great defensive front for the Rams. In four career playoff games, Robinson has 20 total tackles, 9 solo, and a forced fumble. He's a great member in the Rams defensive rotation and will be someone to watch out for beside Aaron Donald and Von Miller.
---
6. San Francisco 49ers 
No players but honorable mention... Demeco Ryans 
The 49ers' defensive coordinator is an Alabama native and UA alum. He played outside linebacker for Mike Shula at Bama from 2002-05. Ryans became SEC defensive player of the year in his final season and was the 2006 Cotton Bowl defensive MVP. So, if anything, rooting for the Niners' defense against the Packers will satisfy your #BuiltByBama need in that game.
---
If you want a team with Alabama connections to win the Super Bowl, the Packers are definitely not your team. But, any of the other 7 teams have some connection that warrants a roll tide. The Titans have the strongest connection however to the U of A, so they'd be your best option for Alabama to get the most glory.
Alabama Crimson Tide All-Time Rushing Leaders
Photos: Alabama Steak and Beans Dinner and Rings Ceremony
The Alabama Crimson Tide received its rings for the 2020 season and the team ate the Steak and Beans Dinner. The White team celebrated its 13-10 victory over the Crimson team by having steak to the Crimson's beans.