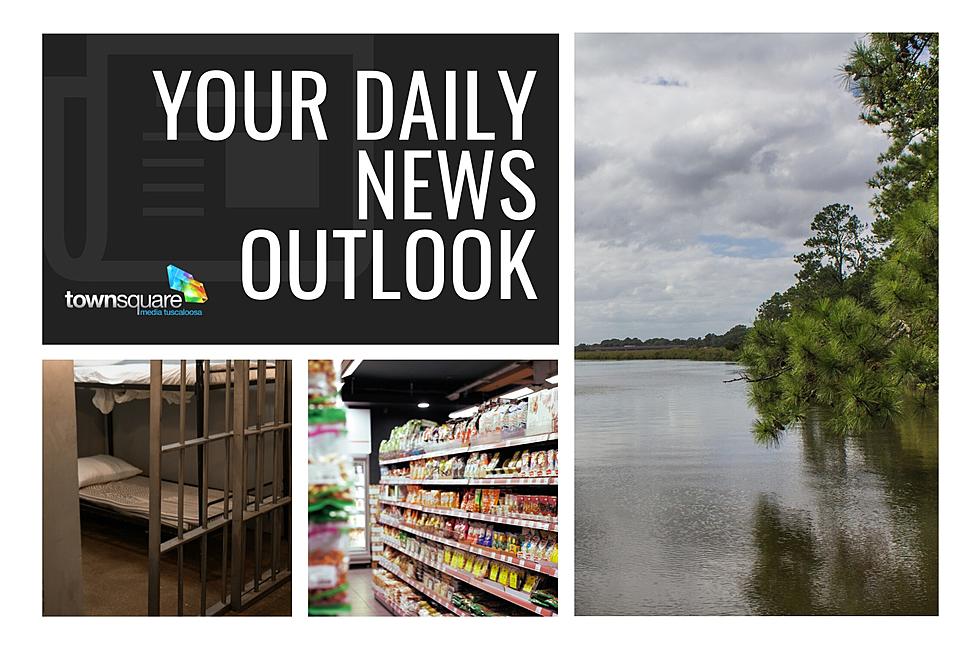 WEST ALABAMA'S TOP STORIES FOR THURSDAY
Canva
Good Thursday morning. Scattered thunderstorms, especially by the afternoon could bring high wind gusts and heavy rainfall at times. Chance of precipitation is 50%. New rainfall amounts of less than a tenth of an inch, except higher amounts possible in thunderstorms. Brief flash flooding is possible south of the I20/58 corridor. Highs will be in the 80s. Tonight will be mostly cloudy with a low of 66.
-----
In a plea deal, former Bama and Las Vegas Raiders star receiver Henry Ruggs III has officially pleaded guilty to driving at speeds up to 156mph while drunk on a Las Vegas city street and killing a woman and her dog in a resultant crash.  Ruggs could be sentenced from three to 10 years in prison without hope of parole.
-----
Alabama Athletics Director Greg Byrne has commented for the first time about the firing of Baseball Coach Brad Bohannon amid allegations of illicit gambling activities Byrne talked to reporters during an impromptu press conference at the Greystone Celebrity Pro-Am telling them UA reminds coaches and students alike that anything they do will get extra attention due to the bright spotlight shined on Alabama athletics. He also believes no student athletes were involved in the allegations against Bohannon.
--.
Two Walker County students were arrested after a handgun was discovered at Oakman Middle School Monday.  The school Resource Officer and principal located the weapon and those suspected of bringing it to school. The gun was found in a backpack.
-----
The "Second Chance Job Fair" gets under way at 1:00 this afternoon at the McDonald-Hughes Center on MLK Jr. Blvd. Sponsored by the Tuscaloosa County District Attorney's Office and West Alabama Works, the job fair will bring 30 companies and the city governments of Tuscaloosa and Northport together according to DA Hayes Webb. Participants can register at westalabamajobs.com or call 205-349-1252.
-----
Lightening has been ruled the cause of a house fire Wednesday on Old Greensboro Road near Shelton State Community College. Nobody was home and there were no injuries.
-----
The main suspect in the 2005 murder of then Mountain Brook High graduating senior Natalee Holloway, will stand trial in the United States.  Holloway was killed while on a senior trip to Aruba. Peru cleared the way for Joran van der Sloot's extradition to Birmingham.
Since 2012, van der Sloot has been in custody in Peru after being convicted of murdering college student Stephany Flores there. He will stand trial for Holloway's death 18 years ago or for allegedly extorting money from Beth Holloway, Natalee's mother.
--
President Biden and House Speaker McCarthy are divided over the federal debt ceiling, but talks are continuing. Alabama Senior U-S Senator Tommy Tuberville is claiming when Biden talks about reaching a compromise, he is talking about the GOP doing all the compromising while Democrats want to spend more. If a compromise cannot be reached, the negative economic effects would quickly mount and risk triggering a deep and lengthy recession.
-----
If a new bill passes in the Alabama legislature, women who get abortions under certain circumstances could face murder and assault charges in addition to charges against the physician that are currently on the books. The bill would also expand the definition of "person" to begin at the moment of fertilization.
-----
In sports:
The Alabama Softball Team used the strike-out pitching of Montana Fouts and timely hitting to defeat Missouri 7-2 in their 1st round SEC Tournament game in Fayetteville Ark last night. Bama faces the defending national champion home team Arkansas at 4:00 this afternoon.
-----
Have a great Thursday. The weekend is almost here!