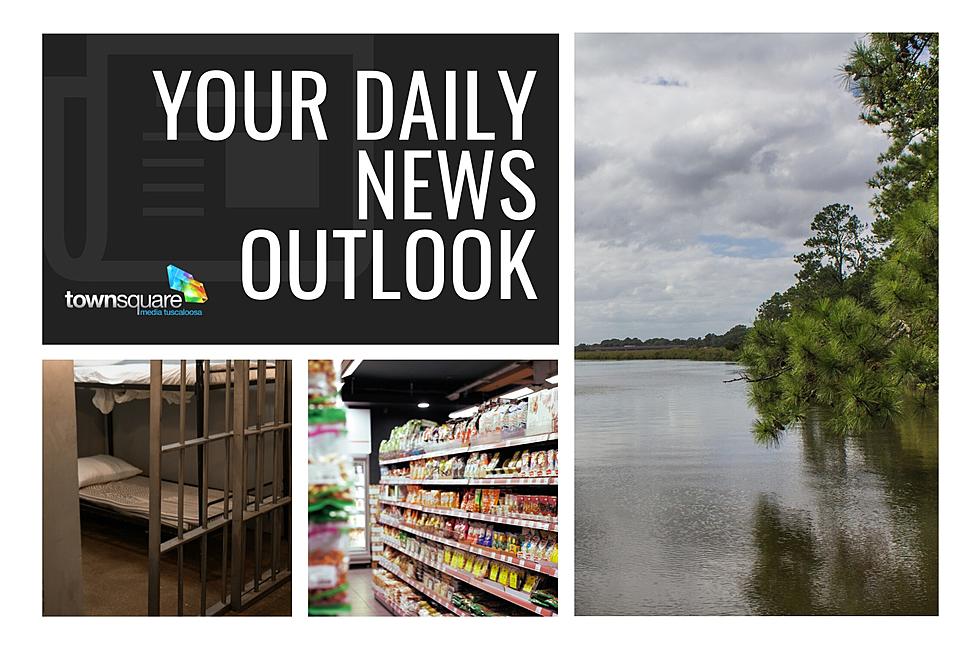 WEST ALABAMA'S TOP STORIES FOR FRIDAY
Canva
Happy Friday!!  Here is your West Alabama weekend weather planner:
Today: Scattered to numerous thunderstorms, mainly this afternoon. High near 87, low 67.
Saturday: Isolated to scattered showers and thunderstorms develop during the afternoon. High near 91, low 68.
Sunday: A chance of showers and thunderstorms after 1:00pm. High 92, low 69.
More temperatures in the low 90s and afternoon showers and thunderstorms will begin the work week Monday.
------
Tuscaloosa native Kennis Croom was killed in the line of duty while serving with the Meridian MS Police Department last year. The former TPD officer was buried in his hometown almost a year ago. Croom will be honored Sunday at the National Law Enforcement Officers Memorial in Washington D-C.  The Croom family will be attending the candlelight service.
------
If Pickens County Hospital were still in operation, a woman suffering a medical emergency in Carrollton may have survived. Instead, she had to be airlifted to a hospital out of county and died. Officials there are making a strong push to reopen the hospital and eventually the facility's emergency room.
------
Legislation introduced by Tuscaloosa Democrat Rep. Chris England would exempt certain non-violent offenders from being subject to enhanced sentencing under the state's Habitual Felony Law. England told APT Capital Journal; the bill would allow resentencing for those who qualify. The bill has passed committee and now goes to the full house for debate.
------
23-year-old Luther Bernard Watkins, Jr. was only 20 when he allegedly shot and killed TPD Investigator Dornell Cousette in September 2019. He has been declared competent enough for his capital murder trial, which is expected to begin sometime later this year. Cousette and a local bail bondsman were serving outstanding arrest warrants on Watkins at a home in West End when the officer and the wanted man exchanged gunfire, wounding Watkins and killing Cousette.
------
On the Northport City Council's agenda for their meeting Monday night is a proposal to rezone property on Rose Blvd. for the planned adventure sports park. But nearby residents living outside the city, in the county, are expected to show up at the meeting to oppose the rezoning for the mountain bike park. The property is currently zoned for heavy industrial use.
------
Juneteenth is a week from today. It marks the end of slavery in 1865. President Biden has declared it a national holiday and Gov. Ivey has authorized it as a holiday for state workers. A bill has been submitted in the ongoing Alabama legislative session to declare it a permanent state holiday.
------
With the expiration of Title 42 at midnight EDT, waves of immigrants are moving toward the U-S Southern border. The Republican controlled U-S House voted to impose new restrictions, but the Democrat controlled Senate is expected to kill the legislation. Alabama Junior Republican U-S Senator Katie Britt has been to the border several times and told a press conference in front of the nation's capital that President Biden must do more to alleviate a national crisis. Biden admits there will be chaos for a while but believes the influx can be controlled.
------
In sports:
Fifth-seeded Alabama Softball Team overcame anemic hitting and an injury to star pitcher Montana Fouts to edge home team and defending national softball champion fourth seed Arkansas 3-2 in nine innings in Fayetteville. The game ended after midnight and propelled the Tide into the SEC Tournament Semi-finals at 7 tonight. They will play the winner of the Tennessee/Florida game.
On the baseball front, the Crimson Tide and Texas A&M hope to dodge forecasted showers for three games in College Station beginning tonight at 6:00. Game two is set for 2:00 Saturday afternoon with game three Sunday at 3:00pm.