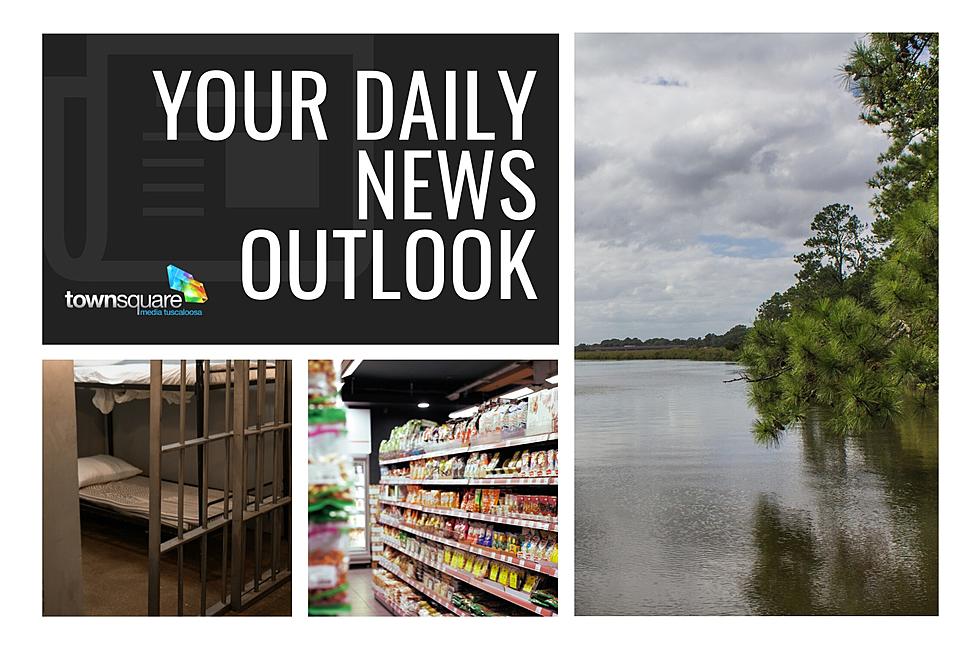 WEST ALABAMA WEDNESDAY BRIEFING
Canva
It is "Hump Day" and that brings another day of chances for strong to severe thunderstorm activity, mainly this afternoon and evening. A Marginal (1 in 5) Risk for damaging winds and hail are the main threats. No tornadic activity is expected.  Highs will be in the upper 70s to the mid-80s. Lows in the mid-60s.
Download the Tuscaloosa Thread App for later weather updates and possible warnings.
------
The City of Eutaw allows the sale of alcohol on Sundays, but Greene County presently does not. That could change if Commissioner Allen Turner has his way. Because Greene County is a "Wet" county and allows alcohol sales Monday thru Saturday there would be no need for legislative approval. The commission could authorize the sale at specific times via a resolution.
------
The Tuscaloosa Civil Rights History and Reconciliation Foundation's inaugural Uplift Awards Luncheon is set for Friday at 11:30am at the Tuscaloosa River Market. Former Alabama and current Philadelphia Eagle Quarterback Jalen Hurts, Retired Judge John H. England, Murphey African American Museum Volunteer Director Emma Jean Melton and Jared White will be honored. Lisa McNair, the sister of Denise, who died in the 16th Street Baptist Church bombing in 1963 will be the keynote. Tickets are available via Eventbrite for $75.00. Sponsorship of a table is $1,000.00.
------
Be aware, beginning Friday ALDOT will be conducting a routine inspection of the I20/59 Crimson Arch Bridge over McFarland Blvd. East. The nighttime only work will begin at 8 p.m. Friday, Saturday and Sunday and should be wrapped up by 5 a.m. Monday.
------
ACT scores for students continued their 5-year plunge in 2022 according to the Public Affairs Research Council of Alabama. Only 22% of 1.3 million students who took the college entrance test last year met all the benchmarks in English, reading, math and science. 44% met zero benchmarks.
ACT scores dropped across the country with the COVID19 pandemic being tagged as the culprit.
Many colleges use a student's ACT score as a factor in admissions and as a qualification for scholarships. The ACT tests student skills needed for college success.
------
Two juveniles are in custody and two handguns have been recovered in Cordova. Monday, a 13-year-old was reported missing to the Cordova Police Department. A vehicle and gun had also been taken. A short time later, the missing juvenile arrived at the police station in the missing vehicle. A Taurus G3 9mm handgun that had been reported stolen was also found in the juvenile's possession.
------
Tuscaloosa County District 4 Commissioner is telling Tuscaloosa Thread and Townsquare Media News he will not give up his effort for the construction of a Park and Recreation Authority activity center in Fosters. Murray originally presented the proposal last year, but the full commission has voiced concerns over the cost.
------
In sports:
The 17th ranked University of Alabama Men's Golf Team began the final day of play in the Norman OK NCAA Regional today with a two-stroke lead over 9th ranked and host team Oklahoma.  The regional's top seed, 5th ranked Texas Tech is tied with Colorado for third place.
The Norman Regional is one of six regional sites currently taking place around the country. The top five teams and low individual not on an advancing team from each site will advance to the NCAA Division I Men's Golf Championships hosted by Arizona State University in Scottsdale, Ariz. at the Grayhawk Golf Club, from May 26-31.
------
Have a safe and wonderful Wednesday!