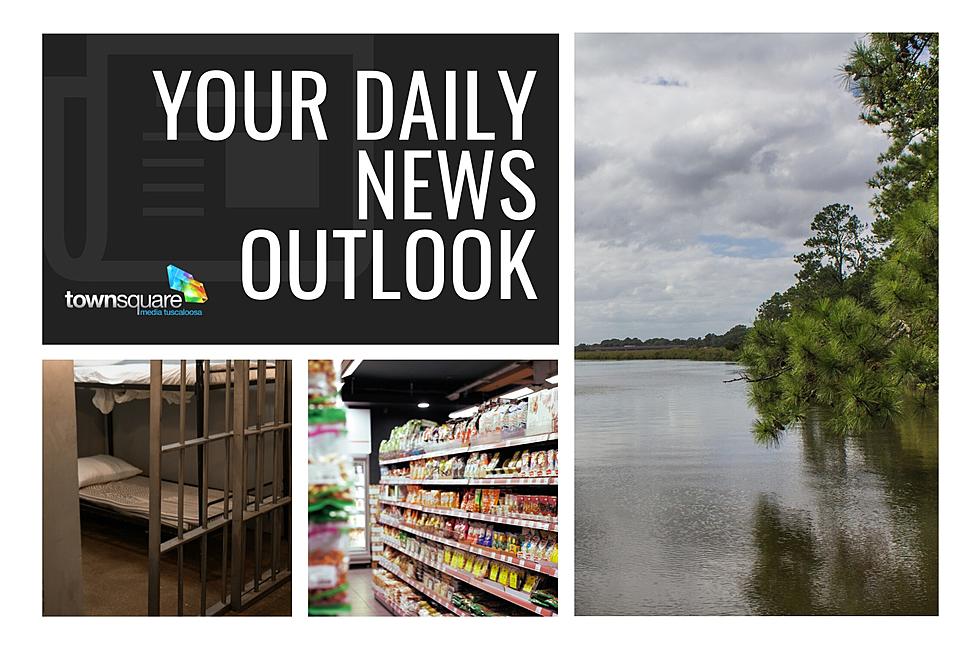 West Alabama Monday Briefing
Canva
Good Monday morning. The work week begins with partly cloudy skies and isolated to scattered showers and storms, mainly during the afternoon. Highs in the upper 80s to lower 90s. A low of 68 is forecast for tonight. Chances of rain and thunderstorms will persist throughout the week.
------
First term Northport City Council Member Jamie Dykes is resigning from her council committee assignments and wants to abolish council committees altogether. The Fourth District representative told Tuscaloosa Thread she believes a work session before each council meeting involving the entire council and staff would give the council full understanding of each issue before them. Tonight, Council President Jeff Hogg will replace Dykes with Woodrow Washington as chair of the Community Outreach Committee and new member Karl Wiggins to the Projects Committee.
------
Appearing this morning on Townsquare Media Tuscaloosa's 95.3 The Bear, UA Athletics Director Greg Byrne was asked about the handling of several high-profile negative incidents this past school year. Among them were a fatal shooting involving now former Tide Basketball Darius Myles, dismissal of Baseball Coach Brad Bohannon for alleged illicit gambling and the arrest of Assistant Athletics Director Matt Self on domestic violence charges. Byrne pointed out, though the problems are significant situations, they only involve a handful of the more than 1,000 athletes and staff at UA Athletics.
Byrne also addressed national sports commentator criticism for his not talking more openly about the difficulties.  He told the Steve and DC Morning Show that all three are legal issues which limit what he can say.
--
Terrance Whatley is being held in the Tuscaloosa County Jail under a $100,000 bond after being arrested for numerous vehicle break-ins in the Mercedes Benz plant parking lot. Among items stolen from some 40 employee vehicles over several days last week were guns and jewelry. Security camera footage helped lead to Whatley's arrest.
------
After a manhunt, Emmanuel Ineh was taken into custody yesterday and charged with 1st Degree Rape. It is thought that that the suspect was involved in a series of sexual assaults in the Tuscaloosa area.
------
Flatwoods Elementary School in the Tuscaloosa County School System is one of the 25 schools in Alabama being recognized as "most improved". The Legislative School Performance Report Card gives Flatwoods an 81 score, a "B". That is up from the 71-score last school year. Flatwoods receives $8,000 for being one of the 25 most improved in the state and the only West Alabama school to make the list.
------
The Physician Workforce Act sponsored by State Sen. April Weaver, who represents a portion of Bibb County, has passed both chambers of the Alabama legislature.  It attempts to quell the shortage of doctors in the state. Residency requirements for postgraduates of unaccredited medical schools would drop from 3 to 2 years.
The Medical Association of Alabama estimate there is a shortage of 280 to 400 doctors in Alabama. The bill awaits the governor's signature this week.
------
A recent state-by-state study of catalytic converter theft data by the website "BeenVerified" shows they rose by more than 1,754.17% between 2019 to 2022 in Alabama. That is more than three times the national increase of 353%. Toyota, Honda and Lexus are the top targets for thieves. The device is used to convert harmful emissions like carbon monoxide and nitrous oxide into less harmful ones before being released into the air.
------
Former Alabama and Oklahoma and now Philadelphia Eagles QB Jalen Hurts picked up a master's degree in human relations from OU over the weekend. The Super Bowl runner-up signal caller played three years at Bama and earned a bachelor's degree in communications and information Sciences from UA.
------
In sports:
It was a big weekend for Bama Baseball as they took 2 of 3 games at Texas A&M.
Tide Softball was selected the #5 overall national seed in the NCAA Softball Tournament beginning later this week. It is Bama's 24th-straight postseason bid and 18th-straight as a host seed.
The Softball NCAA Regional action at Rhoads Stadium begins Friday, May 19 at 3:30 p.m. CT with Middle Tennessee (39-18) facing Central Arkansas (44-10) before Alabama (40-18) and LIU (32-24) face off at 6 p.m. CT.
--