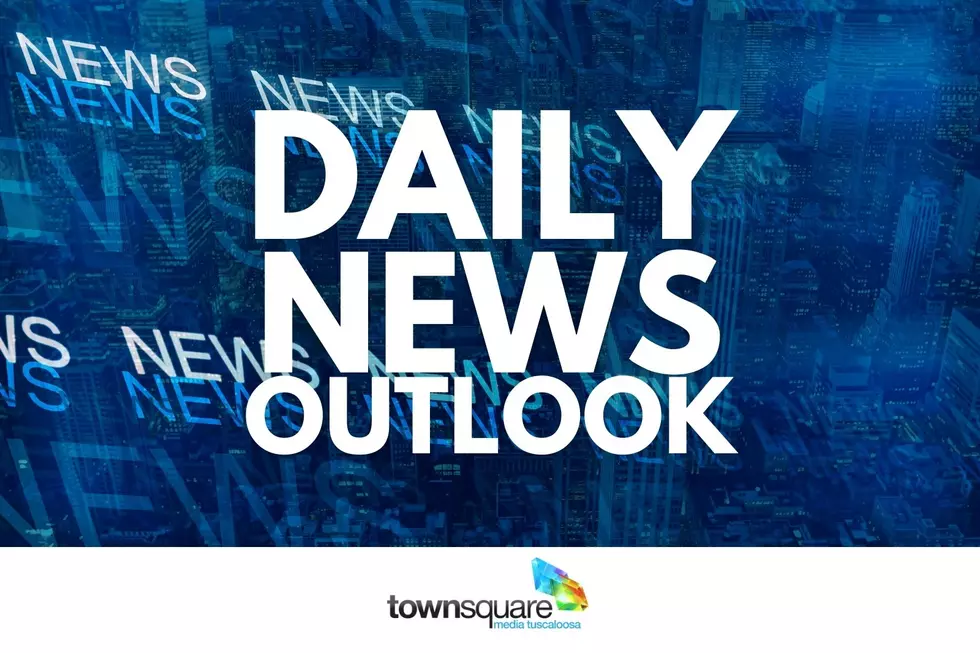 WEST ALABAMA FRIDAY BRIEFING
Canva
Good Friday morning! It is a big weekend in T-Town with the NCAA Baseball Tuscaloosa Regional getting underway this afternoon at "The Joe". The games could have to dodge some rain drops and lightning. The forecast calls for partly cloudy with generally isolated showers this morning and isolated showers and storms this afternoon.  Highs in the 80s to low 90s. Tonight there could be some lingering showers and storms early, then fair skies. Lows in the 60s.
The weekend forecast becomes more summer-like with after shower possibilities and high temperatures in the lower 90s with high humidity.
Topping the news:
"Bloody Tuesday" in Tuscaloosa preceded "Bloody Sunday" in Selma but didn't get the same attention because of the lack of national media coverage.  It occurred when marches protesting segregation at the new Tuscaloosa County Courthouse on June 9th, 1964, were brutally attacked by police, deputized Klan members and citizens with baseball bats at the 1st African Baptist Church downtown. Sunday at 3 the church commemorates the 59th anniversary of that event.
------
Governor Kay Ivey has signed the state's budgets, including the General Fund and the supplemental and the Education Trust Fund and it's supplemental. The 3-billion-dollar general fund is the largest in state history. There is one meeting day left in the regular legislative session.
------
Cottondale Republican State Senator Gerald Allen's bill that would consolidate Tuscaloosa, Northport and Tuscaloosa into one metro government came totally out of left field according to local leaders.
Tuscaloosa Mayor Walt Maddox told 95.3 "The Bear" Steve and DC Morning Show today that he, like other local leaders were surprised by the bill's introduction, finding out about it in a Tuscaloosa Thread article. "We're going to have a fire sale at the end of July. Everything must go," Maddox joked. "We were a little bit taken aback by it." he added.
Maddox continued, "I want to believe it comes from a really good place and if we take that as the starting point, there certainly always is a need for discussion about how to be better at what you do."
The long time Tuscaloosa Chief Executive did point out a significant difficulty with the idea, "If you were to ask me, ok let's create a metro government, the biggest problem that you are going to run into is the stark urban/rural divide in Tuscaloosa County."
The mayor's point is metro governments works better in counties where the majority of the land mass is urban, rather than rural as in Tuscaloosa County. The needs and desires of city dwellers and rural inhabitants are different and difficult to overcome.
The bill is a moot point right now because the legislative session is coming to an end but Allen vows to reintroduce it next year.
------
Tuscaloosa's 2023 Household Hazardous Waste Disposal Day is tomorrow from 8 a.m. until noon at the city's Public Safety Logistics building located at 3311 Reese Phifer Ave.  This free drop-off event is for residential waste from within Tuscaloosa County only. You can Tuscaloosa 311 for more information.
------
Under existing law, a person who has been charged with driving under the influence and who participates in a pretrial diversion program or similar program is required to install an ignition interlock device on his or her vehicle for a minimum of six months. That law is set to end July 1st.. Cottondale State Senator Gerald Allen tells news partner ABC3340 he wants to amend the law to allow judicial discretion, but he hopes judicial favoritism doesn't come into play. Action on the bill has been indefinitely postponed.
------
Gov. Ivey is expected to sign a bill passed by state lawmakers yesterday that defines criminal gangs and enacts stricter penalties for their crimes. State Attorney General Steve Marshal calls the law a result of younger and younger children being recruited by gangs. Under the bill, 16yos will be tried as adults for violent acts.
------
The Pickens County medical center is not coming back any time soon. The Alabama Legislature did not see fit to provide $8 million to help reopen the closed rural hospital. The medical center in Carrollton is one of nine rural medical centers to shut down over the last few years in Alabama. Cottondale State Senator Gerald Allen backed the legislation and said he will try again next year. Residents there ask how many people will die in their county due to lack of emergency medical care between now and the next legislative session.
One bill the lawmakers did pass Thursday removes half of the 4% state sales tax on food.
------
Live at the Plaza is a free concert series featuring regional bands in a family-friendly atmosphere at Government Plaza. The series begins tonight at 6 with Tyler Sellers & The Wreckers and Plato Jones. Food trucks will be available, and parking is free.
------
Townsquare Media Tuscaloosa kicks off "Movies at the Park" tomorrow night with the family friendly movie "Homeward Bound". The movie begins at sunset in Government Plaza.
In sports:
Bama Baseball will host an NCAA 1st Round Regional for the 1st in two decades beginning this afternoon when Boston College and Troy play at 3. Tonight at 6 the Tide takes on Nichols. UA Interim Coach Jason Jackson credits the way his team stuck together after the dismissal for former head coach Brad Bohannon. The tournament concludes Sunday with the winner advancing to the Super Regionals.
5th seeded Alabama Softball got off to a poor start in the NCAA College World Series dropping a 10-5 game to Tennessee. The Tide now falls to the loser's bracket where they face 9th seed Stanford in an elimination game at 6:00 tonight.
------
Have a great weekend and stay cool!