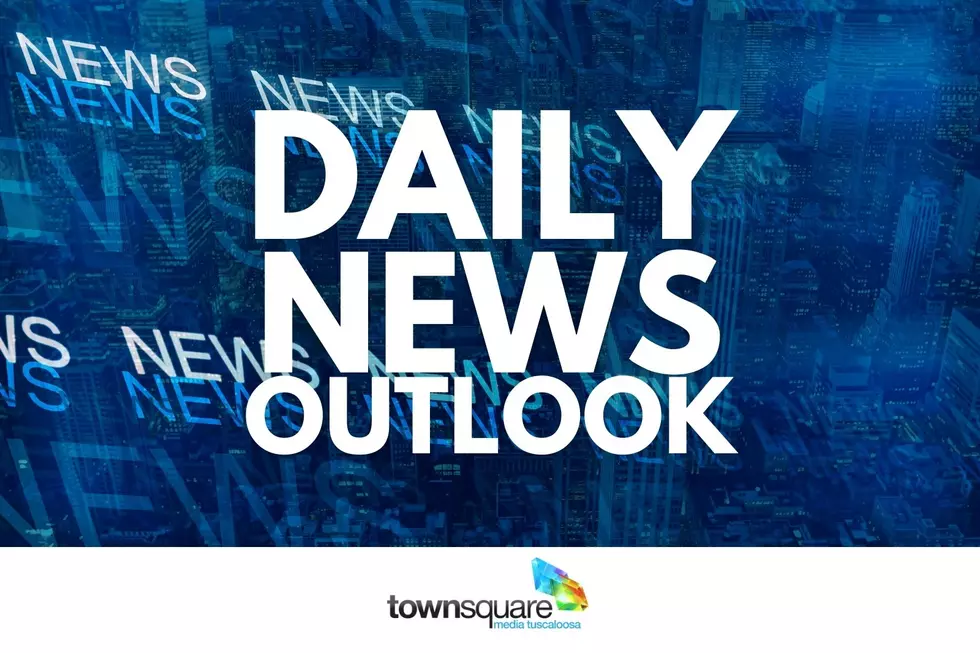 West Alabama Friday Briefing
Canva
Friday, September 8, 2023, is ushering one of the biggest home football weekends for the University of Alabama in years. The Texas Longhorns, soon to be a new member of the Southeastern Conference, pays a visit to Bryant-Denny Stadium tomorrow night.
A lot is riding on this game for both the Crimson Tide and Horns. Bama needs to prove last season's slight dip with two narrow losses was just a fluke while UT needs to prove the program has been resurrected after a decade slide into college football obscurity.
The pre-game and game itself will have perfect weather in T-Town tomorrow. It will be sunny, with a high near 87 with s 5mph north wind. From gametime at 6 until the fourth quarter it should be mostly clear with temperatures dropping into the mid 60s.
The Forecast:
High School Football Friday. Sunny with a high of 88 during the day and mostly clear with a low of 67 tonight.
The forecast will remain much the same through the day Tuesday. A 20% chance of showers and thunderstorms will return Tuesday night.
---
---
Topping the News:
A shooting at the Walmart on Highway 78 in Jasper last night sent one person to the hospital with what is thought to have been non-life-threatening wounds. Jasper P-D reports that the investigation is still underway, and no one is currently in custody.
---
The West Alabama Drug Task Force arrested 36yo Rolando Garza on I20/59 near Eutaw after finding more than 15lbs of cocaine in a cooler. The suspect who was traveling from Texas to New York is in Greene County Jail with $210,000 bond.
---
All that is on the minds of most West Alabama residents today is tomorrow night's clash of the titans, Alabama and Texas at Bryant-Denny Stadium. More than 101,000 will be in the stadium for the hard sellout and probably half as many outside, either looking for tickets or just wanting to be a part of the ambiance.  Further adding to the excitement is tomorrow morning's ESPN Game Day and SEC Network's "SEC Nation" broadcasts on campus.
Every Tide home game adds big to the city's economy according to Mayor Maddox estimates that home games generate some $18 million to the city's economy. The games also have a large financial impact for Northport.
---
Alabama Secretary of State Wes Allen will appeal a recent decision by a three-judge panel throwing out the state's second attempt at drawing a congressional district map that contains 2 majority-minority districts. Meanwhile, that panel has appointed a Special Master to draw the map for the state. The public is being invited to submit their own maps.
---
As more insurance companies drop or raise rates on residential disaster policy holders in high-risk areas for severe weather, the U-S Senate has begun hearings on how to keep consumers from being priced out of the market. Alabama Jr. Sen. Katie Britt is a member of the committee and told yesterday's hearing she talks from experience. She lost her home and belongings is a disaster.
Britt emphasized that states not the federal government should regulate insurance.
---
Two men, 38-year-old Allan Brent Faulkner and 32-year-old Joshua Dale Salters were arrested this week and charged with felonies for impersonating police officers in separate incidents in Tuscaloosa County. They attempted to make traffic stops. Drivers and citizens are encouraged to stay alert and make sure anyone presenting themselves as a law enforcement officer can prove they are who they represent themselves to be. If you are suspicious, drive to an inhabited public area before pulling over.
---
The mayors of Tuscaloosa and Austin, Texas are betting barbeque on the outcome of Saturday's UA/UT battle in Bryant-Denny Stadium. Austin Mayor Kirk Watson has agreed he will send Tuscaloosa Mayor Walt Maddox and the city's team of employees a sampling of genuine Texas BBQ if the Tide wins tomorrow. Maddox will return the favor with Alabama BBQ if Texas wins.
---
---
In Sports:
Texas Coach Steve Sarkesian is calling tomorrow's game a warm-up to his team joining the SEC next season. As a former Bama OC, Sark knows about the Bryant-Denny game environment and is warning his players to not get caught up in it.
---
The Crimson Tide remains anywhere from a six to 71/2-point favorite to win tomorrow night. But Tide Coach Nick Saban is reminding his team how tough a game it was last year in Austin and that he expects nothing different this year.
Alabama needed a 33-yard Will Reichard field goal with 10 seconds left to escape with a 20-19 win in Austin last season.
---
Some of the key prep football matchups tonight have Keith at Linden, Marengo home to A-L Johnson, Pickens County hosting Sumiton Christian, Berry at S. Lamar, Greene County at Lamar County, TA welcoming Aliceville, Fayette Co. at Tarrant, Gordo traveling to Winfield, Holt visiting ACA, Bibb County home to West Blocton, Montevallo at Hale County, Sipsey Valley entertaining Dallas County, Northside traveling to Oak Grove, Demopolis on the road at Selma, Jasper hosting Ramsey, Hueytown at Brookwood, Northridge crossing the river to Hillcrest, Bryant home to Central and Tuscaloosa County with a home game against Chelsea.
---
Don't forget Alabama's Taylor Hicks will be in concert at 4:00 tomorrow afternoon at the "Walk of Champions". He will be performing his new hit "Porch Swing" and other hits. It will be a fun way to get amped up for kickoff at 6:00pm. 
Wear Crimson and make Bryant-Denny the loudest Stadium in America tomorrow night!! ROLL TIDE!!