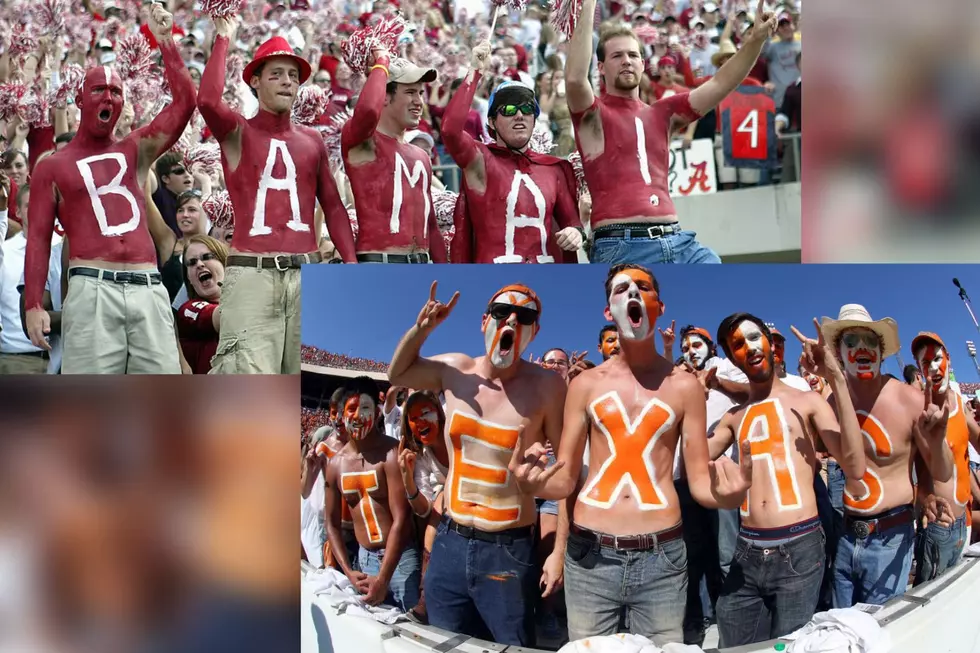 Weather Outlook for Alabama Fans Traveling to Austin, Texas
Getty Images
Alabama fans are headed to Austin, Texas to cheer on the Crimson Tide as they face the Texas Longhorns. The two teams face each other on Saturday, September 10 with an 11:00 am kick-off.
Alabama is ranked #1 in the latest Associated Press Top 25 college football rankings.
Here is what Roll Tide fans can expect weather-wise when they arrive in Austin, Texas.
Friday Forecast in Austin
You can "expect mostly sunny skies with a high near 95 with a calm wind becoming east at 5 mph in the afternoon. Friday night should be mostly clear with a low around 72," said the National Weather Service of Austin and San Antonio.
Game Time Forecast
Ryan Fowler of the flagship home of Alabama Sports, Tide 100.9 connected with Alabama native, Hunter Williams who is a Meteorologist in Austin, Texas for KVUE News.
With an early kickoff, Williams said in his interview with Fowler that the temperatures were "going to be probably hovering in the upper 80s and then warming through the game as we get into the heat of the afternoon." Then headed "into the fourth quarter, wrapping up the game it will probably be around 95 – 96 in the afternoon."
Williams commented to Fowler that "if you spent a few summer afternoons in Tuscaloosa. I don't know if 96 is going to be anything too out of your world."
This summer they have had 68 triple-digit days. Williams noted that is "brutal even here in Central Texas has actually been our second hottest summer on record." However, the weather had "flipped the switch. It's been stormy" with "some storms that move through yesterday evening, but that won't be a factor over the weekend.
It's just gonna be hot 96 degrees, probably not quite the Deep South humidity that the Alabama football players are used to in Tuscaloosa, but it'll be hot and that's for sure."
Sunday Outlook
It will be a great day to do some Austin, Texas sightseeing and take in a good Texas meal. Sunday will be a little bit warm with a high expected around 98 degrees with Sunday skies. The evening time will be mostly clear with a low around 72.
Click here to hear the full interview with Ryan Fowler and Hunter Williams.
More on Alabama Native Hunter Williams
Hunter Williams joined the KVUE staff as a meteorologist in January 2020. He was "born in Birmingham, Alabama, and earned his meteorology degree from Penn State University." He also has received his Certified Broadcast Meteorologist (CBM) designation from the American Meteorological Society.
Williams "first realized he wanted to pursue a career in meteorology on April 27, 2011. On this date, a historic tornado outbreak took place across his home state of Alabama," said KVUE.
(Source) Click here for more details from the National Weather Service of Austin and San Antonio. Click here to follow Hunter Williams on Twitter.  Click here for more details on KVUE.
Crimson Tide Class of 2023 Commits
A look at all Alabama commits from the class of 2023.
Alabama's First Fall Camp Practice 2022